Jeep is a world-famous SUV brand that has long been used as a generic term for tiny four-wheel drive cars. Jeeps have a rich history of military service and are regarded as the pioneers of sport utility vehicles. Nowadays, most people identify Jeeps as fast and sporty off-road 4x4s with a distinct seven-slot grille.
Jeeps are one of the most well-liked vehicles in the United States. These vehicles have a reputation for being rugged, adaptable, and capable of handling any terrain. Jeep offers a wide variety of Jeep models. From classic Jeep models to modern Wranglers and Cherokees, each Jeep has its unique design and persona.
Jeep fans adore its superb off-road prowess and limitless aftermarket customization choices. If you are looking to trade your old vehicle and want to buy a perfect Jeep that suits all your needs, look at the following Jeep models and their detailed features.
15 Types Of Jeeps
Read on to find the detailed characteristics of all types of Jeeps:
1. Jeep Renegade:
The Jeep Renegade is a compact and affordable SUV model the Jeep brand offers. It stands out as the most fuel-efficient Jeep in the lineup, achieving impressive city and highway mileage ratings of up to 24 MPG and 32 MPG, respectively.
However, its smaller size and engine contribute to its relatively slower performance. It accelerates from 0 to 60 mph in around 9.0 seconds. For those looking to take their Renegade off the beaten path, the Jeep Renegade Trailhawk is the ideal choice. This variant has a 4×4 drive system, making it well-suited for adventurous off-roading experiences.
Renegade enthusiasts appreciate the Trailhawk's ability to tackle rugged terrain despite its compact size. Moreover, a tow package can be added to the Renegade Trailhawk, allowing it to tow up to 2,000 pounds, further enhancing its versatility.
2. Jeep Compass: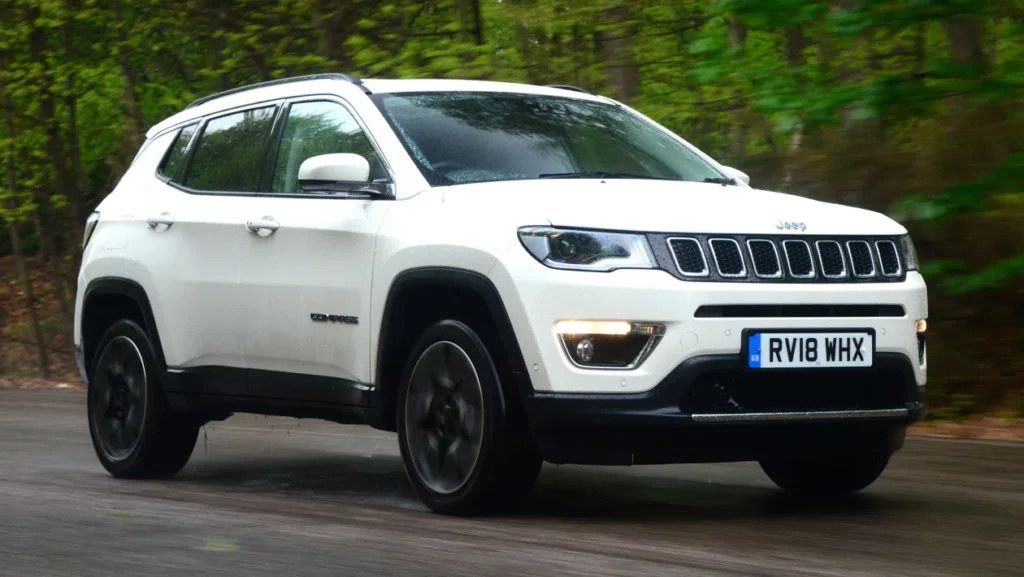 The Jeep Compass is a compact crossover SUV that was introduced in 2007. It is equipped with a 2.4L 4-cylinder engine, and specific trim packages offer the option of a four-wheel drive system.
The Jeep Compass Trailhawk variant is specifically designed for off-road capability, featuring notable off-road features such as Hill Descent Control for descending steep declines and the Selec-Terrain Traction Management System, which allows the driver to choose between different traction modes like rock, sand/mud, snow, or auto.
In terms of seating capacity, the Jeep Compass comfortably accommodates four adults, although cargo space is limited. One standout feature is the large dual-pane panoramic sunroof, which provides excellent outdoor views and enhances the overall driving experience.
Additionally, the Jeep Compass has a towing capacity of up to 2,000 pounds, making it suitable for hauling smaller recreational vehicles such as ATVs, small fishing boats, or compact campers.
3. Jeep Wrangler:
The Jeep Wrangler, a compact and mid-size four-wheel drive vehicle, is a renowned and iconic model manufactured by Chrysler under the Jeep brand. It is currently in its third generation and has garnered a devoted following since its introduction in 1986.
With its powerful 3.6L V6 engine, the Wrangler offers a starting horsepower of 285 and torque of 260 lb-ft, making it the perfect choice for adventurous drivers who enjoy venturing off-road. One of the distinctive characteristics of the Wrangler is its ability to remove the doors, top, and even lower the windshield, providing an unparalleled open-air driving experience that is rarely found in other vehicles.
Additionally, Wranglers are equipped with a standard 6-speed manual transmission, allowing drivers to have optimal control and a more engaging driving experience. The combination of its rugged capabilities, open-air freedom, and impressive power makes the Jeep Wrangler an enduring favorite among adventure enthusiasts.
4. Jeep Wrangler 4xe (Plug-in Hybrid-Electric):
Jeep has introduced a new plug-in hybrid version of the Wrangler, which combines electric and gas-powered engines for enhanced performance and efficiency. With an all-electric range of approximately 21 miles, the plug-in hybrid Wrangler can run solely on electricity for a limited distance.
The Jeep Wrangler 4xe, pronounced as "four by E," represents Jeep's first foray into the plug-in hybrid segment. In terms of design, the electric batteries in the Wrangler 4xe are positioned underneath the rear passenger seats, deviating from the floor-mounted battery configuration commonly found in other electric vehicles.
Related: Top 15 Best Plug-In Hybrid SUV To Buy In 2023
Charging the Wrangler 4xe can be done using a standard Level 1 charger, which takes approximately 12 hours for a full battery recharge. However, installing a Level 2 charger significantly reduces the charge time to around 2.5 hours, providing a faster and more convenient charging option for owners of the 4xe model.
5. Jeep Gladiator:
If you are torn between a Jeep's versatility and a truck's practicality, look no further than the Jeep Gladiator. Combining the best of both worlds, the Jeep Gladiator is a unique offering that blends the characteristics of a full-size pickup truck and the iconic Jeep Wrangler.
Originally introduced in 1962 and produced until 1988, the Jeep Gladiator was built on the large SJ platform and gained recognition for its long production run with minimal mechanical changes. Today's modern Jeep Gladiator retains its distinctive design lineage, featuring the body of a Wrangler with the added benefit of a spacious pickup truck bed.
It boasts impressive towing capabilities, allowing it to tow up to 7,650 pounds when equipped with the complete tow package. The 60 by-57-inch truck bed also provides ample space to carry a payload of up to 1,700 pounds, making it suitable for various hauling needs.
6. Jeep Cherokee:
The Jeep Cherokee is a compact SUV that combines the familiar appearance of other SUVs with a distinctive sporty character unique to the Jeep brand. Its roots can be traced back to the 1970s when the term "sports utility vehicle" was first introduced in a 1974 Jeep Cherokee sales brochure.
Today, the Jeep Cherokee offers a contemporary SUV experience, with enhanced off-road capabilities and towing capacity that surpasses other vehicles in its class. The Jeep Cherokee is powered by a robust 3.2L V6 engine and delivers impressive performance and a dynamic driving experience.
Additionally, its 4×4 drive system sets it apart by providing exceptional off-road prowess, ensuring comfort and stability in various weather conditions. When equipped with the Trailer Tow package, the Cherokee boasts impressive towing capabilities, with a maximum weight capacity of 4,500 pounds.
7. Jeep Grand Cherokee:
The Jeep Grand Cherokee is a spacious, luxurious SUV that blends opulence with outstanding off-road capabilities. Unlike some of its SUV counterparts that employ body-on-frame construction, the Grand Cherokee has always utilized a unibody chassis. With the introduction of the Grand Cherokee L model, it offers seating for up to three rows, accommodating more passengers and cargo.
Under the hood, the Grand Cherokee offers a powerful 6.2L V8 engine, providing great performance for a thrilling driving experience. Moreover, its towing capacity is impressive, reaching up to 7,200 pounds, allowing for easy transportation of heavy loads.
In addition to its conventional gasoline-powered models, the Jeep Grand Cherokee will soon introduce a plug-in hybrid electric version. This variant can travel up to 25 miles solely on battery power before seamlessly transitioning to gas power for an extended range.
8. Jeep Wagoneer: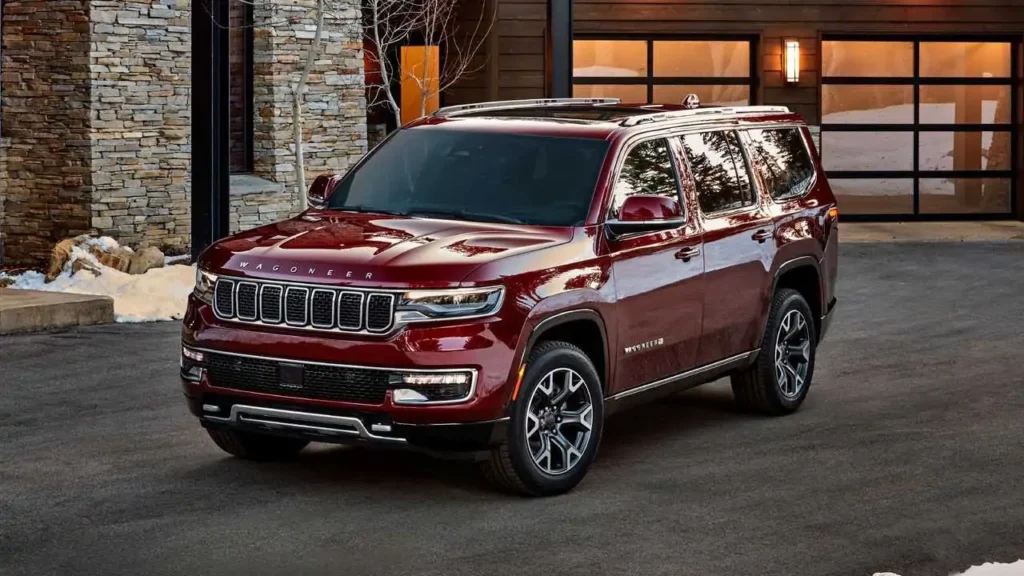 The Jeep Wagoneer is a spacious SUV offering three rows of seating and a luxurious interior. Initially introduced as a station wagon in 1963, it made a comeback in 2022 as a more upscale option within the Jeep lineup. The Wagoneer's refined craftsmanship and advanced features provide a premium driving experience.
Related: Cheapest Luxury SUVs To Buy In 2023
Inside the vehicle, high-quality materials are used throughout, complemented by cutting-edge technology such as a 12.3-inch digital gauge cluster and a 12.1-inch infotainment screen. These features enhance the overall driving experience and keep occupants connected and entertained.
Furthermore, it boasts a strong towing capacity, capable of hauling up to 10,000 pounds. This makes it well-suited for towing boats, trailers, and other substantial loads. While the Wagoneer's higher price point may deter some prospective buyers, it is an excellent choice for those who prioritize comfort and luxury.
9. Jeep Avenger: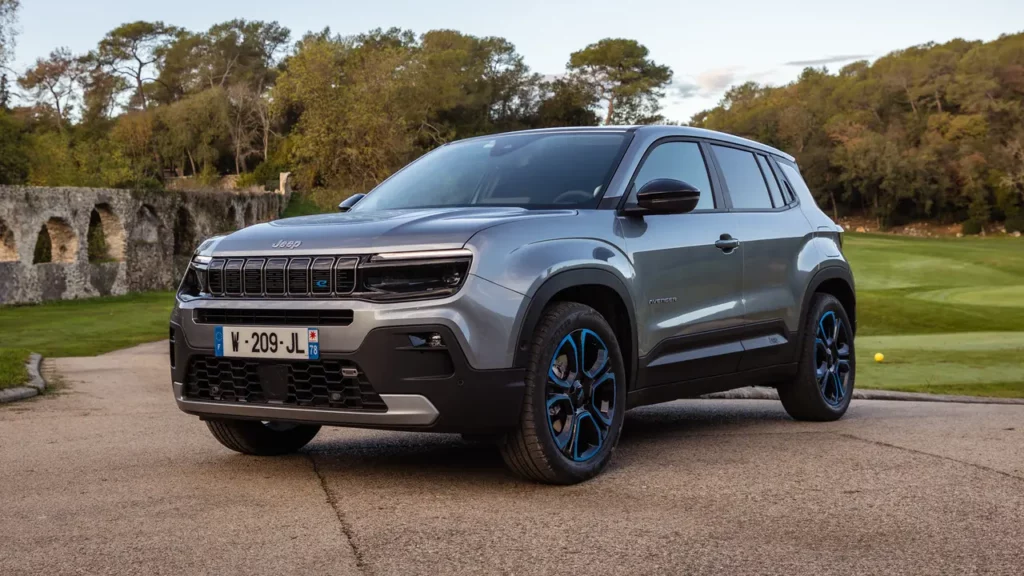 Jeep adopted the Avenger nameplate from Dodge and applied it to a sub-compact crossover vehicle instead of using it on a coupe. This decision marked a significant shift for the American automaker as it transitioned to electric power to meet emission standards.
The Avenger represents a new addition to Jeep's lineup while utilizing an existing platform. Its overall shape still resembles the Renegade but with a sleeker and more streamlined profile. At the front, the vehicle retains the signature seven-slat grille found across Jeep models, albeit with a narrower design.
Jeep offers two powertrain options for the Avenger: a plug-in hybrid version and an all-electric drivetrain. While the plug-in hybrid variant is similar to its sibling, the Renegade, the all-electric version is a new addition, providing an impressive range of up to 400 km (248 miles).
10. Jeep Hurricane:
Unveiled at the 2005 North American International Auto Show, the Jeep Hurricane is a unique and custom concept vehicle introduced by Jeep, a renowned off-road brand. This vehicle stands out with its specially crafted design and construction. The Hurricane's body is predominantly made of lightweight carbon fiber, providing durability without compromising weight.
One of the notable features of the Hurricane is its innovative four-wheel steering system, developed by Chrysler and patented, with assistance from MillenWorks. This system enables the Hurricane to maneuver laterally or move sideways. Aaron Pizzuti played a key role as the principal exterior designer of the concept.
The Jeep Hurricane received recognition for its design and innovation, winning the IDEA Silver Award and an AutoWeek Editor's Choice award in the "Most Fun" category.
Discontinued Models:
Here are some discontinued models of Jeep:
11. Jeep Comanche:
The Jeep Comanche was a compact pickup truck produced by Jeep from 1985 to 1992. It was based on the Jeep Cherokee platform and offered a versatile and practical option for those needing a compact truck. The Comanche featured a unibody construction, which was unique among pickup trucks at the time, providing a combination of ruggedness and maneuverability.
It shared many components with the Cherokee, including its engines and drivetrain options. The Comanche was available in two- and four-wheel drive configurations, catering to different needs and driving conditions.
It offered various bed lengths and cab configurations to accommodate cargo and passenger requirements. Despite its relatively short production span, the Comanche has gained a loyal following among Jeep enthusiasts and is appreciated for its ruggedness, capability, and unique design as a compact pickup truck.
12. Jeep Commando:
The Commando was globally recognized as one of the most renowned military jeeps, known for its exceptional qualities that exude toughness. With its large size, it could traverse any terrain easily. Its agility and responsive handling made it a versatile vehicle, whether navigating rugged terrains or urban environments.
The Commando was designed to provide off-road capability combined with on-road comfort and versatility. It featured body-on-frame construction, with options for both two-wheel drive and four-wheel drive configurations.
The Commando offered a range of engine choices, including inline-four, inline-six, and V8 engines, providing different levels of power and performance. It had a distinctive and rugged appearance, with Jeep's iconic seven-slot grille and classic styling cues.
13. Jeep Patriot:
Despite its rugged appearance, the Jeep Patriot was primarily designed for on-road driving. Its unique suspension system enables it to navigate rough terrains effortlessly. With its giant rims, the Patriot could handle challenging environments like sand dunes with ease.
Although not as robust as the Grand Cherokee or Wrangler, the Patriot was perfect for individuals who intend to use their Jeep in urban or suburban settings. It excelled in day-to-day driving and effortlessly maneuvered through city streets.
One of the standout features of the Patriot was its luxurious interior, which was crafted with high-quality materials and a stylish design. This combination ensured a comfortable and enjoyable driving experience.
14. Jeep Liberty:
In an attempt to significantly impact the compact SUV market, Jeep introduced the Liberty (also known as Cherokee) as a successor to the original Cherokee model. Produced by Chrysler's Jeep marque, the Liberty was positioned between the Wrangler and Grand Cherokee in terms of pricing.
The second generation of the Liberty showcased a distinct design, particularly noticeable in its specific seven-slot grille. The headlights, mounted behind the bumper, had a flat and large appearance similar to those seen on the Jeep Commander, which was unsuccessful in sales.
The black door further accentuated the rugged look of the Liberty handles with prominent buttons and black door mirrors. Under the hood, the Liberty was equipped with a 3.7-liter V6 engine with either a 6-speed manual or a 4-speed automatic transmission. Production of the Liberty concluded on August 16, 2012.
15. Jeep Commander:
Sharing the same platform as the Jeep Grand Cherokee, the Commander was designed to provide a seven-seat option and bore a resemblance to the Jeep Cherokee XJ. Its boxy and rugged appearance, coupled with its tough stance, were the standout features of the Commander.
Inside, Jeep offered the flexibility of three rows of seats, accommodating a total of seven passengers. Unfortunately, the global financial crisis negatively impacted the vehicle's sales, resulting in limited awareness and lower-than-anticipated sales figures, despite its impressive on- and off-road capabilities.
Regarding powertrain options, the European market received a 3.0-liter diesel engine sourced from the Mercedes-Benz ML-Class and a 5-speed automatic gearbox renamed Autostick.
Frequently Asked Questions:
Here are some frequently asked questions about types of jeeps:
What is the most famous type of Jeep?
The Wrangler is the Jeep model that enjoys the highest popularity. It is widely regarded as the quintessential Jeep, known for its iconic design, and is a favored option among outdoor enthusiasts and off-road adventurers.
What are small Jeeps called?
Jeep's compact models are commonly referred to as "small Jeeps." They typically include models like the Renegade and Compass.
What is the most affordable Jeep?
With a starting price of approximately $31,590, the Renegade stands out as the most budget-friendly Jeep model available.
Conclusion:
Jeep offers a diverse range of vehicles catering to the needs of everyone. Jeep has something to offer if you desire a rugged off-road machine, a spacious SUV for the family, a luxurious full-size option, or an environmentally friendly vehicle.
Jeep's lineup encompasses various sizes and prices, from the compact Renegade to the full Wagoneer. If you're currently in the market for a new vehicle, exploring the Jeep lineup will help you find the perfect model that suits your specific needs.
Whether you need a reliable daily commuter, a vehicle for exciting weekend adventures, a spacious ride for family road trips, or a capable off-roader, there's a Jeep waiting for you. We have assembled a detailed guide of all Jeep models to help you choose the best one for you.