Electric motorcycles are rapidly gaining popularity. We've seen almost all types of electric bikes on the road over the last couple of years, from daily commuters to race bikes, and it's time to accept that we'll have to switch to one soon too.
We are fortunate that today's electric bikes are available for riders of all ages, genders, and sizes. Whether you want to travel the open road, endless horizons, lush wilderness, or from home to office, an electric motorcycle can take you to your desired destination.
With so many advancements in eco-friendly transport, it's no surprise that electric motorcycles have also improved their design game. This article will look at the 15 best electric motorcycles. So, without further ado, let's begin.
Energica Experia ‐ $25,880
When electric motorcycles are mentioned, it's easy to imagine a dead battery cutting the fun short. Touring motorcycles have been ruled out because it would be hard to fit big, heavy batteries on a small frame. The Energica Experia is our favorite electric motorcycle because it's gone where others haven't.
The Energica Experia features excellent overall stance and handling and a charming aerodynamic design. The Energica Experia is, without a doubt, the best electric motorcycle on the market.
Super Soco TcMax – $4,553
The Super Soco TC Max is ideal for individuals looking for the freedom of the open road and a bike that suits their personality. It is a stylish vintage electric bike that works well as a commuter bike. The bike has a battery that can be taken out, LED lights, an anti-theft alarm, and a semi-digital cluster of instruments.
It is a high-performance electric motorcycle with a top speed of 49 mph and a weight of 100 kg. The low cost and comfortable riding position make it a good choice for short commutes or pleasure excursions.
Pursang E-Tracker – $9,425
If you don't like the current design of electric bikes or can't afford a Curtiss One, then the Pursang is your best option. The Pursang E-Tracker is a simple electric motorcycle with a carbon-fiber body and a chrome-moly steel frame.
It has a full-color TFT display that indicates speed, range, riding mode, engine power regeneration, and battery life, among other things. It can even connect to a smartphone and be used with the Bosch mobile app. The high-performance bike has enough power to have fun, enough range to get you where you need to go, and it's all wrapped up in a package that'll get you noticed wherever you go.
Kalk& – $14,860
The good thing about electric motorcycles is that new models are being made by many small companies that don't have to follow a corporate design language. The results are refreshingly different. Cake, a Swedish company, invented the world's lightest and most powerful electric dirt bike.
After doing this, it focused on a street-legal version. The result is called Kalk&, which is a glorified motorcycle. The body is extruded, forged, and CNC-machined from 6061 aluminum. The Cake isn't inexpensive, but it's light and fast, making it an excellent personal transport option.
Fuell Fllow – $10,995
The Fuell Fllow is the result of Erik Buell's inventive engineering mind. The electric motor is located in the rear wheel and produces 553 pound-feet of torque. It has brakes that put energy back into the battery, and a CCS Type 2 charger can fully charge it in 30 minutes.
The Fuell claims the fuel tank has 1.76 cubic feet of storage and can hold a full-face helmet and a soft bag. It is one of the most fantastic electric motorcycles available.
Livewire Del Mar S2 – $15,000
Livewire is trying to convince Harley riders that electric bikes are the way of the future, and the Del Mar S2 is the best example. It looks like a contemporary Harley. The heat transfer fins surrounding the bike are the sole signs of the electric platform on the Del Mar S2.
The power output is around 80 hp, and it weighs 440 pounds with a range of 100 miles. It has all the power and pleasure of the Livewire ONE but is lighter, sleeker, and cheaper.
Damon HyperFighter – $35,000
The Damon Hyperfighter is an all-electric naked motorbike with a sleek look unveiled in early 2022. The bike also has 360-degree cameras that let the rider know about objects and vehicles that could be dangerous.
This daring design is complemented by equally daring numbers, such as a peak power of 200 horsepower, a top speed of 170 mph, and a claimed range of 146 miles. It also has a unique shifting system that lets the rider move the handlebars and footpegs on the fly.
Zero SR/F – $20,095
The Zero SR/F is the most 'normal-looking' bike on this list, so you'll feel at home with it. It also has a powerful motor and battery, giving it a top speed of 124 mph and a range of 187 miles. The Zero SR/F ensures you'll have enough energy to have fun without worrying about running out of fuel.
The top-of-the-line undercarriages have Pirelli Rosso III tires, Showa Big Piston forks that can be fully adjusted, and Showa mono-shocks. The Zero SR/F also has Bosch stability control, TFT instrumentation, smartphone connectivity, and LED lighting.
Tarform Luna – $24,000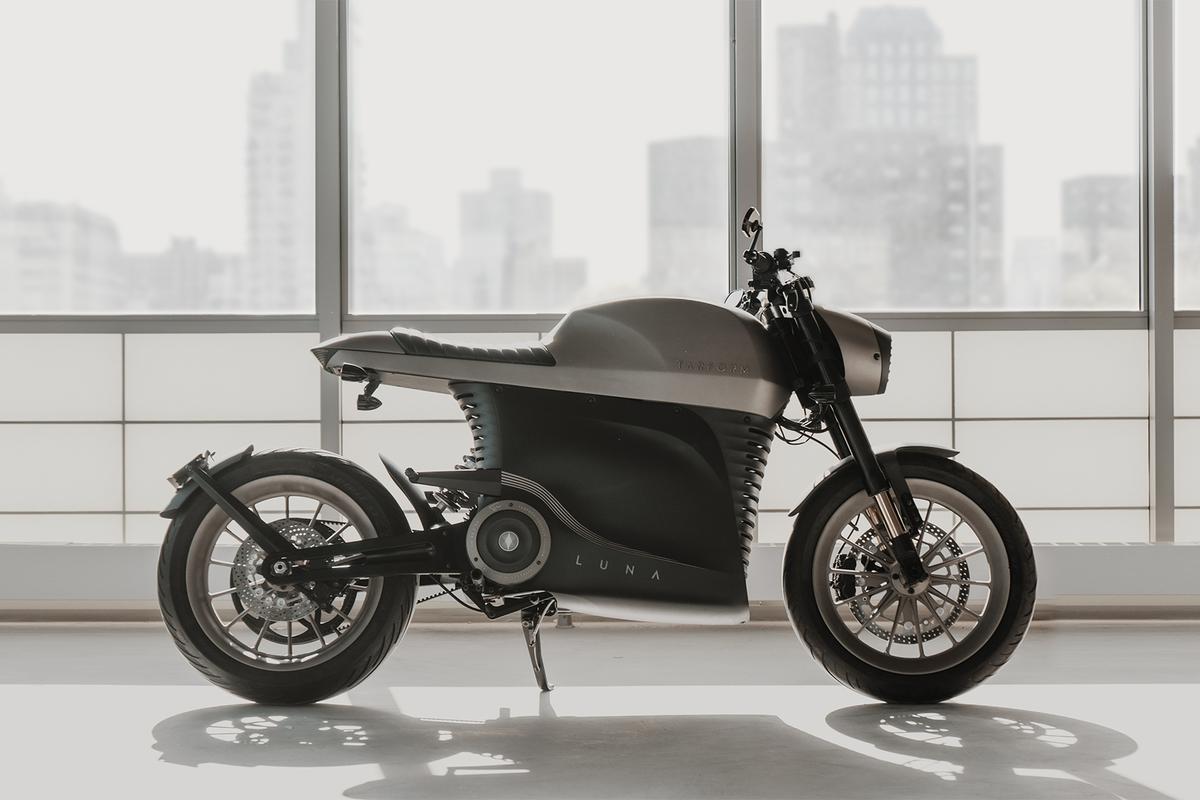 If you're looking for an eco-friendly electric motorcycle, the Tarform Luna is the best. Nearly 55% of the bike's parts are 3D-printed from recycled pineapple-leaf fibers and aluminum.
The Tarform Luna has a round digital instrument cluster with an HD display, all-LED lighting, three riding modes, a 180-degree rearview camera, keyless ignition, and Bluetooth phone connections. The bike has a claimed range of 100 miles and a top speed of 120 mph, thanks to an excellent motor and battery combination.
Evoke 6061 – $24,000
Electric cruiser motorcycles are uncommon, but the Evoke 6061 is one of them. However, this is not the reason it appears on this list. The Evoke 6061, an e-cruiser, charges from zero to 80 percent in 15 minutes!
This feature puts it on par with gas-powered bikes, given that it takes roughly the same time to fill up your motorcycle at a crowded gas station. The Evoke 6601 has a massive 25 kWh battery, giving it a highway range of 265 km (165 miles).
Energica Ego+ – $23,870
If you enjoy riding sportbikes and want to go electric, the Energica Ego+ is the best electric motorcycle for you. The Ego+ features sport bike-like performance, 170 horsepower, and a limited top speed of 150 mph. It also has a range of 261 miles, far greater than the typical ICE sportbike.
The Energica Ego+ is built with top-tier components like a trellis frame, cast aluminum wheels, Marzocchi USD forks, and Brembo brakes on both ends. The Ego+ is also used in the MotoE world championship, so it's safe to say that the bike is ready for a racetrack.
Cake Osa Flex ‐ $8,880
The Cake Osa Flex is the way to go when versatility is a must. This high-performance utility electric motorcycle has more than a thousand ways to use its accessories, so it can easily handle any situation. It is a multipurpose electric motorcycle scooter.
The battery pack has multiple plugs for power and can be used as a portable power station. It's a workbench on wheels combined with a commuter bike that can carry gear. The Cake Osa Flex is completely street-legal and can be registered as a 50cc motorcycle.
Damon HyperSport ‐ $24,995
Damon HyperSport is a high-performance, all-electric sport motorcycle packed with award-winning technology. The Damon Hypersport is designed to take you faster, safer, and farther than ever. The HyperSport produces 200 horsepower and can reach 60 mph in less than three seconds.
You can change your flying riding position to reduce fatigue or prepare for curves. An integrated CoPilot system uses artificial intelligence to watch your surroundings and warn you of any dangers.
Sondors Metacycle – $5,000
Take one look at the Sondors Metacycle, and it's apparent that this electric bike is revolutionary. It's a new sector that's more powerful than most electric bikes but not as powerful as a motorcycle. As the battery pack is easily removable, you may park on the street and bring it inside to charge when you're away from home.
The Sondors Metacycle is a guilt-free, hassle-free mode of transportation. It'll put a grin on your face while allowing you to put your hard-earned money to the best possible use.
BMW CE 04 – $11,795
BMW deserves credit for introducing superior electric variations to the streets. The German automaker unveiled futuristic-looking electric motorcycles over a decade ago and continues to change the automotive and motorcycle sectors with new platforms.
The BMW CE 04 is not an ordinary motorcycle. Its low-slung design and long bench seat resemble a jetski out of water. This beast uses a tiny battery pack and a powerful motor. BMW CE 04 gives you room for two passengers or gear and a large storage area for daily use.
Pros & Cons Of Electric Motorcycles

Pros
• Affordable Transportation
Electric bikes are one of the affordable means of transportation. An electric bike doesn't require a license or registration, doesn't require parking, and costs much less than public transit fares.

• Improved Health
Riding an electric bike as part of your daily traveling is a great way to get more exercise and improve your health. An electric bike gives you time and space to strengthen your muscles, lungs, and heart in the fresh air.

• Enjoy Recreational Trips
Electric bikes allow many individuals to enjoy recreational trips with friends and family. An electric bike may help you take more leisurely rides with loved ones if you're new to riding.

• Exercise that's perfect for you
Electric bikes can allow those with health conditions that limit their physical activity to exercise more. Electric bike riders can adjust their rides' difficulty to meet their health and fitness needs by regulating the motor's assistance.

• Sweat-free Commutes
Riding a regular bike to work can leave you hot, sweaty, and uncomfortable. However, an electric bike lets you cover the same distance with less effort. Electric bikes allow riders to enjoy all the benefits of commuting without clutter.
Cons
• High upfront cost
First-time e-bike buyers are often astonished by the $1,000–$10,000 price tag. While it's true that buying a high-quality e-bike is expensive, operating it isn't. Electric bikes are cheaper than cars and high-end bicycles.

• Heavier than standard bikes
Ebike technologies and components have improved, but electric bikes are still heavier than traditional bikes. This is a problem when transporting the bike or when the battery fails while riding.

• More specialized, complex parts
Most e-bike parts are standard bicycle components that are easy to find, replace, and fix, but a few are highly specialized and specific to e-bikes. Technical e-bike parts are more intricate and challenging to source, making them harder and more expensive to repair.

• Confusing legal status
Because electric bikes are new to the U.S., their legal position might need to be clarified. Electric bikes with a top speed of 20 mph and engines under 750 watts can be ridden on bike paths and lanes without special authorization or registration. Some places have specific restrictions that may restrict your electric bike use. Thus, check the local and state laws before riding an electric bike.
How To Select The Best Electric Motorcycle For Yourself
An electric motorcycle is an excellent option if you're seeking a sustainable vehicle that strikes a decent balance between the two. For example, they typically cost less than an electric car and have quicker recharge times, which is a bonus. However, certain aspects to consider while buying an electric motorbike are mentioned below.
Range: Electric motorbikes have a maximum range before needing to be recharged. If you use your electric motorcycle for commuting, you can choose a bike with a smaller capacity and focus on other features. For longer trips, select a model like the Damon Hypersport Premier.
Comfort: If you ride a motorcycle often, a little comfort goes a long way. Check your future bike's seat material, pedal adjustability, and shock absorbency.
Safety: Motorcycles have been criticized for their safety issues. Modern EV motorbikes include 360-degree cameras and intelligent rider assistance to make up for this. A high-tech bike with these features can help you feel safer while riding.
FAQs
Which electric motorcycle is the best as of 2023?
The most fantastic electric motorcycle in 2023 is the Energica Experia. This ride has the potential to take you beyond country borders, with a range of 261 miles. It also possesses an ultra-cool appearance and a lightning-fast top speed.

What is the most affordable electric motorcycle?
The Super Soco TcMax is the most affordable electric bike in 2023, costing $4553. This high-performance electric bike is an excellent choice because it has a more extended range and a top speed of 49 mph than many of its competitors in this market.

Which electric bike has the most excellent range?
The Damon Hypersport is like a real pegasus because it can fly for 300 miles (482 km) on a single charge. You won't be wandering either: at a top speed of 200 mph (420 km/h), you'll feel the wind in your hair on this magnificent bike.

Are there gears on electric motorcycles?
Most electric motorcycles on the market are single-speed motorcycles with a 'twist-and-go' design similar to that of conventional scooters. However, there are a few exceptions to the norm. The Brammo Empulse R, for example, is an electric motorcycle with a six-speed transmission and a traditional clutch. KYMCO has also created the SuperNEX, an electric bike with a gearbox and clutch.

Are e-bikes a good idea?
While e-motorcycles are now expensive, they are the mode of transportation of our time. E-motorcycles are the way of the future because they are noiseless, don't cause any pollution, and reduce your carbon footprint.
The Bottom Line
Selecting any motorcycle is challenging, and the rise of electric motorcycles has just added to the complexity! However, selecting the best electric motorcycles for you does not have to be complicated; you only need a little knowledge about them, their potential, and their flaws.
To determine the best electric motorcycles on the market today, we prioritized the most significant aspects—such as safety and range, power, style, and comfort—and examined all recently released motorcycles. The master list we created included several sophisticated and powerful motorcycles! Let us know which electric motorcycle you find the most fascinating & which one you would prefer to buy!