When it comes to speed, many people favor the K24 motor. It's a solid, potent engine that can be easily tweaked for greater output. Each K24 engine has unique qualities and advantages, and numerous distinct K24 engines are available.
The top-performing K24 engines are the focus of this article. The advantages and disadvantages of various engines will be discussed in detail. We'll also explore how to pick out the perfect K24 motor for your vehicle.
Since its debut in 2002, numerous Honda and Acura models have utilized the K24 engine. The engine is a 2.4-liter four-cylinder that can make between 160 and 200 horsepower on the situation. The K24 engine is well-liked for its durability and potency.
Consider your requirements and budget before settling on a K24 engine. The K24A2 or K24A3 may be a good choice only if you want a powerful engine. The K24A4 engine is dependable and efficient in fuel use, so let's seriously consider purchasing one if you are in the market.
There is a specific K24 engine that is perfect for each driver and situation. You will find the ideal K24 engine for your requirements and budget by following the advice in this article.
Different K24 Engines For Best Performance
There are many different K24 engines available, each with its own unique set of features and benefits. Some of the most popular K24 engines include:
Note: The horsepower and torque figures are for the stock engines. With modifications, these engines can produce even more power.
Technical Details of the Honda K24 Engine
We'll give you a quick review of the K24 family's several engine options and their specs. This will guide you in selecting the ideal K-Series motor for your project, whether a drift car, a day-drive vehicle, or an autocross winner.
We will also discuss the advantages and disadvantages of their most common engines. Let's dive in right now!
Related: RB25DET Engine: Specs, History, and Performance Upgrades
K24A1 Engine
Honda's first K24 range engine, the K24A1, was used in CR-Vs manufactured between 2002 and 2009 and produced 160 horsepower and 162 pound-feet of torque. The A1 was the pioneering model, with an engine with similar characteristics to the B-series engines and a high level of low-end torque.
It has a compression ratio of 9.6:1, which is relatively high despite its excellent performance. Compared to its predecessor, the 2.0-liter K20, the K24 has stronger connecting rods and better counter-weighted crankshafts.
The result was increased output and torque when added to the larger displacement and the composite two-stage intake manifold. The Variable Valve Timing and Lift Electronic Control system, or VTEC for short, is an iconic feature of Honda engines.
Unfortunately for K24A1 owners, it lacks a VTEC mechanism on the exhaust cam. Thus, it uses only twelve valves until 2,200 rpm and all fourteen afterward. The K24A1 is becoming a common replacement or upgrade for other engines.
Unlike most other K-series engines, the A2's oil pump is a direct drop-in replacement for the A1's. The K24A1 sports a top-tier cylinder head that can be ported to increase airflow and is very comparable to the very desirable Type-S head.
The Type-S head can be used as a direct replacement if a quick switch is desired. Let us introduce you to the K24A2, the best of the K24's ready-made solutions.
K24A2 Engine
The K24A2 is often regarded as the best K24 engine, but its exorbitant price makes other K24 variants more appealing if you're not afraid to do some serious tuning.
The Acura TSX used the K24A2 engine, which produced 197-205 horsepower and 164-171 pound-feet of torque and was also found in the Honda Odyssey and the Japanese Domestic Market (JDM) Accord Type-S.
The European and Australian markets referred to this motor by the name K24A3. Honda revised the A2's undercarriage extensively, increasing the compression ratio to 10.5:1.
In contrast to the K24A1, the i-VTEC technology was used for both the intake and exhaust camshafts. Lighter pistons, dual balancing shafts, a forged crankshaft, reinforced connecting rods, and upgraded cams were also included.
The Acura TSX K24A2 was modified for the 2006 model year and later with a larger air intake duct (from 70mm to 80mm), a larger throttle body (from 60mm to 64mm), improved intake valves, a new intake camshaft, and new exhaust.
The result was the best possible performance from the K24A2 engine, which now produces 205 horsepower at 7,000 rpm and 164 pound-feet of torque. While horsepower increased from 197 to 205 thanks to the upgrades, torque dropped from 171 to 164.
K24A3 Engine
Like the K24A2, the K24A3 is an engine for the European and Australian markets. This 2.4-liter four-cylinder was standard equipment in Honda Accord and Accord Euro vehicles manufactured between 2003 and 2007.
The K24A3 was not upgraded like the K24A2. Therefore, its initial output of 197 horsepower and 171 pound-feet of torque at 7,200 revolutions per minute stayed unchanged in succeeding model years.
K24A4 Engine
Due to their widespread use, K24A4 blocks are readily available at a fair price, making them the favorite option for piston swappers. The K24A4 has a compression ratio of 9.7:1 and was based on the A1, not the A2.
It had 160 horsepower and 161 pound-feet of torque. This motor is used in various vehicles, from the Odyssey to the Civic Si. The RAA single-stage intake manifold and the altered intake and exhaust ports inside the cylinder head were two main changes, although most enthusiasts think they don't improve flow over the A1.
The emission regulations were the driving force behind the K24A4 manufacture. Honda did a good job, as the two have very little difference in power.
K24A8 Engine
They modified the K24A8 somewhat from the K24A6 to conform to new environmental standards. The Honda Element, Accord, and Odessey used the K24A8 engine when it was first introduced in 2006. This variant appealed to these family automobiles due to their increased fuel efficiency.
The RTB manifold and electronic throttle body were the only significant modifications to either engine. With this little upgrade, the engine now produces 166 horsepower and 161 pound-feet of torque.
K24Z1 Engine
The K24Z1 engine was introduced for the Honda CR-V in 2007 as a direct replacement for the K24A1. The primary goal of the K24Z family was to comply with ever-stricter emissions rules while also expanding on the K24A's achievements.
It keeps the 9.7:1 compression ratio strong, producing 166 horsepower and 161 pound-feet of torque at a maximum rpm of 6,500. Internally, a forged-steel crankshaft and an internal balancer unit have been added, and the oil filter has been moved.
The electronic drive-by-wire throttle body and the subsequent 1-stage RTB intake manifold were retained. In addition, a new, more compact catalytic converter has been introduced to meet the stricter pollution regulations. The K24Z family strongly focuses on emissions but provides an excellent basis for tuning and engine swaps.
K24Z2 Engine
Production switched to the K24Z2 from the K24A8 because it met stricter pollution regulations. Power numbers of 177 hp and 161 lb/ft were made possible by the R40 intake manifold, integrated exhaust manifold, and improved fuel injectors.
K24Z3/K24Z7 Engine
The K24Z3 engine, which debuted in the much heavier second-generation Acura TSX, was another major revision of the K24. Even though the Honda Accord's K24Z3 had a lower compression ratio (10.7:1) and produced less power and torque (190 hp and 162 lb-ft), it was essentially a K24Z3 with a high-flow exhaust system.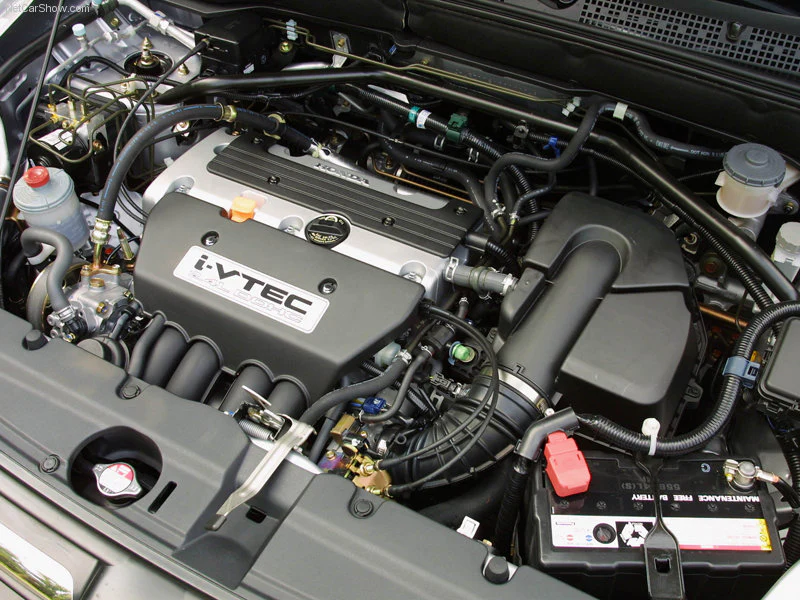 In contrast, the 2009-2014 Acura TSX K24Z3 featured a revised engine with 31mm exhaust valves and an updated i-VTEC system, which increased output to 201 horsepower and torque to 172 pound-feet. However, the TSX's improved engine, which was the same as the K24Z7, was also included in the CP2 and CS1 Honda Accord models.
Chain-driven dual balance shafts, i-VTEC intake and exhaust camshafts, lightweight pistons, upgraded connecting rods, and PGM-FI fuel injection are all standard on the K24Z3.
K24Z4/K24Z5/K24Z6 Engine
Honda updated the K24Z1 once more to meet updated pollution rules, necessitating a 9.7:1 compression ratio, resulting in 161 horsepower and 161 pound-feet of torque.
Similar to the K24Z2, the K24Z5, and K24Z6 differ only in minor details. Honda first provided the K24Z5 in China exclusively and the K24Z6 in subsequent generations of the CR-V sold in the United States. The K24Z4 offers a balanced combination of performance and efficiency, making it a reliable choice for Honda enthusiasts.
Which Cars Use Honda K24 Engines?
| | | | | |
| --- | --- | --- | --- | --- |
| Model | Year | Engine | Horsepower | Torque |
| Honda Accord | 2003-2007 | K24A2 | 190 hp | 161 lb-ft |
| Honda Accord Hybrid | Honda Civic Si, EU | K24A3 | 173 hp | 162 lb-ft |
| Honda Civic Si | 2006-2011 | K24A2 | 197 hp | 161 lb-ft |
| Honda Civic Si,EU | 2006-2011 | K24A3 | 201 hp | 162 lb-ft |
| Honda CR-V | 2002-2006 | K24A1 | 160 hp | 161 lb-ft |
| Honda Element | 2003-2011 | K24A4 | 170 hp | 161 lb-ft |
| Honda Odyssey | 2005-2010 | K24A2 | 190 hp | 161 lb-ft |
| Acura RSX | 2002-2006 | K24A2 | 197 hp | 161 lb-ft |
| Acura TSX | 2004-2014 | K24A2 | 180 hp | 161 lb-ft |
Note: This is not an exhaustive list. Many other cars have been equipped with the K24 engine.

Tuning The Honda K24
We at "Engineerine.com" think the Honda K24 engine strikes an outstanding balance between price and performance. The K24 engine can be tuned in many ways, and if you're prepared to put in the time and money, you can get some remarkable power statistics.
Related: Best & Worst Years Of Duramax Engine (Cars To Avoid!)
And don't forget the sweat, tears, blood, and much cussing along the way! We know that the K24A2 in the Acura TSX can produce 205 horsepower and 164 foot-pounds of torque from the factory, but what if we want more?
To get the most out of your K24, a K20A2, K20A Euro R, or KA20A Type R head paired with any K24A cylinder block is the recommended starting point. Take note that this is exclusive to the K24A family of motors. It can't be used because the K24Z's pistons would hit the K20's cylinder head.
Using K20 components instead of K24 may seem strange. However, the K20 has better valve springs and camshafts. If you decide to go this route, you might as well swap out the K24's water pump with a K20's one, too.
About 260 hp may be extracted from a K20A2 engine by installing upgraded parts such as race bearings, high-compression pistons, rods, studs, fuel injectors, an electronic control unit (ECU) upgrade, and a more robust flywheel.
More internal porting, upgraded valves and cams, a larger throttle body, a cold air intake, and upgraded manifolds and exhaust can get you over 300 horsepower without forced induction.
Power figures start at roughly 400hp if you're willing to go the forced induction path, and they can rise to some pretty astounding power figures, provided you have the funds to put at it. There are K24 crate engines available if you have the budget for them.
Related: ZZ632 Chevy Crate Engine (Specs, Performance, Price)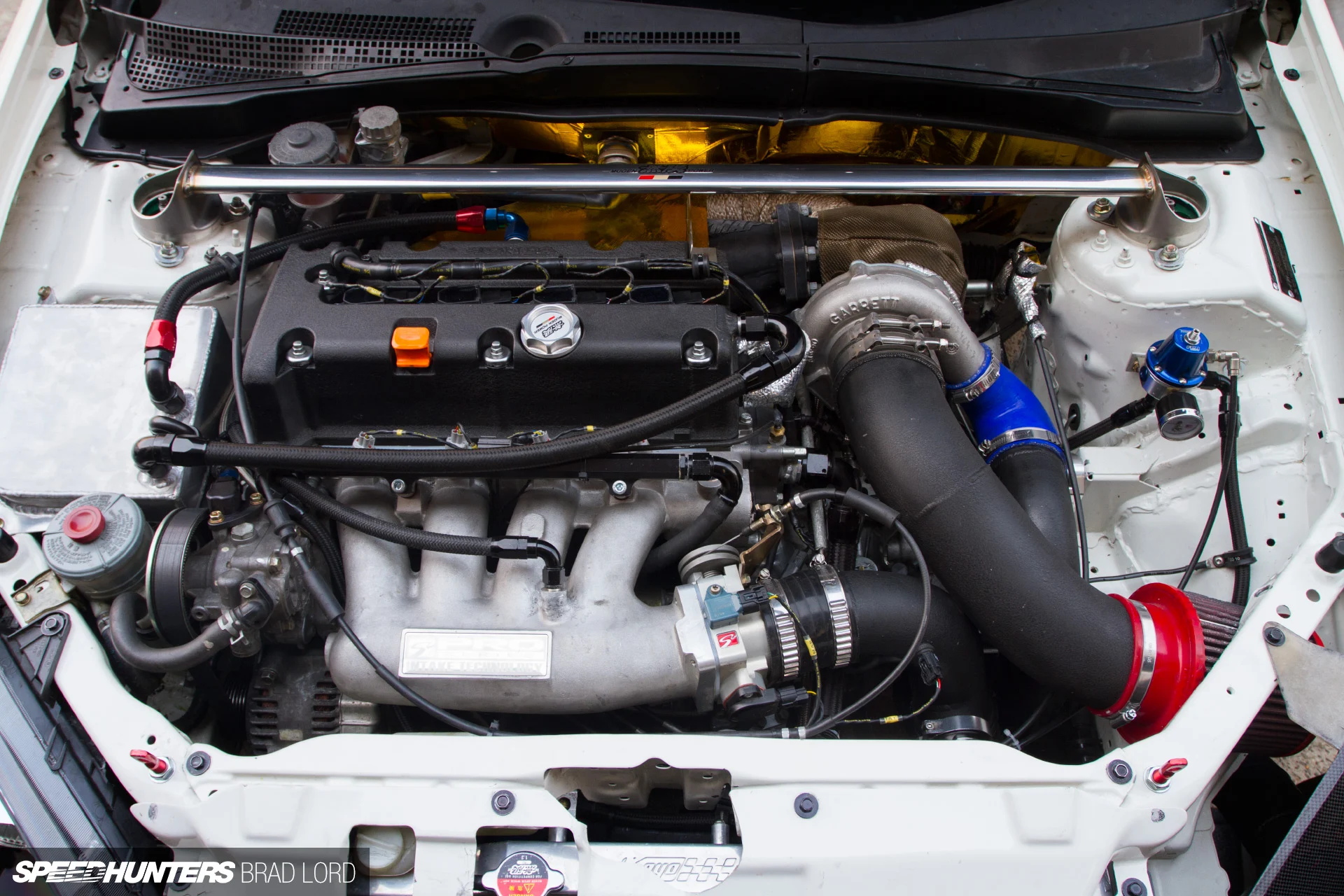 From their K340, which produces 340 horsepower at 9,000 rpm, to their full drag setup, which can run the quarter mile in an astonishing 8.94 seconds, companies like 4 Piston Racing provide highly modified turn-key K24 crate engines.
That's the sweet spot. Yes, but there will be a cost. You can purchase one from 4 Piston Racing for just over $11,000. The flexibility of the K24 engine family allows for a wide range of customization options. It doesn't matter if you want a few bolt-on performance mods or a custom race engine built from the ground up.
They can produce astonishing power levels with remarkable dependability when constructed and maintained correctly. It is, after all, a Honda. While further investigation is always recommended before deciding on the best K24 solution, the data presented here should serve as a solid foundation for your next construction project.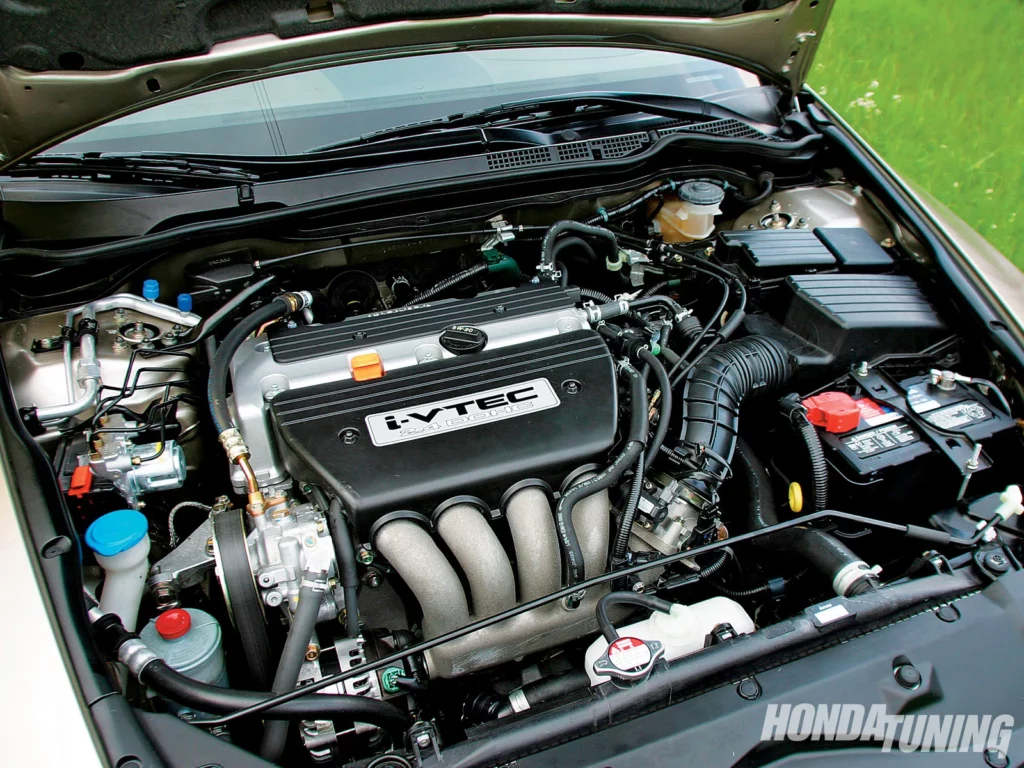 K24 Honda Engine Swaps
Over the years, we've seen everything from Honda NSXs to custom Noble M400s with K24 swaps. This further supports our claim that the K24 is a formidable V8 adversary against rear-wheel-drive (RWD) drift cars and mid-engine Time Attack weaponry.
A quick online search will show you how many K20/K24 swaps are available, and you can buy ready-made kits for your Mazda Miata or Nissan 240SX. If you're considering doing a transmission switch in your 240SX or Miata, the BMW ZF manual gearbox is the most popular choice because it's affordable and easy to find.
Related: 18 Drift Cars For Beginners | 5 Essential Tips
The Toyota MR2, a number of different Lotus models, and the Honda S2000 are other popular candidates for the K24 swap. Here is a Ferrari 308 GTB K24 to kick off our wild swap list
How about this cheapest build Honda Civic K-swap, number 2 on our list of K24 Engine Swaps?
Here you see the K24 Swapped Mazda Miata; check if it is what you need.
I bet you won't regret seeing this K24-Swapped Ferrari screaming at number 4 on our list today.
If you are not a big fan of such crazy screaming, let's see this swapping of K24 to Civic hatchback, number 5 on our list of K24 Engine swaps.
Forced Induction Honda K24
Several options are available to give your K24 a healthy dose of tasty, performance-boosting forced induction. There are plenty of turbocharged K24s and a respectable number of supercharged K24s. The good news is that the K24 is one of the most accessible engines to alter, and it is particularly well-suited to forced induction.
It's easy to see why the K24 is such a popular choice for engine swaps; its standard internals can withstand up to 4–500 horsepower. However, forced induction stresses any engine, especially older ones that may not have been well maintained.
Therefore, before going through forced induction, we would always undertake a total tear-down to ensure you had a firm platform. We also recommend considering upgraded internals to prevent you from bawling once you start bouncing off the limiter.
Reliability and Common Problems with the Honda K24
If you take good care of your K-series Honda, a factory engine should last you for hundreds of thousands of kilometers with only occasional servicing.
Here at Engineerine, though, you probably won't go the stock path, and the well-maintained quality may also be a bit lacking for many of you. However, as with every other engine we've examined, the engine has a few minor issues.
The timing chain sensor is a potential weak point, although this can be mitigated by using one of several available methods. Furthermore, timing chain tensioners frequently fail. A repair for this would cost somewhere between $700 and $1200. It's a small price to pay for JDM dominance.
Excessive wear on the exhaust camshaft and leaking oil seals are two common problems. Incorrect engine oil or a lack of maintenance are common causes of engine noise. Rattling timing chains are typically caused by a lack of maintenance.
In the long run, this might cause damage to the VTC gear, necessitating replacement, mainly if the source is on the right side of the engine. Most of these issues are rather mild and can be traced back to neglect.
If you follow up with the maintenance and don't change it too much, you may anticipate it to last another 200,000 to 300,000 miles (321869 to 482803 km).
Conclusion
In conclusion, K24 engines are often regarded as among the best in the automobile industry. K24 engines are well-liked by drivers and tuners because of their high output, durability, and adaptability. K24 engines, which can be swapped into the Honda Civic and Accord and a number of other vehicles, produce a lot of power, significantly when enhanced with turbocharging or supercharging.
K24 engines have become synonymous with speed due to their high-revving nature and modification ability, making them popular for track-ready and racing applications. The K24 engine is an excellent option whether you want reliable everyday driving or to construct a high-performance vehicle.