The Chevrolet Malibu has been in production since the 1960s and has undergone significant changes since then. It currently holds a top rank among midsize vehicles. The Chevy Malibu has a sleek and stylish body, and it's made for a smooth and comfortable ride. The current Malibu model from Chevrolet has a top speed of 130 mph and a horsepower of 163hp, making it a powerful and quick vehicle.
The Chevy Malibu has a lot going for it, but some people may still want something similar to it. Most people who don't like the car say that it seems outdated because of its simplistic design. If you're looking for alternatives to the Chevy Malibu, here are 20 cars that are quite similar to it.
20 Cars Similar to Chevy Malibu
1. Kia Optima:
Although the Kia Optima is slightly more expensive than the Malibu, it has a nicer interior and a better safety rating. The Optima has a very user-friendly infotainment system and many standard tech and safety features, like blind spot monitoring and parking sensors.
The Optima has a more efficient cargo hold. The trunk space of the Malibu is 15.7 cubic feet, while that of the Optima is 15.9. However, Malibu's trunk has a higher liftover height and a lower floor, which makes it harder to store and load things.
2. Honda Accord:
This car is for people who place a high value on entertainment. This vehicle has eight speakers built in, so everyone within can hear the tunes clearly and at a decent volume. The vehicle is compatible with SiriusXM Satellite Radio, which enables you to access a variety of entertainment stations and music channels.
The absence of ads and other interruptions makes the music channels enjoyable. The car boasts a user-friendly navigation system called the Honda Satellite-Linked Navigation System. This system performs a real-time search for locations within a specific radius. You can use your voice to control this system.
3. Toyota Camry: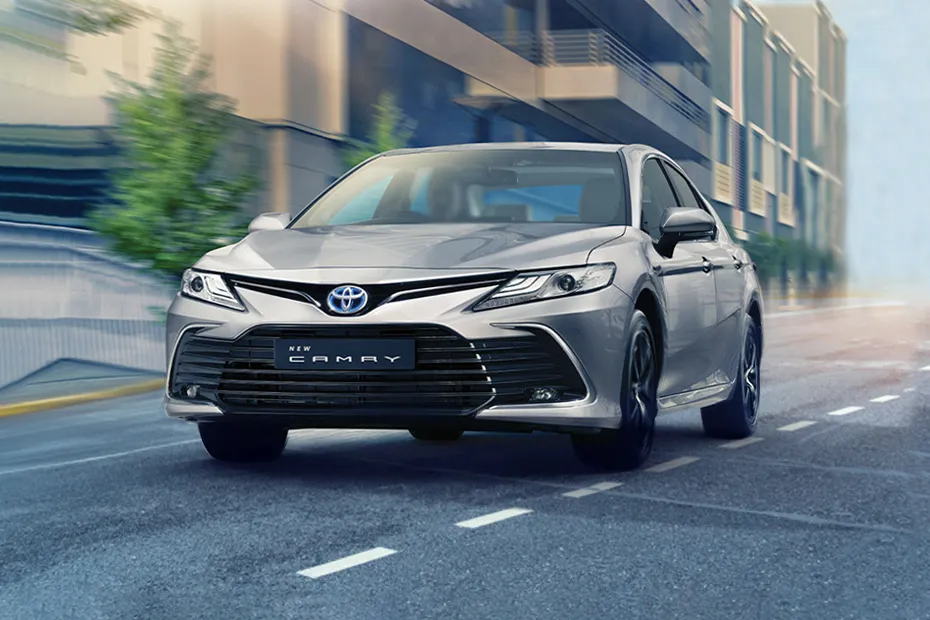 You can have a four-wheel drive system if you buy a 4-cylinder version of this vehicle. If you frequently travel on slippery or muddy roads, you should gear the car with this traction device. Since all-wheel drives use a lot of fuel, this car can disconnect the all-wheel drive when traveling at highway speeds.
The Entune entertainment system in this car is impressive. The system comes with a 7.0-inch screen, but you can replace it if you'd like a 9.0-inch one. Entune is compatible with Amazon Alexa, Apple CarPlay, and Android Auto.
4. Hyundai Sonata:
The Hyundai Sonata narrowly beats the Chevy Malibu in performance. The Sonata has slightly better interior and safety ratings. Additionally, its trunk is larger than the Malibu's. This vehicle's SmartSense package includes several features for semi-autonomous driving.
SmartSense has a number of functions that can help drivers, including Lane Keeping Assist, Remote Smart Parking Assist, Highway Driving Assist, Blind-Spot Collision-Avoidance Assist, etc. SmartSense is designed to assist you in avoiding collisions. Its shifting is smooth because it has an 8-speed transmission system.
5. Mazda 6:
The Malibu has decent handling but isn't very enjoyable to drive. On the other hand, the Mazda6 provides precisely that. The Mazda6 is the best option for you if performance is your top priority. The car's excellent infotainment system offers a variety of functions. It comes with Bluetooth, Apple CarPlay, and Android Auto on its 8-inch touchscreen.
You can get a cool new feature called Adaptive Front Lighting if you go for the Carbon Edition, Grand Touring Reserve, or Signature package. This feature illuminates in the dark so you can see clearly. The direction and vertical angle of the lights can be changed automatically. So, you only need to worry about focusing on steering when driving.
6. Nissan Altima:
The Nissan Altima is a midsize vehicle with similar power to the Chevrolet Malibu. This model's standard engine is a four-cylinder, 2.5-liter unit that produces 188 horsepower. If you want more power, you can choose the turbocharged engine that makes 248 hp. Both engines have excellent fuel efficiency.
The turbocharged engine achieves 34 mpg on the highway and 25 mpg in the city, compared to the standard engine's 39 mpg on the highway and 28 mpg in the city. This car's NissanConnect Services app is another remarkable feature. You can download this app on your smartphone. Once you have the app, you may lock the doors or locate your car using your smartphone.
7. Subaru Legacy: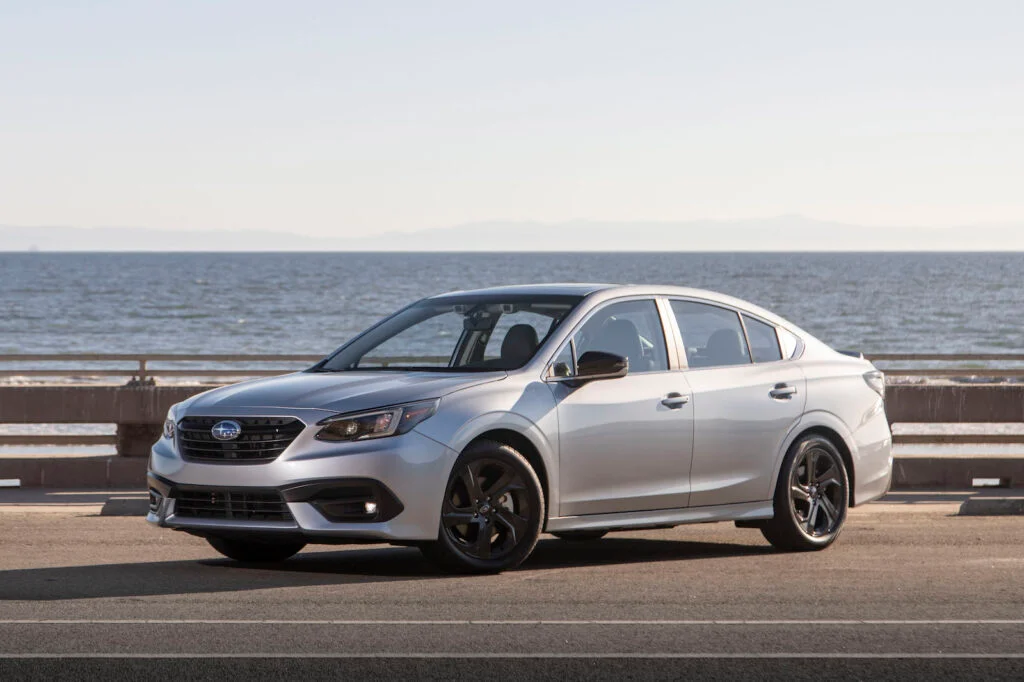 The Chevy Malibu and the Subaru Legacy are almost similar in price. Starting at just $25,415, the Subaru Legacy is more practical. The Legacy offers heated leather seats inside, but its exterior is simple and traditional. The car is built with safety in mind and includes driver assistance technology.
Like the Chevrolet Malibu, the Subaru Legacy is a 5-seat mid-size vehicle. It also has comparable horsepower, between 182 to 260hp. This vehicle's gas engine gets 27 mpg in the city and 35 mpg on the highway.
8. Kia K5: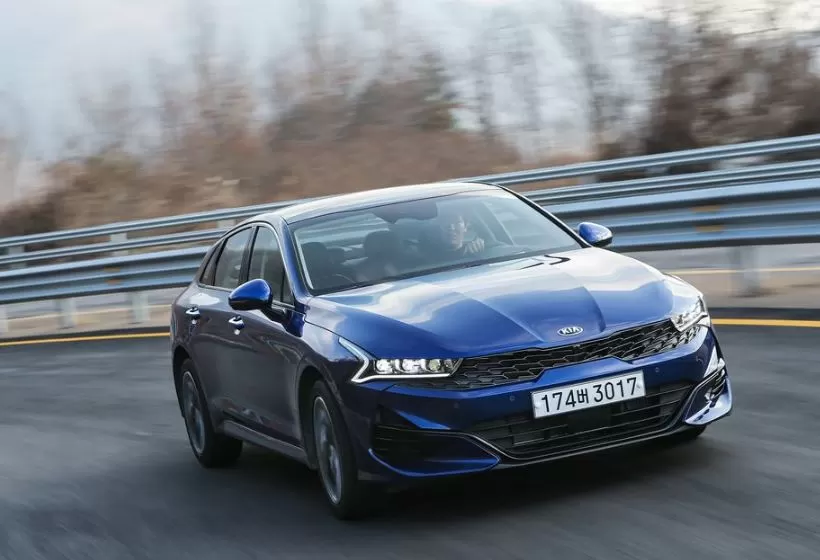 The Kia K5 is a mid-sized car with a similar focus on reasonable cost and practical design as the Chevy Malibu. The starting price is $26,415, and it has a performance-focused design and a turbocharged engine. Horsepower ranges from 180 to 290 in different models, based on how much power you want behind the wheel.
Similar to the Chevy Malibu, all Kia K5 models have 5 seats. Also, this car can go from 0 to 60 mph in 5.2 seconds, so you can get where you need to go quickly. The car has a sleek, contemporary design, and its cabin is equipped with heated front seats and a 10.25-inch screen that can be customized.
9. Honda Clarity:
The Honda Clarity is propelled by a hydrogen fuel cell engine that generates 174 horsepower and 221 lb/ft of torque. It has a single-speed automatic transmission and front-wheel drive. This vehicle also includes excellent safety features as part of the Honda Sensing system.
You can access security options like adaptive cruise control, lane keep assist, and forward collision warning under the suite. If you want a car with a great voice control feature that lets you handle the audio or navigation, look no further than this car. This feature can recognize and react to natural speech patterns. So it doesn't matter if you stammer or have a strong accent.
10. Mercedes-Benz E-Class: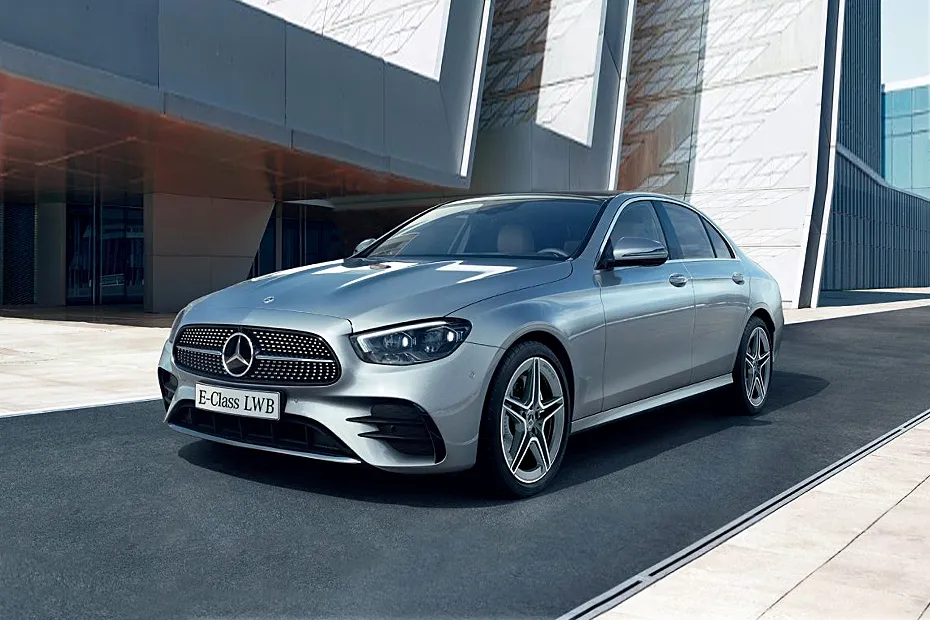 You will be impressed by this car's excellent balancing when you drive it. This car's all-wheel drive technology is called 4MATIC. 4MATIC collaborates with the Electronic Stability Program on slick or uneven conditions to offer balance and stability. The Electronic Traction Control system, which controls each wheel, aids in the detection of any sliding or irregular rotational motion.
Last but not least, the car has a technology called Cornering Assist that enables you to navigate corners without rolling. This vehicle's high level of comfort is another selling point. The car's power-adjustable driver seat offers four lumbar position settings. The front seats also have three different heating levels.
11. Buick LaCrosse:
The Buick LaCrosse is a great alternative to the Malibu if you're in the market for a larger car. The LaCrosse is a top-tier large car with a roomy cabin and a smooth ride. The most recent version of this vehicle is 2019, as Buick stopped making it after that year. But the 2019 Buick Lacrosse is still very much like the Chevrolet Malibu.
The LaCrosse costs a little bit more than the Malibu, but you can put that down to it being bigger and having a nicer inside. Additionally, because General Motors produce both the LaCrosse and Malibu, they share a number of aesthetic and infotainment elements.
12. Audi A6:
This vehicle has one of the largest boot spaces among mid-size vehicles, with a capacity of 530 liters. You can fit a set of golf equipment and a few roomy luggage in such a space. The back seats can be folded in a 60:40 split to add more room. This is especially important if your luggage is large.
The car includes space beside the gear lever and four door bins that are large enough to hold a 1.5-liter bottle. The A6's two engines, a 335-hp turbocharged 3.0-liter V-6 and a 261-hp turbocharged 2.0-liter four-cylinder, are both more than capable of moving this mid-size sedan around town without exerting too much of a strain.
13. Porsche Taycan:
For its infotainment system, this Porsche model finally made Android Auto available. The other thing you can use is Apple CarPlay. The car's infotainment system is run by a 10.9-inch touchscreen, which is helped by a second 8.4-inch screen with shortcuts and key features.
Voice Pilot is the infotainment feature that makes this car a must-have. You only need to say, "I'm cold," and the feature will tell the automobile what to do to warm you up. The majority of Taycan vehicles have 2 electric motors, one driving the front wheels and the other the rear. They generate different outputs that change depending on the trim level.
14. Toyota Mirai:
This vehicle is driven by a fuel-cell electric powertrain, which transforms hydrogen (often derived from cow manure) into electricity. It accelerates from 0 to 60 mph in 9.1 seconds and has an 182 HP electric motor.
Although some people might perceive the motor's acceleration as poor, it makes up for it with a lively ride. The interior of the car boasts a stylish, opulent, and futuristic style. This is clear from the copper-colored trim pieces on the door and dashboard panels.
15. Lexus ES Hybrid:
The panoramic view monitor is one of this car's newest technologies. It uses high-resolution cameras to provide the driver with a bird's-eye view of the immediate surroundings. You can select Moving View and See-Through View to get a composite image of the area around the car.
You can use Alexa once you install the Lexus app on your smartphone. The Lexus ES offers three different powerplant options to customers. A 2.5-liter four-cylinder engine with 203 horsepower powers the ES250, which also has all-wheel drive as standard. Every ES350 model has a 3.5-liter V-6 engine with 302 horsepower.
16. Mercedes-AMG c63:
This vehicle packs a punch because of its AMG-tuned turbocharged engine, which generates 503 horsepower and 516 pound-feet of torque. The engine is coupled with an all-wheel-drive system and a 9-speed gearbox called 4Matic. It can reach 60 mph in 3.9 seconds of acceleration.
The 10.3-inch entertainment system in the C63 comes with two USB connections and support for Apple CarPlay and Android Auto. AMG Track Pace is an additional choice that lets you retain performance information from your car in the infotainment interface when on a road course.
17. Cadillac CT5:
The car's handling is remarkably agile and superior to that of recent expensive European versions. The car's standard multi-valve dampers keep it balanced as you navigate turns. Choose the CTS-V variant if you want smoother rides. This model has Magnetic Ride Control suspension and a limited-slip rear differential.
The CT5's base engine is a 2.0-liter turbocharged four-cylinder with 237 horsepower, but you can upgrade to a 3.0-liter twin-turbocharged V-6 for 335 horsepower. The high-performance CT5-V features adaptive dampers, an electronically controlled limited-slip differential, and a 360-hp twin-turbo V-6 engine. Both engines work with a 10-speed automatic gearbox.
18. Genesis G80: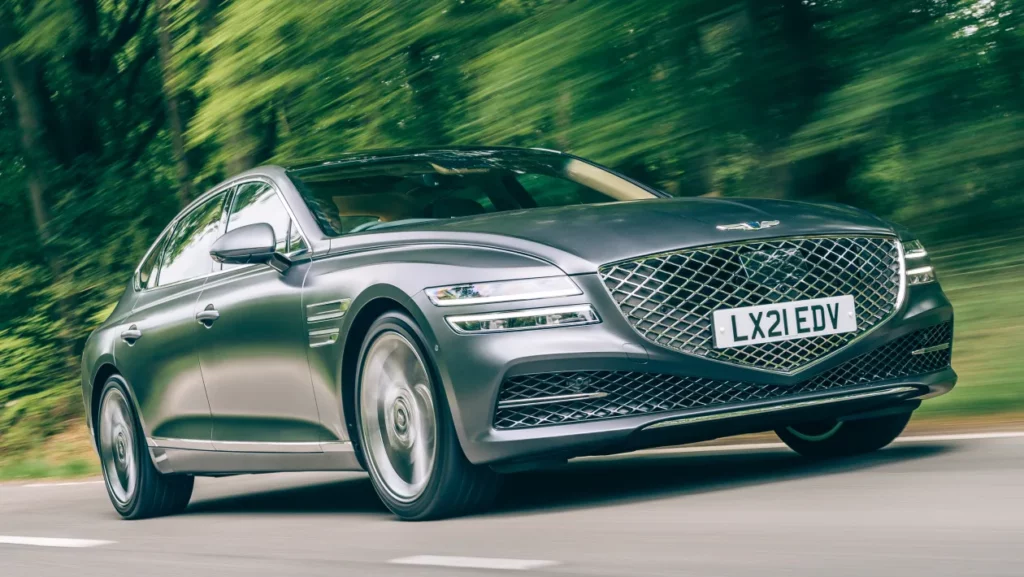 This model offers both rear-wheel and all-wheel drive. Choose the former if you are keen on making a fuel-efficient choice. According to the EPA, the rear-wheel-drive G80 with the standard four-cylinder engine can achieve up to 23 mpg in the city and 32 mpg on the highway.
The base G80's basic turbocharged 2.5-liter inline-four engine produces 300 horsepower with rear- or all-wheel drive. Customers looking for more acceleration can choose the Sport trim, which has an all-wheel-drive system and a 375-hp twin-turbo 3.5-liter V-6 engine. The eight-speed automatic gearbox is paired with both engines.
19. Dodge Charger:
The Dodge Charger was designed for comfort, power, and speed. The Dodge Charger is a mid-size car with five seats, just like the Chevy Malibu, but it is quicker, more potent, and more expensive. With its powerful V-8 engine and boisterous sounds, the Charger pays homage to its NASCAR roots.
It's unfortunate that not every Charger has a powerful Hemi V-8 engine under the hood, but they all have a great eight-speed automatic transmission and come standard with rear-wheel drive. The interior of the Charger is more rubberized and less elegant, yet it is quite useful.
20. Toyota Corolla:
The tiny, 4-door Toyota Corolla is a vehicle that stands out for its affordability, good gas mileage, and space efficiency. The 12th-generation Toyota Corolla is a small car with a tonne of standard safety equipment, but it's less fun to drive than it looks.
The most powerful Corolla comes with a four-cylinder engine that produces just 169 horsepower and mediocre acceleration. The car has a clean, contemporary exterior with trim sports seats and a leather-wrapped steering wheel inside. This car takes almost 8.3 seconds to go from 0 to 60 miles per hour.
Conclusion
With such a wide range of options, you could be wondering which car is the best. It is up to you to select the features you value in a car. We hope this article will help you in narrowing down your search for a vehicle that fits your needs other than the Chevrolet Malibu.