The popular Ford Edge has been a mainstay of the family SUV market in America, fusing luxury and refinement with tough SUV appearance and power. However, the Edge is starting to lose its dominance of the mid-size SUV market because of competition from vehicles like the Dodge Durango and Hyundai Palisade, which provide third-row seating, while the Edge does not.
The Edge still has many excellent selling qualities, but it's smart to look around if you're unsure which mid-size SUV to purchase. Some rivals have a little more power, some have finer inside materials, and some are priced more competitively.
Check out our list of the top 18 Ford Edge competitors after making a priority list of the features you must have and desire in your next vehicle.
Top 18 Alternatives to Ford Edge
1. Chevrolet Equinox:
The Chevrolet Equinox is Chevy's main rival to the Edge. It has options for front-wheel drive, all-wheel, and three available powertrains like the Edge. In contrast to the Edge, the Equinox has a turbocharged 1.5L four-cylinder engine that produces 175hp.
With five passenger seats and a length of 183.1 inches, the Equinox is a two-row crossover that is 5 inches shorter than the Edge. Although the two vehicles have similar passenger legroom in the front and rear, the smaller exterior dimensions translate to reduced overall cargo capacity (63.5 cubic feet vs. 73.4 cubic feet) and luggage space (29.9 cubic feet vs. 39.2 cubic feet).
2. Dodge Durango: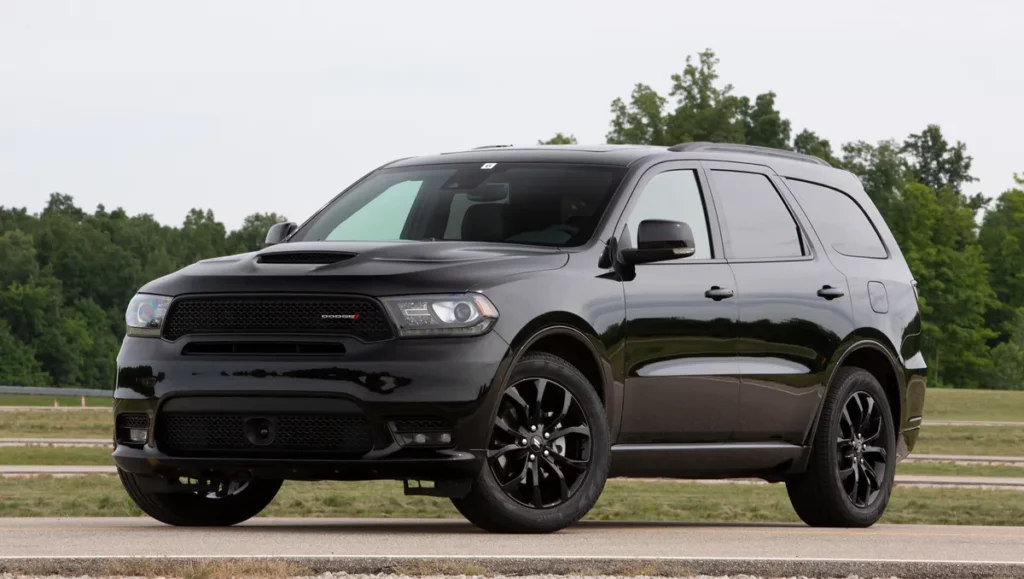 The Dodge Durango is a clear rival for the Edge because it is built on the same platform as the Jeep Grand Cherokee. All models except the base SXT include third-row seating as a standard feature. The optional 360-hp V-8 in the Durango significantly increases the towing capacity (up to 8700 pounds), although the 295-hp V-6 and eight-speed automatic transmission are more effective.
All-wheel drive is an option on all trim levels, while rear-wheel drive is standard. The Durango gains more and more features, infotainment options, and suspension settings over time. According to the EPA, the V-6 model can achieve up to 19 mpg in the city and 26 mpg on the highway. The V-8 version gets 14 mpg in the city and 22 mpg on the highway.
3. GMC Acadia:
Unlike most cars, the GMC Acadia didn't get bigger when it was rebuilt; instead, it shrank by 7 inches in length and shed nearly 700 pounds. The Acadia, formerly a full-size crossover, is now a mid-size SUV with two or three rows of seating for five, six, or seven passengers.
With a six-speed automatic transmission and either front-wheel drive or all-wheel drive, the 2023 Acadia is available with either a 2-liter turbocharged four-cylinder engine (228 horsepower) or a 3.6-liter V6 (310 horsepower). Under-floor storage is part of a cutting-edge cargo management system, and an all-terrain driving mode system is available for the Acadia.
4. Honda Pilot:
The Honda Pilot is a three-row crossover with standard front-wheel drive and optional all-wheel drive. It is currently in its third generation. The 3.5-liter V6 engine generates 285 hp. The 2023 Pilot has a new 10-speed automatic transmission instead of the previous nine-speed unit.
The LX model of the Pilot has an electronic throttle-by-wire system and intelligent traction control with drive mode selection for different types of surfaces. Advanced driver assistance features from Honda Sensing are standard on the Touring and Elite and available on the EX and EX-L.
5. Jeep Grand Cherokee: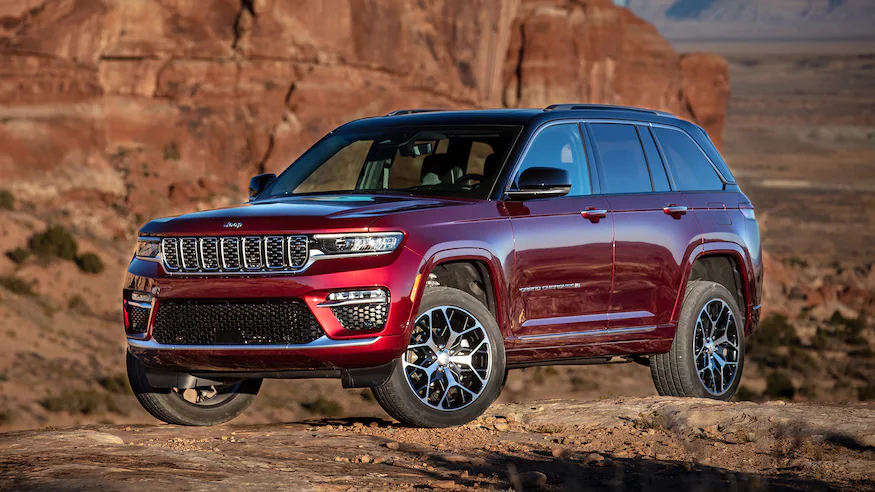 The Jeep Grand Cherokee is the brand's top model and competes with the Ford Edge in many ways. There are eight 4×2 models and 12 4×4 models of the Grand Cherokee. Prices for the 2023 Grand Cherokee starts at $41,330.
The Grand is driven by either a 293-hp, 3.6-liter V-6 or a plug-in hybrid 4xe engine with a turbocharged 2.0-liter inline-four and an electric traction motor producing 375 hp and 470 lb-ft of torque. A 14.0-kWh battery pack powers the hybrid's powertrain.
Rear-wheel drive is available on 4×2 models, whereas four-wheel drive (4×4) models can use one of five 4WD systems, depending on the engine and application.
6. Kia Sorento:
The crossover that really established Kia as a major player was the Sorento. The 2023 Kia Sorento is an excellent rival to the Ford Edge. The Sorento's attractive external and interior design appeal to a wide range of customers, with base seating for five passengers and optional seating for seven passengers.
The 2023 Kia Sorento comes with two different powerplant options. A traditional eight-speed automatic transmission and a 191-horsepower 2.5-liter four-cylinder engine are standard on the LX and S versions. An eight-speed dual-clutch automatic transmission and a 281-horsepower turbocharged version of this engine are standard on the EX and SX grades. An all-wheel drive is an option with any setup, but the front-wheel drive is standard.
7. Lincoln MKX:
The 2023 Lincoln MKX is a step up from the Edge for real luxury on the same platform. This two-row crossover adds new features and experiences that improve the performance and luxury of the Edge platform.
The Lincoln Nautilus two-row midsize luxury SUV offers a standard 2.0L turbocharged I-4 engine and an available 2.7L V6 twin-turbocharged engine. With varying horsepower, you can choose the engine that best suits your performance needs, helping you to make your drive uniquely your own.
The Lincoln experience includes pickup and delivery and a free Lincoln loaner for servicing and maintenance, Lincoln Concierge, and Lincoln Experience Centres in specific cities.
8. Nissan Murano:
The 2023 Nissan Murano perseveres in a competitive field of crossover vehicles and is likely the most direct rival for the Ford Edge right now. The Nissan Murano is 192.4 inches long, which is 4 inches longer than the Ford Edge. It has a 111.2-inch wheelbase, which is 1 inch shorter than the Ford Edge.
Nissan's use of a continuously variable automatic gearbox (CVT) is a big difference between the Edge and the Murano. This technology is great for efficiency but lacks the personality of a standard stepped automatic. Your preferences may be different; some drivers never notice the difference. A tried-and-true 3.5-liter V6 engine powers the Murano, delivering 260 horsepower and 240 lb-ft of torque.
9. Hyundai Palisade:
Although the Palisade is constructed on the same platform as the Telluride and has many of the same advantages, there are a few places where it falls short of the Telluride. In terms of passenger and baggage volume, the Palisade is slightly less roomy, and its basic touchscreen display is a little bit smaller.
On the other side, although smaller than the Telluride's third-row seat, the Palisade includes a power-folding seat. The Palisade's interior is easily confused for that of a well-known premium brand and can haul up to 5,000 pounds.
A 3.8-liter V-6 engine and an eight-speed automatic transmission are standard on the Palisade. The Palisade's 291 horsepower engine offers more than enough acceleration, and if you want a bit more control, you can manually shift the transmission using paddles positioned on the steering wheel.
10. Hyundai Santa Fe: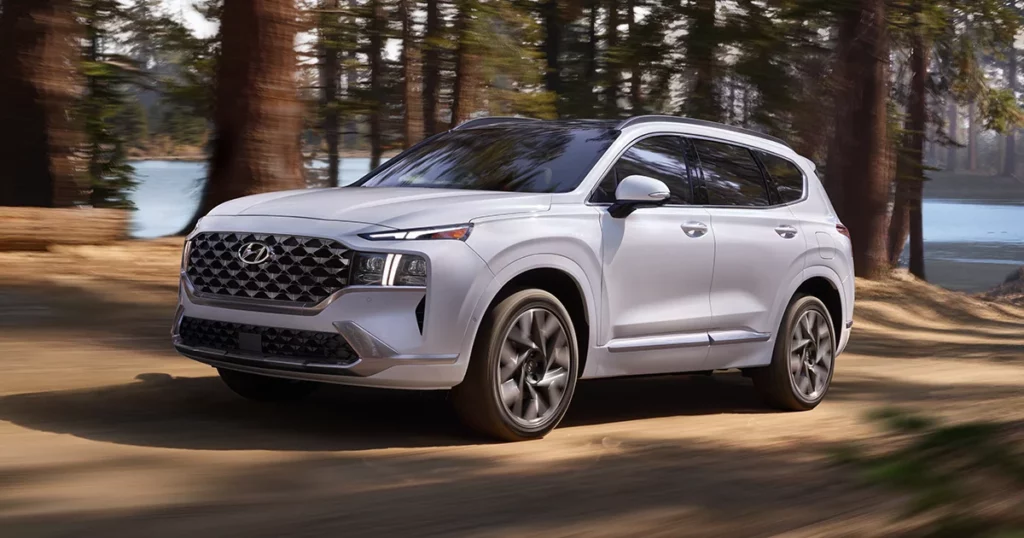 It may be ideal for drivers who desire the cargo of a mid-size SUV without the third row of seats to choose the Santa Fe, which is more of a crossover than an SUV. The Santa Fe can only tow a maximum of 3,500 pounds, yet despite not being particularly sporty, it performs well due to its four available powertrain options.
A 2.5-liter turbocharged 4-cylinder option is available, which produces 277 horsepower. With the hybrid and PHEV options, and the four trim levels, buyers have a variety to choose from.
11. Kia Telluride:
Critics have praised the introduction of the Kia Telluride and are at a loss for how to criticize it. It is a top pick for both Edmunds and Car & Driver, and U.S. News & World Report named it the best mid-size SUV for 2023.
Navigation, emergency braking aid, lane-keeping aid, adaptive cruise control, and a 10.3-inch touchscreen display with Apple CarPlay and Android Auto are all standard, even on the base grade. So what is there to dislike? The lane-keeping and adaptive cruise control can be a bit jarring for drivers who aren't used to the seemingly sovereign safety and driving assistance technology.
12. Nissan Pathfinder:
The Nissan Pathfinder is an imperfectly successful attempt to get back to the SUV's origins. Compared to earlier generations' amorphous oval-shaped station wagons passed off as SUVs, this one appears more like a utility vehicle and performs more like one.
With the (admittedly pricey) SL Premium Package, it can seat up to eight people in luxury and give them access to a maximum towing capability of 6,000 pounds.
Despite the Nissan Pathfinder's claims of being capable of going off-road, it lacks an underbody skid plate and all-terrain tires. However, it does have an optional AWD system with several modes for driving in mud, sand, and ruts.
13. BMW X1:
BMW X1 is a fantastic Ford Edge alternative. Both front-wheel drive and four-wheel drive options are available for this little SUV. It has two trim levels; sDrive28i and xDrive28i. All current models come standard with a 241-horsepower 2.0L turbo engine.
With an estimated combined city and highway MPG of 28, the base X1 model gets respectable fuel efficiency. All versions come with an 8.8-inch touchscreen display as standard equipment. Prospective purchasers are expecting a price of $41,000 for the 2024 lineup.
14. Chevrolet Traverse:
The Chevrolet Traverse is also a great alternative to the Ford Edge lineup. The five available trims of this mid-size crossover from Chevrolet are the L, LS, RS, Premier, and High Country trim levels. All-wheel drive is a requirement for the most recent Traverse models. The 3.6L V6 engine that powers all contemporary Traverse models is still a top-selling feature.
The Traverse's engine is excellent, but it doesn't get good fuel efficiency. The combined city and highway MPG for the models is 20. Depending on the trim you select, this crossover can seat up to eight people in three rows. All current models also come equipped with a user-friendly MyLink infotainment system!
15. Honda CR-V:
Honda CR-V is a well-liked crossover SUV on the market today. LX, EX, EX-L, EX Hybrid, EX-L Hybrid, Touring, and Touring Hybrid are the seven trim levels Honda offers for the little CR-V. Buyers can choose between a front-wheel drive or an all-wheel drive. It is powered by a 190-hp 1.5L four-cylinder engine.
The CR-V's combined city and highway MPG is 29.9 with all-wheel drive. It is, therefore, a very fuel-efficient alternative to Edge. Just like its rivals, this crossover has five passenger seats. For the base model, only a radio system is available. In contrast, touchscreens are standard on the remaining six model levels.
16. Hyundai Tucson:
The Tucson is another option from Hyundai's current lineup. Six trim levels are available for this small SUV: SE, Value, SEL, Sport, Limited, and Ultimate. Additionally, buyers have two powertrain choices. The basic four-cylinder 2.5L engine produces a meager 187 horsepower.
Both front- and all-wheel drives are available. One of the most fuel-effective SUVs available today, a 2023 Tucson, has a combined MPG of up to 26. It may also accommodate five persons in two rows very comfortably. Additionally, all Tucson variants come with a touchscreen.
17. Jaguar F-Pace: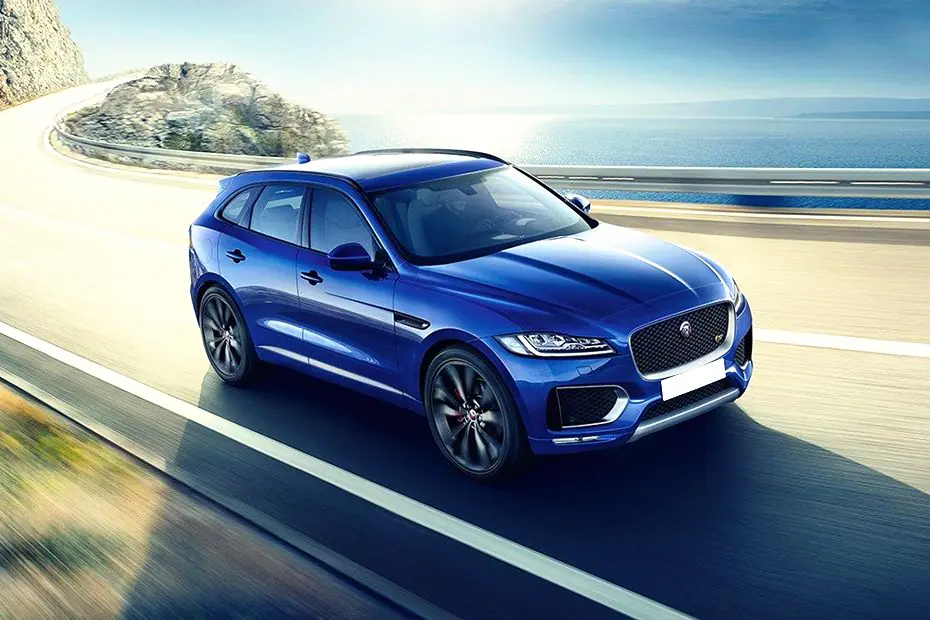 The Jaguar F-Pace might be ideal if you're searching for a small SUV with even more power. A base model 2.0L turbo engine with 246 horsepower propels this opulent SUV. The latest versions, on the other hand, provide up to 395 horsepower. The F-Pace has a little better overall fuel efficiency than the E-Pace, at 22 mpg combined.
Like the Jaguar E-Pace, the F-Pace has two rows that can accommodate five passengers. This Jaguar SUV also comes equipped with a curved touchscreen. The starting price of the F-Pace is $53,675.
18. Jaguar E-Pace:
Jaguar E-Pace 2023 is another small crossover SUV to consider here. Customers have a variety of four-cylinder turbo engine choices for this basic AWD. The standard 2023 model generates 246 horsepower and 269 pound-feet of torque. The E-Pace has a combined MPG of 23, which is unfortunate because it isn't the most fuel-efficient crossover.
The E-Pace has a roomy cabin that can accommodate five passengers. An 11.4-inch curved touchscreen is standard on all variants. The starting price of the Jaguar E Pace is $49,175.
Conclusion
The Ford Edge is and has been among the most sought-after vehicles, but there are plenty of alternatives. From BMW to Volvo, many comparable vehicles are on the market now. If you want to find cars like the famous Ford Edge, you don't have to look any further. We've compiled a list of the top 18 cars, like the Ford Edge, to make your decision easier.