Do you want a family-friendly SUV like the Subaru Ascent and don't know which year can be fruitful? It's no surprise that this vehicle has become so popular since its 2019 introduction, given its off-road capabilities and roomy cabins. Yet, not every production year can be beneficial.
In this post, we'll review the worst model years of the Subaru Ascent and their shortcoming so you can make an informed decision. Moreover, we'll also feature the top-rated Ascent models you can purchase.
The worst years to avoid Subaru Ascent are 2019 and 2020. The best years to buy a Subaru Ascent are 2021-2023. This result was concluded from trustworthy sources such as NHTSA, Edmund, JD Power, Car Complaints, and Kelley Blue Book.
Worst Subaru Ascent Years To Avoid
Due to reliability difficulties and poor value, these are the worst years of the Subaru Ascent to avoid.
2019 Subaru Ascent
2020 Subaru Ascent
2. Worst Year: 2020 Subaru Ascent (3.71 Ratings)
The issues with the 2019 Ascent have been fixed for the 2020 model year, making it more reliable. However, it is still one of the worst model years for the Subaru Ascent due to the persistence of several long-standing reliability issues.
Unfortunately, a class-action lawsuit was filed when customers complained that their 2020 Ascent had a faulty windscreen. At about 35,900 miles (57,775.4 km), you can have a faulty windscreen issue that will set you back $1,370 to fix. Transmission problems were also reported, just like in the 2019 model year.
Another major issue that apparently plagued many Subaru vehicles and inspired a class action lawsuit was premature battery drain. The lawsuit states that Subaru purposefully equipped the SUV with batteries that are unable to provide adequate power to the vehicle's electrical components when the vehicle is switched off.
Reviews, Ratings, Recalls & Complaints:
1. Worst Year: 2019 Subaru Ascent (2.96 Ratings)
According to CarComplaints, the 2019 Ascent is the worst of all Subaru Ascent models, having the most complaints and recalls. Since this is the first production year, Subaru's 2019 Ascent faced several dependability issues, just like other debut models.
The 2019 Ascent has some serious bugs, the worst being a power drain while the trunk is open. Several 2019 Ascent owners have complained that the cargo light does not turn off when the tailboard is left open.
Another problem people who want to buy a 2019 Ascent should look for is a windscreen that cracks easily. A class action lawsuit was filed against Subaru for the faulty windscreens because the problem affected such a large number of people.
Another frequently mentioned issue was transmission failure. The driver experienced symptoms such as hesitancy when pressing the accelerator, gear slippage, power loss, inability to accelerate, sudden acceleration, and jerkiness.
Reviews, Ratings, Recalls & Complaints:
Best Subaru Ascent Years To Buy
Here are some of the best Subaru Ascent models you can purchase without concerning reliability issues:
2021 Subaru Ascent
2022 Subaru Ascent
2023 Subaru Ascent
3. Best Year: 2021 Subaru Ascent (4.29 Ratings)
If you're looking for a dependable three-row SUV from Subaru, the 2021 Subaru Ascent can be the option to consider. J.D. Power gives the 2021 Ascent an overall 80 score for reliability and a Consumer Rating of 83.
The 2021 Ascent has spacious seats, a large trunk, an all-wheel drive, and many more convenient amenities as standard equipment. A 260-horsepower and 277-pound-foot (375.5 newton-meter) flat-4 turbocharged engine is standard.
The standard safety systems, which include adaptive cruise control, lane departure warning, frontal collision warning, and adaptive headlamps, help this vehicle achieve a high safety rating without sacrificing any of its brisk performance.
Reviews, Ratings, Recalls & Complaints:
2. Best Year: 2023 Subaru Ascent (4.29 Ratings)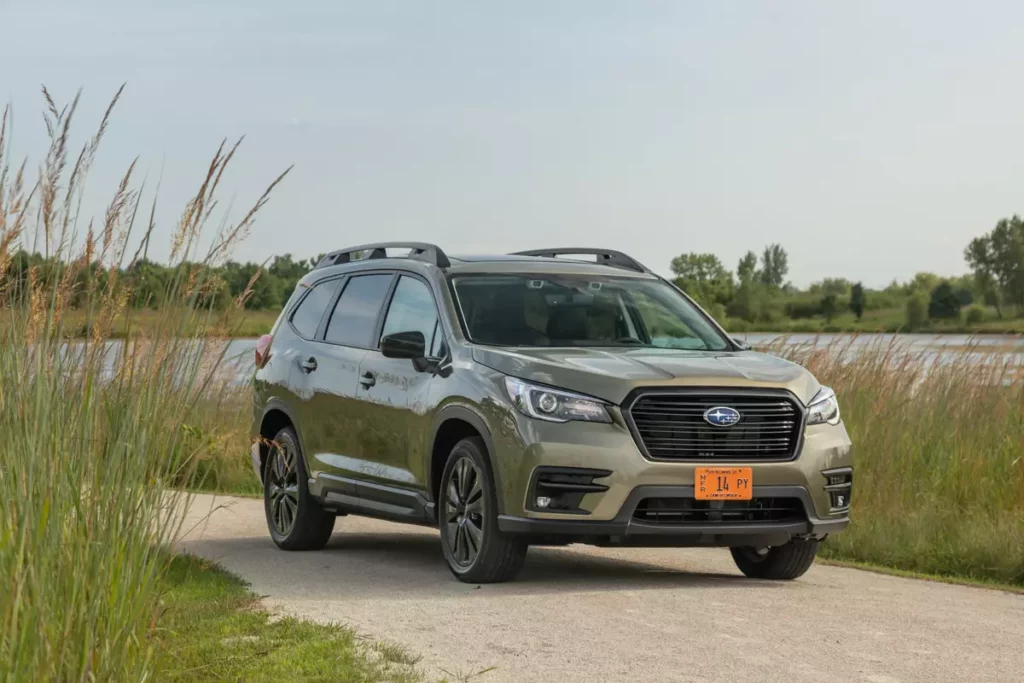 The 2023 Ascent is one of the best cars to own, and with its enhanced dependability, the 2023 Ascent has made it onto Consumer Reports' list of newly recommended cars. Plus, it's no longer one of Consumer Reports' 10 least dependable models.
The 2023 Ascent is currently recommended by Consumer Reports and is classified as the sixth-best 3-Row SUV.
Those with active families will appreciate the 2023 Subaru Ascent. For better off-road, mud, sand, snow, and dirt road capability, Subaru's all-wheel-drive, X-Mode, and dual-function X-Mode come standard on the family hauler.
Moreover, The 2023 Ascent is the SUV that receives the IIHS's top crash rating of Top Safety Pick+.
Reviews, Ratings, Recalls & Complaints:
1. Best Year: 2022 Subaru Ascent (4.47 Ratings)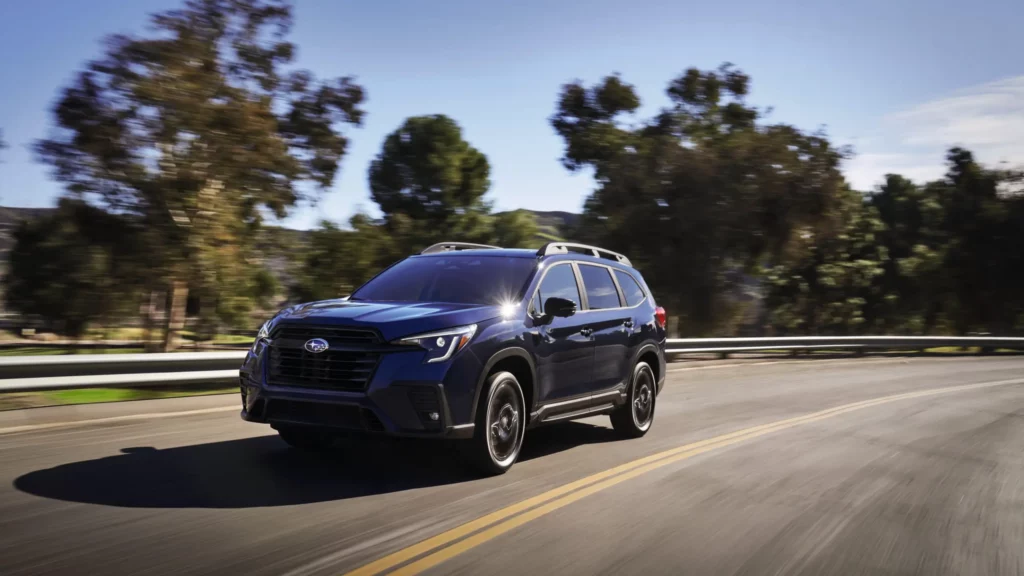 If you're looking for the most reliable and safest Ascent, go no further than the 2022 model. This year's model has received very few complaints on the NHTSA website and has been universally praised by owners.
It has high ground clearance, an intuitive infotainment system, and a long list of driver assistance features. This year sees the introduction of the Onyx Edition trim.
You can choose from the "Base," "Premium," "Onyx Edition," "Limited," or "Touring" model. The 2.4-litre 4-cylinder turbo engine (260 horsepower) is standard across all model levels, as is the excellent fuel economy.
According to EPA estimates, you can get up to 21 mpg in the city, 27 mpg on the highway, and 23 mpg overall. The best aspects of this vehicle, according to owners, are its exterior design, cabin amenities, safety features, and overall driving experience.
This model year also got 5 out of 5 crash testing scores of Top Safety Pick+ from IIHS.
Reviews, Ratings, Recalls & Complaints:
Common Subaru Ascent Problems
While the Subaru Ascent has a solid reputation for dependability, some owners have had issues. Some common Subaru Ascent issues include:
Not starting problems
Battery life is shortened when the tailgate is open.
Defective EyeSight function.
Overnight, the battery dies.
Rapid deterioration of brake rotors
The windscreen cracked on its own
FAQs
Is Subaru Ascent A Reliable Car To Own?
From various website testimonials, the Subaru Ascent is a reliable vehicle to own. According to J.D. Power, it has an 80/100 Quality & Reliability score and a Consumer Rating of 83/100. RepaiPal rated Ascent a 3.5 Reliability Rating out of a possible 5.0, placing it in the fourteenth position out of 32 brands.
Is it Expensive to Maintain Subaru Ascent?
As reported by Consumer Reports, Subarus has a somewhat higher ownership cost than other non-luxury brands. They are not only affordable to purchase but also provide great gas mileage, making them an attractive choice for anyone on a budget.
How Much Time Will the Subaru Ascent Last?
The average lifespan of a Subaru Ascent is estimated to be between 200,000 miles (321,868.8 km) and 250,000 miles (402,336 km). At 15,000 miles (24,140.16 km) per year, it has a lifespan of 13–17 years.
What are the Other Alternatives of Subaru Ascent?
There are still some better and more relevant car brands that are similar to Subaru Ascent and are worth looking at.
Kia Telluride
Hyundai Palisade
Wrap Up
In conclusion, within recent years, the Subaru Ascent has found a place for itself among the many other famous three-row SUVs on the market. It has above-average ratings, which means you can buy it safely, but out of five available years, we recommend you avoid earlier models like 2019 and 2020 and purchase onward model years.