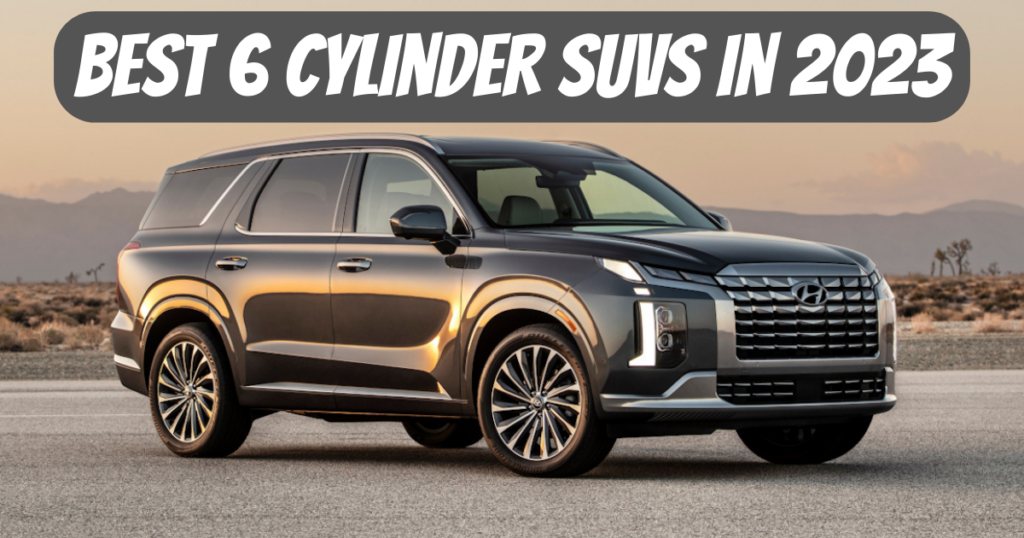 For those who think the four-cylinder engine is small or weak and the V8 is too fuel-inefficient, a third choice exists that balances the two. A 6-cylinder SUV adds more power and refinement to the package while providing more room and capability than a three-box sedan.
Many buyers prioritize a larger engine because the elevated body often weighs more than a sedan. However, the typical six-cylinder SUV engine consumes more fuel than a smaller, force-fed four-pot, which can cause operating expenses to rise quickly. In this article, we'll discuss some of the top V6-powered SUVs on the market today that are incredibly capable and potent while still being fuel-efficient.
Top 12 Six-Cylinder SUVs in 2023
1. 2023 Hyundai Palisade:
| | |
| --- | --- |
| Price Range (MSRP) | $35,900 – $51,750 |
| Horsepowers | 291 hp |
| Fuel Economy (City/Hwy) | 19/27 mpg |
SUVs and crossovers are among the most well-liked vehicles in the USA, and those with three rows and seating for up to eight passengers tend to be most valued. Many struggle to fit in so many seats without making substantial compromises that eventually reduce their appeal, but the Hyundai Palisade is an example of how it can be done correctly.
It has a sizable V6 engine that produces 291 horsepower and 262 lb-ft torque and can be ordered with either front- or all-wheel drive. The Hyundai Palisade receives major changes for the 2023 model year, including the removal of the SEL Convenience level and the addition of the tough-looking XRT. There is a new grille, redesigned wheels and steering wheel, and an all-new instrument panel and gauge cluster inside.
2. 2024 Kia Telluride: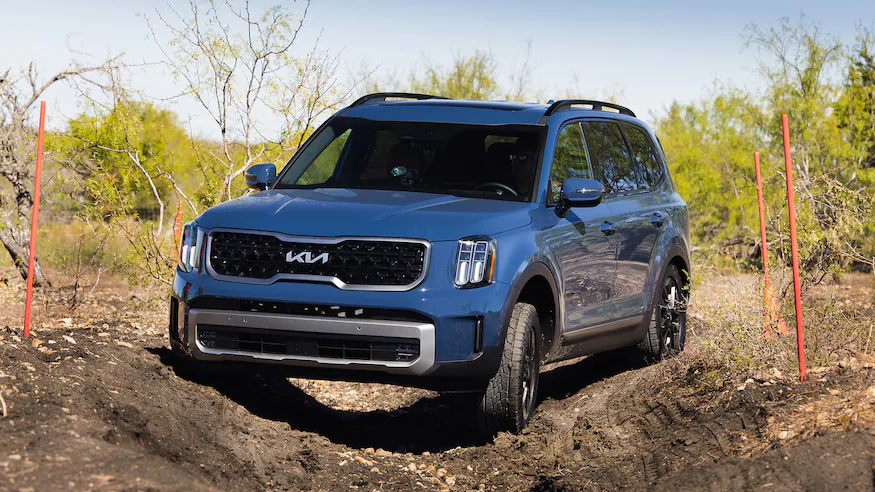 | | |
| --- | --- |
| Price Range (MSRP) | $35,990 – $53,185 |
| Horsepowers | 291 hp |
| Fuel Economy (City/Hwy) | 20/26 mpg |
The Kia Telluride is in strong competition with rivals who provide a third row of seats. The Kia Telluride's naturally aspirated 3.8-liter V6 engine generates 291 hp and 262 lb-ft of torque. With AWD, it can accelerate from 0 to 60 miles per hour in about 6.7 seconds, which is good for the class. The Kia Telluride stands out due to its distinctive tiger-nose grille, large grille, towering posture, and chunky appearance.
It has a lot of room, impressively high-end interior finishes, a long list of standard features, and a variety of trim levels that there's a Telluride for everyone. The drivetrain comes with a smooth-shifting eight-speed automatic gearbox, four driving modes, hill-descent control, and torque-vectoring cornering control as standard features.
3. 2023 Mercedes-AMG GLE 53 SUV:
| | |
| --- | --- |
| Price (MSRP) | $76,950 |
| Horsepowers | 429 hp |
| Fuel Economy (City/Hwy) | 18/22 mpg |
The 2023 Mercedes-AMG GLE 53 SUV is present in the middle of the AMG lineup. The Mercedes-AMG GLE 53 SUV is propelled by a six-cylinder turbocharged engine with 429 horsepower and 384 lb-ft of torque. Additionally, it has a mild hybrid system that works with the launch control to add 21 horsepower and 184 lb-ft in short bursts.
The nine-speed automatic transmission shifts gears quickly and efficiently, transferring power to the 4Matic all-wheel drive. With this much power, the AMG GLE 53 can go from 0 to 60 mph in 5.2 seconds and reach a top speed of 155 mph. While it is a little slower than its competitors, the Mercedes-Benz more than makes up for it in comfort.
4. 2023 Lincoln Navigator L:
| | |
| --- | --- |
| Price range (MSRP) | $82,720 – $112,300 |
| Horsepowers | 440 hp |
| Fuel Economy (City/Hwy) | 16/22 mpg |
The new Lincoln Navigator L SUV  is a member of the fourth-generation Navigator family and has only a few minor changes for 2023. Navigator L is one of the biggest SUVs in the USA and has an even longer wheelbase than the traditional Navigator, allowing for the maximum amount of passenger and baggage room.
This spaciousness is combined with all the luxury, high quality, and comfort elements that go with that badge. The 3.5-liter twin-turbocharged V6 engine provides solid outputs of 440 horsepower and 510 lb-ft of torque, which is necessary for a large and heavy car like this to travel at a respectable rate.
5. 2024 Jeep Grand Cherokee:
| | |
| --- | --- |
| Price range (MSRP) | $39,535 – $69,840 |
| Horsepowers | 293 hp |
| Fuel Economy (City/Hwy) | 19/26 mpg |
The fifth-generation Jeep Grand Cherokee from 2024 is one of those vehicles that successfully balances comfortable daily driving with off-roading prowess. It comes in a number of different body styles, and its powerful V6 engine manages to be surprisingly fuel-efficient.
The Jeep Grand Cherokee only has one engine option, a 3.6-liter V6 with 293 horsepower and 260 lb-ft of torque. This engine is paired with an eight-speed automatic gearbox, and most versions offer an option between rear- and all-wheel drive. Jeep makes sure that even its entry-level models are well-equipped with a long list of standard amenities that serve both comfort and efficiency.
6. 2023 Genesis GV80:
| | |
| --- | --- |
| Price (MSRP) | $55,800 – $70,850 |
| Horsepowers | 300 hp |
| Fuel Economy (City/Hwy) | 20/24 mpg |
From humble beginnings, the Genesis brand has grown to produce some of the most well-rounded semi-luxury and luxury vehicles on the market. With the release of the GV80, Genesis' first-ever luxury SUV, the company has also attracted an extensive following. The GV80 has a potent 2.5-liter turbo engine that produces 300 horsepower, or you can spend a little extra money and get a 375-hp turbocharged V6 engine.
The GV80 looks and feels like a high-end European vehicle, but when you see the price tag, you might think it's a scam. However, this car is surprisingly reasonable, especially when you consider that it does many tasks on par with or better than well-known rivals.
7. 2023 Mercedes-Benz GLS-Class SUV:
| | |
| --- | --- |
| Price range (MSRP) | $81,800 – $105,000 |
| Horsepowers | 362 hp |
| Fuel Economy (City/Hwy) | 18/23 mpg |
The time when driving a classy sedan was the only way to display your social status is long gone. Automakers have had to adjust as society shifts to a more practical kind of vehicle. This led Mercedes-Benz to develop the GLS-Class, a high-riding version of the company's well-known S-Class.
The base Mercedes-Benz GLS-Class has a 3.0-liter six-cylinder engine with 362 horsepower and 369 lb-ft of torque, which is more than enough to get you where you're going quickly. For a little more power, the 580 4Matic has a 4.0L bi-turbo V8 with 483 hp and 516 lb-ft of torque. Both engines are connected to a 9G-tronic nine-speed automatic gearbox, which feeds outputs to an all-wheel powertrain.
8. 2024 Ford Bronco:
| | |
| --- | --- |
| Price range (MSRP) | $39,130 – $71,105 |
| Horsepowers | 275 hp |
| Fuel Economy (City/Hwy) | 20/21 mpg |
For a very long time, the Jeep Wrangler ruled the market for compact off-road SUVs. However, the Ford Bronco has challenged the status quo in recent years with its tough capabilities, which explains why the company has continued with its successful strategy for another year.
The 2.3-liter four-cylinder EcoBoost engine that powers the majority of Ford Bronco vehicles produces 275 horsepower and 310 lb-ft of torque. This is paired with a seven-speed manual gearbox as standard, with an optional ten-speed automatic. Additionally, there is a 2.7-liter turbocharged V6 engine that is only available with an automatic gearbox and produces a remarkable 310 horsepower and 400 lb-ft of torque.
Although Ford enjoys a good reputation in the USA, it is too soon to determine the reliability of the Bronco in 2024. According to JD Power's Quality & Reliability rating, 2023 models only scored 77 out of 100, which means there is still room for improvement.
9. 2023 Genesis GV70: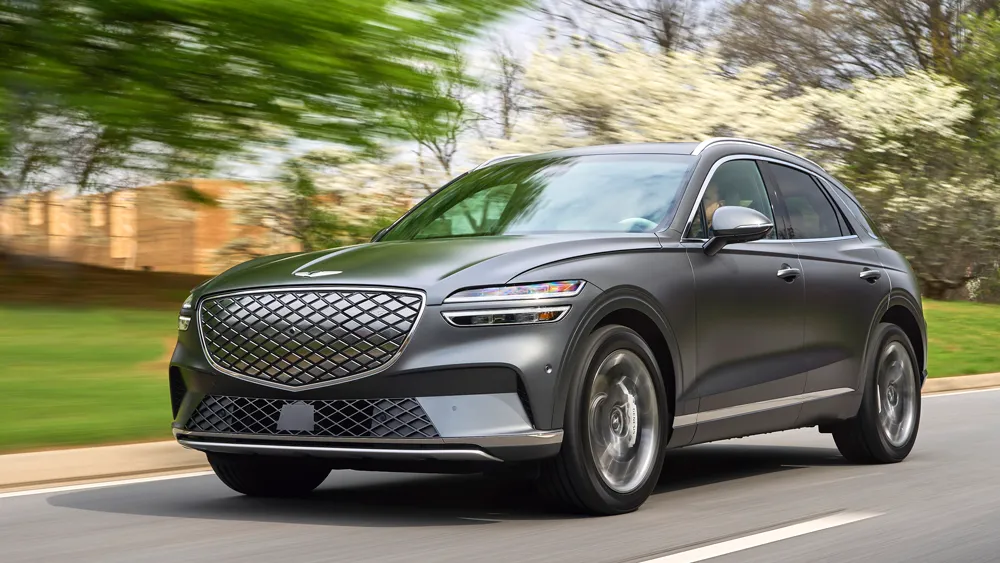 | | |
| --- | --- |
| Price range (MSRP) | $43,150 – $55,250 |
| Horsepowers | 300 hp |
| Fuel Economy (City/Hwy) | 22/28 mpg |
The Genesis GV70 has a clear marketing strategy: it wants to be more opulent, comfortable, and efficient than its European rivals while charging less. This Japanese challenger has everything necessary to unseat renowned automakers and win the title. It comes with either a 375-horsepower twin-turbo V6 or a 2.5-liter turbocharged four-cylinder engine.
It is amazing that Genesis was able to pack the GV70 with so many standard features while keeping the price so low. The cabin, particularly in the top trim, is incredibly opulent and well-built, and the whole driving experience is on level with the best. Moreover, the styling is perfect.
10. 2023 Jeep Grand Wagoneer:
| | |
| --- | --- |
| Price (MSRP) | $90,495 – $110,095 |
| Horsepowers | 510 hp |
| Fuel Economy (City/Hwy) | 14/20 mpg |
Taking on the world's best luxury SUVs is no easy feat, but Jeep is confident that the Grand Wagoneer is up to the challenge. It boasts a tonne of technology, is designed for success, and exudes quality that loudly declares its exorbitant luxury. There are two available engines, with the most recent and powerful one coming as standard on most Grand Wagoneer trims.
This 3.0-liter inline-six engine has two turbos and makes 510 horsepower and 500 lb-ft of torque. If you want a V8, you can get a 6.4-liter V8 that makes 471 horsepower and 455 lb-ft of torque instead. All Grand Wagoneers come with full-time all-wheel drive, and both engines are connected to an eight-speed automatic gearbox.
11. 2023 Land Rover Range Rover Sport Hybrid:
| | |
| --- | --- |
| Price (MSRP) | $104,200 |
| Horsepowers | 434 hp |
| Fuel Economy (City/Hwy) | 16/21 mpg |
Just like the gas-powered model, the 2023 Land Rover New Ranger Rover Sport Hybrid has been completely rebuilt. The Range Rover Sport is sleeker and more aggressive than ever due to a new style that reminds one of the more modern Velar. Though it benefits from the same stylistic improvements, the all-new six-cylinder plug-in hybrid system is where the true excitement lies.
This 3.0L inline-six is coupled with an electric motor and battery pack, producing 141 hp and 457 lb-ft of torque for a total system output of 434 hp. Additionally, it offers a 48-mile all-electric driving range. The Range Rover Sport is equally confident on the road despite being a little smaller than its flagship sibling.
Related: 15 Cars That Look Like Range Rovers (Pictures & Specs)
12. 2023 Chevrolet Blazer:
| | |
| --- | --- |
| Price range (MSRP) | $35,100 – $45,700 |
| Horsepowers | 308 hp |
| Fuel Economy (City/Hwy) | 19/27 mpg |
The Chevrolet Blazer has been on the market for a long time, and its popularity has only increased since its debut. The engine choices are still the same, including the lively V6 with 308 horsepower. Despite having two strong engines to support its athletic appearance, the V6 engine option is what really makes this SUV popular.
You also have unlimited access to all-wheel drive, which boosts the SUV's appeal and performance in colder climates. However, it's not bigger than it was before, so limiting passenger and freight room remains an issue. A sharper style makes the 2023 Chevrolet Blazer SUV stand out from the competition.
Types Of Six-Cylinder SUVs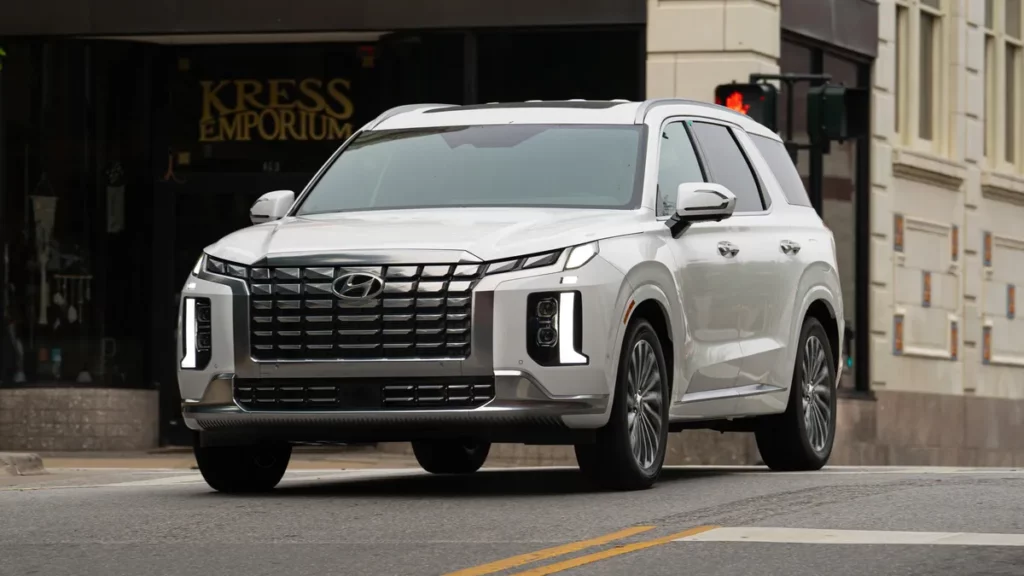 Since a six-cylinder engine increases the price of a car, you'll typically only find them in the midsize and larger segment. The Jeep Cherokee, which has a 3.2-liter V6 and costs under $30,000, is one of the compact options. Both the Kia Telluride and Honda Pilot offer three rows of seats and naturally aspirated engines.
Mercedes-Benz GLS and BMW X7 full-size cars both have strong turbocharged engines. Some choices are especially good for off-road excursions, while others are geared towards purchasers opting for a smoother ride for relaxing on-road use.
V8s are only available in the high-end luxury segment. We can say that a six-cylinder engine has some of the efficiency of a four-cylinder engine and some of the smoothness and charisma of a V8.
Factors to consider while buying a 6-cylinder SUV
Once you have decided what you can afford, there are many factors to consider. Do you prefer a naturally aspirated engine over one with turbochargers? It is important to consider consumption because even the best 6-cyl SUV won't be particularly fuel-efficient. Here are some essential factors to take into account:
Cost: Since crossovers are widely available, start with what you can afford. If you need more power but can't afford a new automobile, buying a low-mileage used model can be a wise choice.
Drivetrain: Opting for a 4×2 decreases the initial cost, but depending on your unique needs, you may opt for a 4×4.
Engine: You don't need a turbo if you only want a six-cylinder engine for its better refinement, but forced induction often makes a car much easier to drive.
Towing capacity: These crossovers frequently serve as great haulers, perfect for dragging along your boat or trailer. A comparison with competitors is crucial.
Fuel usage: While some of these cars truly guzzle petrol, others manage to provide a better balance of performance and economy.
Conclusion
SUVs are practical family movers with lots of space and ground clearance, making them the perfect cars to transport the family on long road trips. Traditionally, SUVs have been powered by either smaller four-cylinder engines or massive V8 engines, but a newer type of SUV, the V6-powered SUV, is gaining in popularity. As the name suggests, a V6 SUV has six cylinders that are placed in a V pattern.
This engine provides a sportier ride, quicker acceleration and torque, and better towing capability. However, finding the perfect 6-cylinder SUV can be difficult due to a wide array of options and configurations. Therefore, we have narrowed down this list of top 6-cylinder SUVs. You can compare their specs and features to find what suits you best.