When looking for a new car, drivers often have to consider a number of important factors that affect their final decision. From the number of seats they need to the power output and gas mileage, car buyers have always compared their needs to what the automobile industry has to offer and what it doesn't.
Three-row hybrid SUVs are becoming more popular among buyers who value space, off-road prowess, electric motors, higher fuel efficiency, and a matchless amount of horsepower. Are you also looking for a brand-new hybrid SUV with three rows? You have come to the right place.
In this article, we will discuss the top 13 hybrid SUVs of 2023, which have three rows. We'll break down each model to find the best hybrid SUVs with third-row seating to see how it compares to the others and what sets it apart. Let's get started!
Related: Top 15 Best Plug-In Hybrid SUV To Buy In 2023
Top 13 Hybrid SUVs with 3rd Row
1. 2023 Toyota Sequoia:
Toyota has introduced the 2023 Sequoia, now available as a hybrid vehicle, creating interesting competition within its own lineup in the three-row hybrid SUV market. It has three conventional rows and can accommodate eight people, but if you opt for the more luxurious captain's chairs in the second row, you'll only be able to fit seven. All of the seats, except for the third row, are big enough for adults to sit easily.
There is space for 22.3 cubic feet of cargo behind the third row, 49 cubic feet with the third row folded down, and 86.9 cubic feet behind the first row. A brand-new 3.5-liter twin-turbo V6 engine, electric motor, battery pack, and 10-speed automated gearbox combine to produce 437 horsepower in the all-new Sequoia.
2. 2023 Ford Explorer Hybrid:
The Ford Explorer Hybrid has a higher price tag than its rivals, yet it fails to match its fuel economy ratings for hybrid SUVs. It can seat six people in its standard configuration, but if you choose a second-row bench, you can raise that to seven. With all seats in position, it provides a massive 18.2 cubic feet of cargo capacity, 47.9 cubic feet with the third row folded, and 87.8 cubic feet behind the front seats.
Like many other hybrid SUVs, the Explorer Hybrid only has one powertrain, a 3.3-liter V6 gas engine, and an electric motor that produces 318 horsepower together. With rear-wheel drive, the fuel economy is up to 27 mpg in the city, 28 mpg on the highway, and 27 mpg overall. With four-wheel drive, those numbers drop to 23/26/25.
3. 2022 Lexus RX Hybrid:
The powerful Lexus RX Hybrid is well-rounded, loaded with technology, and enjoyable to drive. Although other hybrid SUVs are more efficient, this Lexus is a good option that hits most of the high notes. The RX L has room for six people over three rows. Although it is cramped in the third row, the cabin is cozy and well-made.
With only 7.5 cubic feet of cargo space, the area behind the third row is quite small. The space expands to 23 cubic feet by folding the third row, and by folding the second and third rows, it expands to 58.5 cubic feet. The 3.5-liter V6 engine and three electric motors under the hood combine to produce 308 horsepower, which is good for quick acceleration.
4. 2022 Volvo XC90:
The Volvo XC90 is a capable hybrid SUV that offers a high level of comfort, but its in-car technology might use more refinement. In its standard three-row arrangement, the XC90 can seat seven people comfortably. If you're willing to give up one seat, you can fit two seats in the second row, which reduces the number of passengers to six but gives the impression of additional space.
Cargo capacity is 15.8 cubic feet when all seats are in place, 41.8 cubic feet when the rear seats are folded, and 85.7 cubic feet when the front row is collapsed. The plug-in hybrid version of the XC90 is known as the Recharge, which is the brand name for Volvo's PHEV cars. The vehicle has a turbo and supercharged four-cylinder engine, two electric motors, a battery pack, an eight-speed automatic gearbox, and an all-wheel drive.
5. 2023 Kia Sorento Hybrid: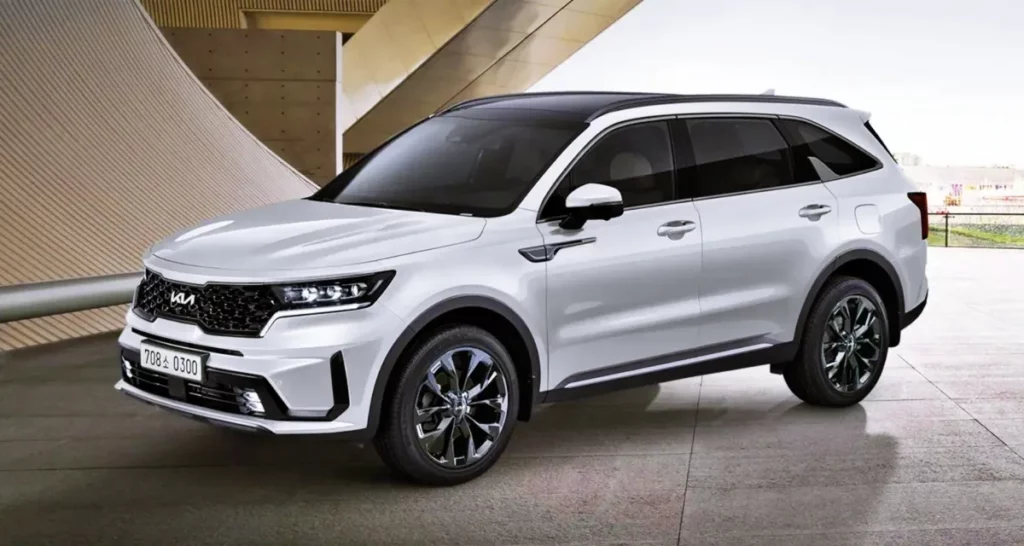 The Kia Sorento Hybrid is a well-rounded hybrid SUV, but it is ranked in the middle of the pack among hybrid SUVs because it doesn't stand out particularly well. The Sorento Hybrid has three rows with six seats. Row two has only captain's chairs, and row three has only two seats. The cargo space behind the third row is a meager 12.6 cubic feet, but if you fold those seats down, it increases to 45 cubic feet.
The Sorento PHEV model offers an all-electric driving range of 32 miles and can be fully charged in 3.5 hours with a Level 2 public charger or a 240-volt home connection. The standard hybrid powertrain combines a turbo-four engine with an electric motor, generating 227 horsepower.
6. 2023 Toyota Highlander Hybrid:
The Toyota Highlander Hybrid is somewhat pricey for a non-luxury SUV, and like the majority of three-row SUVs, the third row is more suitable for children than for adults. Although the Highlander Hybrid can fit eight passengers if you choose the second-row bench, captain's chairs and a seven-passenger configuration will make the vehicle feel much larger.
With all seats in place, there is a standard 16 cubic feet of cargo space, which expands to 48.4 cubic feet and 84.3 cubic feet behind the second and first rows, respectively. A 2.5-liter inline-four petrol engine and two electric motors provide power, which is sent to the front wheels or all wheels via a continuously variable automatic gearbox (CVT).
7. 2023 Lincoln Aviator:
Lincoln's recent and ongoing image makeover hits the right notes, and the Aviator ranks among the best luxury midsize SUVs. Like many competitors with a third row, the Aviator can seat six or seven people, but passengers in the first two rows have a better experience.
The storage capacity of the Lincoln is 18 cubic feet, which is larger than that of the BMW X5. The volume of cargo space increases to 41.8 cubic feet when the third row is folded flat. If that's still not enough space, the second row can be folded down to add another 77.7 cubes.
For the hybrid option, you'll need a Grand Touring or Black Label Grand Touring model, which includes nearly all of the Aviator lineup's features and leather upholstery and 21- or 22-inch wheels as standard. An electrified version of the twin-turbo V6 engine in the standard Aviator produces 494 horsepower for the plug-in hybrid model.
8. 2023 BMW X5:
One of the greatest luxury midsize SUVs on the market, the BMW X5 boasts an excellent balance of elegant styling, standard amenities, a smooth ride, and responsive handling. Its only real drawback is that the third row is small. The xDrive45e comes with plenty of standard technological and security features. Behind the second row of the plug-in hybrid, 33.1 cubic feet of cargo space is available, expanding to 71.2 cubic feet when the second row is folded down.
It may be upgraded with Merino leather upholstery, 20-way power-adjustable front seats, and front seat massage and ventilation features. A turbocharged inline-six engine and an electric motor make up the powertrain, which has a combined output of 389 horsepower and is strong on low-end torque for a thrilling takeoff.
9. 2023 Land Rover Range Rover:
Land Rover's flagship SUV, the Range Rover, is all-new for the 2023 model year. Even the engines have undergone a complete revamp. It has seven seats and five different trim levels. The modernistic redesign looks sophisticated and attractive. The maximum load capacity of this Land Rover is 53 cubic feet, and it has 31.9 cubic feet of room behind the second row when those seats are folded down.
The new look breaks new ground and is thoroughly modern, but it is still recognizably a Range Rover. The new interior is even more lavish than before. It features a powerful engine that generates more than 500 horsepower while running smoothly. A plug-in hybrid drivetrain is also available, and it has a 48-mile range when using only electric power.
Related: 15 Cars That Look Like Range Rovers (Pictures & Specs)
10. 2023 Mitsubishi Outlander PHEV: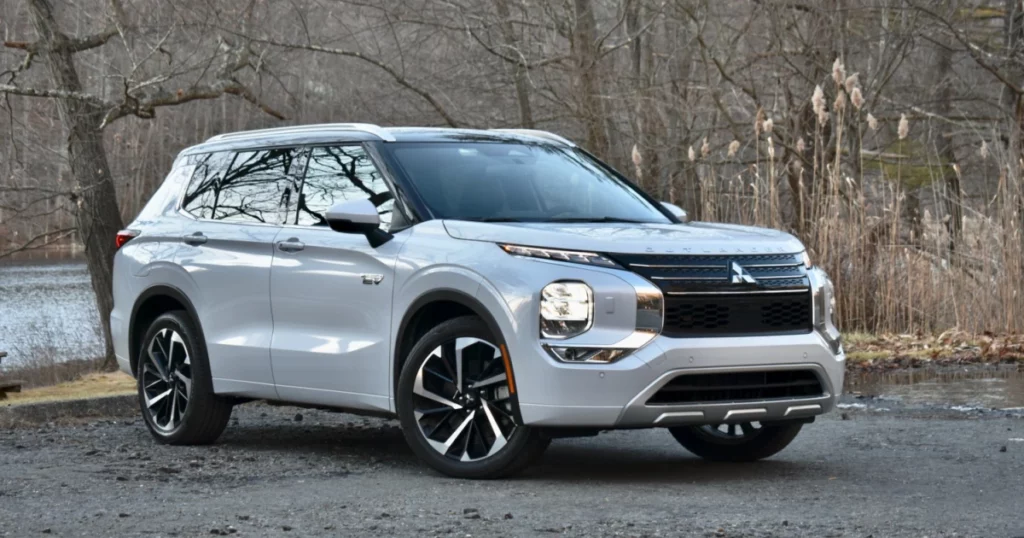 Mitsubishi is a newcomer to the list of the best hybrid SUVs with third-row seats this year. With strong standard equipment and room for seven passengers, the Outlander PHEV is reasonably priced. With the third row folded down, this Mitsubishi offers 33.5 cubic feet of room behind the third row, 9.1 to 10 cubic feet of space behind the second row, and an amazing 78.5 cubic feet of space with the second and third rows folded down.
The PHEV's new body has a 20-kWh battery pack instead of the previous 13.8-kWh unit. The 85-kW front and 100-kW rear motors are also better than the previous 60-kW and 70-kW ones. The 2.4-liter inline-four gas engine that powers the entire system produces 248 horsepower and 332 lb.-ft of torque. With a combined fuel economy rating of 64 MPGe, the system provides an astonishing 38 miles of range on electricity alone.
11. 2024 Mazda CX-90 Hybrid:
Even in today's era of increasing emissions restrictions and EVs, a 13-mpg gas-burning V8 super SUV can still be purchased in the United States. However, the new 2024 Mazda CX-90 Hybrid proves that it is possible to construct an eight-seater SUV that can significantly negate that terrible mpg figure.
The CX-90 PHEV has 14.9 cubic feet of cargo capacity behind its third-row seats, 40 cubic feet behind its second-row, and 74.2 cubic feet with all rear seats folded down.
The CX-90 is all about efficiency, and even in its normal mild-hybrid gas settings, it can get 25 mpg combined. The PHEV's numbers are even better, and it also lets you drive on electricity alone. When you add in the 323 hp of power, decent performance, and normal Mazda levels of interior quality and refinement, it makes a lot of sense for Mazda to bet on a brand-new platform and drivetrains for a non-EV SUV.
12. 2023 Land Rover Discovery:
The Discovery offers you a three-row mid-size SUV with a sophisticated, high-class interior and a quiet and pleasant ride. It is an ideal blend of traditional Land Rover qualities. The 2023 model lineup features a brand-new Metropolitan Edition at the top of the model tree.
The Discovery offers 9.1 cubic feet of cargo capacity behind its third row, 45 cubic feet behind its second row, and 74.3 cubic feet with both of its rear seats folded down.
It includes a 6-cylinder engine with 355 horsepower, 22-inch alloy wheels, a grille particular to the grade, silver bumper inserts, unique badging, a head-up display, heated seats in all three rows, a heated steering wheel, and Titanium Mesh interior trim. The starting price of the 2023 Discovery in the USA is $58,400.
13. 2024 Lexus TX:
The brand-new Lexus TX SUV is built specifically for the North American market, which enjoys larger vehicles. With options for gas, hybrid, or plug-in powertrains, the TX is probably going to appeal to a broad segment of the market. The TX 350 base model has a 2.4-liter turbocharged inline-four and comes with a choice of front-wheel drive or all-wheel drive.
Officially, the TX has 20.1 cubic feet of cargo room behind the third row, 57.4 cubic feet with the third row folded down, and 97 cubic feet with all the seats folded down. The base Lexus TX employs an eight-speed automatic transmission and has a 275 horsepower and 317 lb-ft torque engine.
The combined gas mileage for the TX 350 is 21 mpg, compared to 24 mpg for the HEV 500h. The 550h+ will aim for a 33-mile all-electric range and should get 30 combined mpg. In terms of release date, a staggered launch is scheduled for the 2024 Lexus TX lineup. It's anticipated that the TX 350 and 500h versions will go on sale this fall, while the TX 550h+ will follow a little later.
Frequently Asked Questions
Which hybrid three-row SUV is the most reliable one?
You can't go wrong with the Toyota Highlander Hybrid LE since Toyota is one of the most trustworthy automakers in the world, and every model it produces has top-notch qualities. The fact that these cars can handle rough terrain and can be used for outdoor activities is a plus for Toyota.
Which three-row hybrid SUV is the best?
The Kia Sorento is, without a doubt, the best option on the market. If the Telluride were available as a hybrid or plug-in electric vehicle, it would outperform the Sorento. Naturally, the Toyotas are also great competitors, but because of their great value, the Kia takes the top spot on the list for 2023.
Does having a third row affect a hybrid SUV?
Yes. A three-row hybrid SUV provides plenty of space for cargo and extra passengers. If you can fit four or five people in the two front seats, the middle of the third row can be used as a storage room. For example, when you go camping, you can store tents there.
What are the advantages of a hybrid SUV?
A hybrid SUV gives you the flexibility to drive however you like. Although they are more expensive initially, you will save money over time because of cars' high fuel efficiency. Another important benefit is that hybrids are better for the environment.
Conclusion:
Hybrid cars are becoming more popular across the board in the auto business because they let drivers choose the best fuel source for them while also helping the environment. SUVs with a third-row seat are a good investment for families with a large number of children.
Moreover, SUVs are great for people who love the outdoors because they provide a lot more space and additional equipment that makes off-road driving safe and enjoyable. Hybrid features make your car the best friend for off-roading and navigating crowded cities.