Back in the day, getting behind the wheel of an SUV meant resigning yourself to a boring journey in a comfortable but slow-moving hauler. That's no longer the case because sport utility vehicles are now the vehicle of choice for the majority of American drivers.
There is now a wide variety of sport utility vehicles (SUVs) available to thrill-seeking consumers, each offering its own unique blend of power, speed, and elegance. In this article, we've compiled a list of the top 10 sport utility vehicles (SUVs) you can buy in 2023, from the least to the most expensive ones.
If you want a sport utility vehicle (SUV) with more power, style, and handling prowess, these options will do the best job.
Top 12 Sportiest SUVs of 2023
1. 2023 Dodge Durango SRT Hellcat:
The Dodge Durango SRT Hellcat is the last SUV from Mopar to use a supercharger. The Jeep Grand Cherokee SRT Hellcat is no longer in production, so the three-row, same-platform Durango keeps the brimstone going for one more year. It's the only family vehicle with room for seven passengers and has 710 horsepower.
Its huge V-8 engine makes 645 lb-ft of torque, which lets it go from 0 to 60 mph in just 3.5 seconds and reach a top speed of 180 mph. At the end of this model year, when the over-the-top Durango SRT Hellcat is gone, you can be sure that there will never be another SUV like it again.
2. 2023 Alfa Romeo Stelvio Quadrifoglio:
Germany is not the only source of luxury in Europe. The Alfa Romeo Stelvio Quadrifoglio is a wonderful example of how Italian engineering has a lot to say about the feel of a sporty SUV. With its outrageous 505 horsepower and 443 lb-ft of torque, the turbocharged V-6 under the Stelvio's hood completely alters the sport utility vehicle, giving it fresh energy and enabling it to go from 0 to 60 mph in 3.3 seconds.
The Quadrifoglio is equipped with all-wheel drive and a pliable chassis, indicating that it is designed to bring a grin to the face of everyone who is fortunate enough to have a winding road ahead of them.
3. 2023 Porsche Macan GTS:
The Porsche Macan GTS is the closest SUV version of a sports vehicle made by one of Germany's long-standing luxury manufacturers. The Macan GTS accelerates from 0 to 60 mph in 3.6 seconds, riding more like a tall wagon than an ugly crossover.
This is due to the Macan GTS's turbocharged six-cylinder engine, which generates 434 horsepower and 405 lb-ft of torque. Every GTS model comes standard with all-wheel drive, and customers may decide to add a torque-vectoring system and stickier-spec tires through the Macan's supposedly limitless list of options.
4. 2023 Ford Mustang Mach-E GT Performance Edition:
The Ford Mustang Mach-E GT Performance Edition raises the bar on straight-line speed due to its dual-motor configuration, which generates 480 horsepower and 634 lb-ft of torque and is powered by a 93-kWh battery pack.
Magnetically regulated shocks, powerful Brembo brakes, and gigantic 20-inch high-performance summer tires are all included in the package, which is contrary to what one might anticipate from the world of electric vehicles, which is typically centered on the range. With the pedal down, the Mach-E's "enhanced" AWD system will deliver talon-like traction on the pavement, allowing you to reach 60 mph in just 3.6 seconds.
5. 2023 BMW X3 M40i:
Although BMW also produces a full M version of its X3 compact SUV, the M40i variant is where the real value lies. The BMW X3 M40i is a high-performance crossover SUV that falls between the standard and track-ready models. It features excellent handling, huge M Sport brakes, adaptive dampers at all four corners, and an electronically controlled limited-slip rear differential, but it eschews the harsh ride quality of the BMW X3 M.
The latter is useful for utilizing the 382 horsepower and 369 lb-ft of torque produced by the turbocharged six-cylinder engine in the X3 M40i, which, when combined with the SUV's standard all-wheel drive, allows it to reach 60 mph in just 4.1 seconds, according to BMW.
6. 2023 Kia EV6 GT:
The electric vehicle lineup from Kia now includes a really innovative SUV. Similar to the Mach-E GT, the Kia EV6 GT emphasizes the form and function of a practical sport utility platform by enhancing each of its two electric motors, which collectively produce an astounding 576 horsepower and 545 lb-ft of torque.
Because of this, the EV6 GT can accelerate to 60 mph in just 3.2 seconds, and it can reach a top speed of 161 mph. Few other SUVs on the market can take that type of damage on a drag strip, and once the road curves, the Kia continues to amaze with its adaptive suspension and an electronically controlled limited-slip differential that avoids inside-wheel combustion on corner departure.
Related: 8 Best 7-Seater Electric SUVs in 2023
7. 2023 Genesis GV70 3.5T Sport:
Genesis has rapidly expanded into the luxury market because of the appealing blend of design and dynamics found in nearly all of its vehicles. When it comes to hot SUVs, the GV70 3.5T Sport is the one to aim for, as it combines compact dimensions and low curb weight with the powerful punch of a turbocharged V-6 engine that generates 375 horsepower and 391 lb-ft of torque.
The GV70 is less thundering than its competitors but aims more for pleasure than ferocity. Its well-composed ride, standard all-wheel drive, and feature-rich pricing make it a tempting option for customers with an open mind.
8. 2023 Mini Countryman John Cooper Works All4:
Some people may find the idea of a Mini SUV strange, but the Mini Countryman John Cooper Works All4 helps remove any confusion by presenting the fastest and most potent sport utility ever to wear the Mini badge. This fast SUV with all-wheel drive barely clears the ground clearance bar, but its stiff springs and stiff dampers are designed to tear up a racecourse rather than smooth out rough roads.
The Cooper Countryman JCW All4 is powered by a turbocharged four-cylinder engine that produces 301 horsepower and 313 lb-ft of torque, allowing it to outrun all other Minis and claim the 0-60 mph trophy in a claimed 4.4 seconds.
Related: Are Mini Coopers Reliable? [Rating, Models, Issues]
9. 2023 Hyundai Kona N:
When it comes to boosting the performance of Hyundai's lineup's more entry-level vehicles, the N division has a proven track record. The Hyundai Kona N is a great example of this trend because it takes the subcompact SUV and makes it into a powerful and agile thrill ride that won't break the bank.
The Kona N has a turbocharged four-cylinder engine with 276 horsepower and an "over-boost" feature that lets you add 10 more horses with the push of a button. It can accelerate from 0 to 60 mph in 5.3 seconds, and a series of suspension upgrades keep it stuck to the road even in tight corners.
10. 2023 Mazda CX-30 Turbo Premium:
The Mazda CX-30 is evidence that a sporty SUV can be entertaining without costing a fortune. The CX-30 Turbo Premium trim includes the optional turbocharged four-cylinder engine, which produces 250 horsepower and 320 lb-ft of torque and is controlled by standard all-wheel drive.
The engine is lightweight and agile. The CX-30 offers a level of driver connection with the road that is rare for vehicles in its class, enhancing your daily commute without sacrificing utility or breaking the bank.
11. 2023 BMW X5: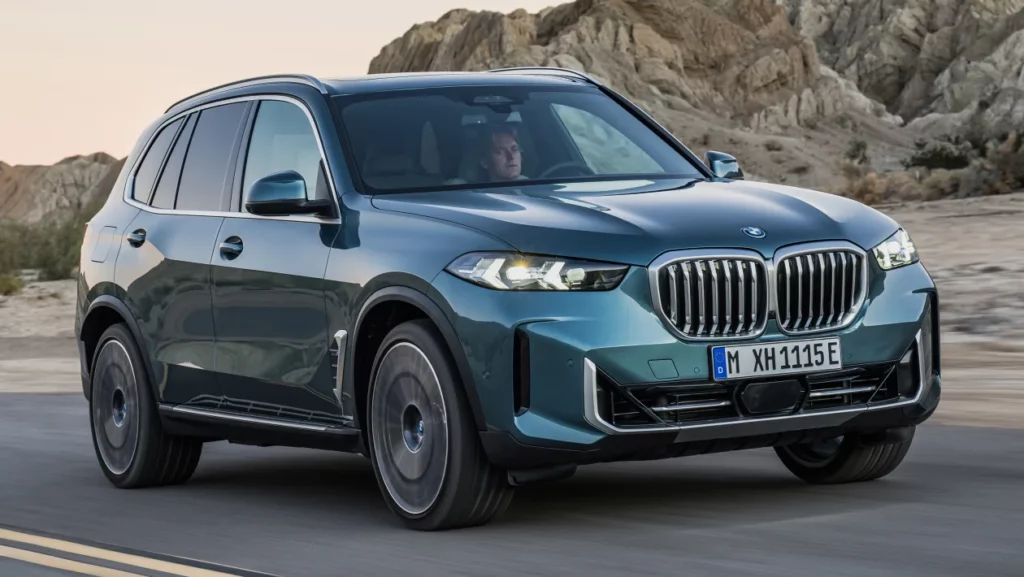 The BMW X5 was one of the first competitors in the performance SUV battles, and it is still an exciting, powerful family transporter today. BMW offers a wide range of powertrain options, from the entry-level twin-turbo V8 with 600 horsepower to the base turbo-six with 335 horsepower. There is an automatic gearbox with eight gears, and you can choose between rear-wheel drive and all-wheel drive.
All of the available drivetrain options are more than capable of handling daily driving, and the two turbo V8 options provide thrilling performance topped off with an even more amazing soundtrack. Additionally, a plug-in hybrid vehicle is available, providing a stunning 31 miles of all-electric range.
12. 2023 Land Rover Range Rover Sport:
The Range Rover Sport offers the top-tier Range Rover's luxury and refinement in a sleeker, sportier package. There are several engine options, including a 355-horsepower turbocharged inline-six, a 434-horsepower hybrid drivetrain, and a 523-horsepower twin-turbo V8. Both an eight-speed automatic and all-wheel drive come standard.
Related: 15 Cars That Look Like Range Rovers (Pictures & Specs)
All engine options generate power effectively and smoothly, but the hybrid and eight-cylinder engines deliver performance that is even more exhilarating. The Range Rover Sport is a great example of Land Rover's prowess at creating vehicles with outstanding on- and off-road capabilities. It's great off-road, and it can give sportier-looking vehicles a run for their money when going flat out.
Conclusion
It's a common misconception that a family must sacrifice driving enjoyment when upgrading to a larger vehicle. Even though they may not be the most fuel-efficient or economical cars, sporty SUVs are a great choice for people who need space and want to have fun. SUVs with a strong balance of practicality and performance are becoming increasingly common among manufacturers.
These SUVs come with powerful engine choices and surprisingly agile handling. We have narrowed down a list of such sporty SUVs and have described their features in detail, so you can easily choose the one that fits your specific needs.