The Volkswagen Beetle, also known as the Volkswagen Type 1, is an ancient classic car lineup with production starting in 1938 and ending in 2019. This car has two doors and can comfortably seat five people.
Given its long lifespan, it's safe to assume numerous Volkswagen Beetle models have been produced; while some may be fine for your needs, others should be avoided at all costs. To help you choose the right Volkswagen Beetle, I'll go over the best and worst model years.
The model years from 2000, 2001, 2003-2006, 2012, and 2013 are the worst VW Beetle years. The best model years of the VW Beetle include 2007, 2010, and 2014-2019. This result was concluded from trustworthy sources such as NHTSA, Edmund, JD Power, and Kelley Blue Book.
What Are The Worst Years Of Volkswagen Beetle?
Let's begin with the years you should try to avoid the most. I'll break down each model so you can see precisely why it's a bad idea.
#8 Worst Year: 2006 Volkswagen Beetle (3.97 Rating)
Unfortunately, the 2006 VW Beetle model was one of the worst models because it was plagued by interior and transmission problems, as well as four more recalls addressing problems with the vehicle's under-hood fuel supply line and faulty brake light switches.
The 2006 Volkswagen Beetle has several other potential failure points, including its interior components, transmission, and windows/windshield.
Common Problems:
Difficulty in gear shifting
Headliner falls
Melting Sticky dashboard
Reviews, Ratings, Recalls & Complaints:
#7 Worst Year: 2012 Volkswagen Beetle (3.93 Rating)
After two years without issues, VW Beetle issues returned in 2012. There are significant problems with the 2012 VW Beetle's interior accessories, specifically the power locks and the defective seat cover trim.
The 2012 VW Beetle's window actuator often fails after 5,750 miles. The 2012 VW Beetle's whistling noises when driving make up the final group of complaints.
Common Problems:
Engine stop working
Faulty window actuator
Engine stalls/Shut down
Reviews, Ratings, Recalls & Complaints:
#6 Worst Year: 2013 Volkswagen Beetle (3.82 Rating)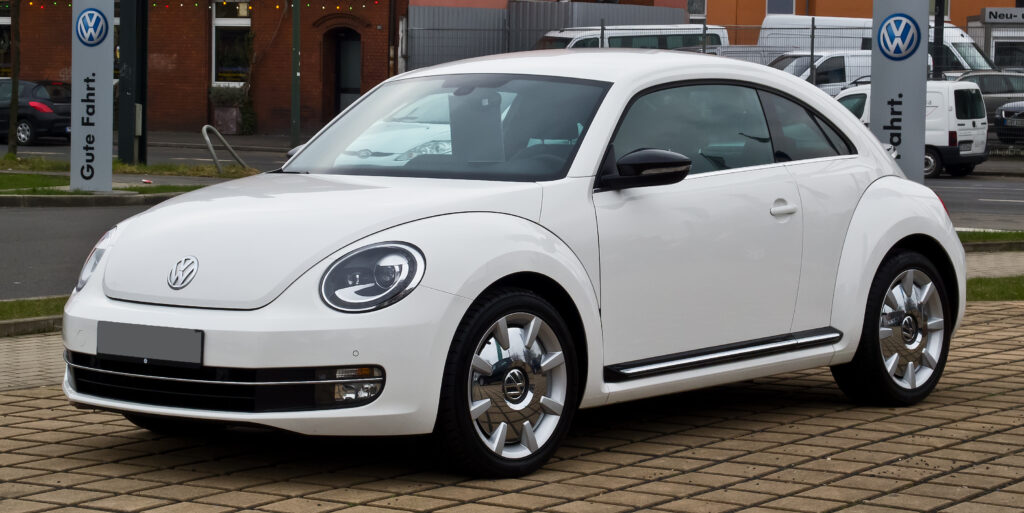 The fact that sales started dropping in 2013 is only one indicator that places this model near the bottom of the worst performers list. The 2013 VW Beetle also seems to have experienced issues with the door locks.
Airbag failures, electrical problems, equipment breakdowns, and engine failure are the most common complaints about this model. The massive recall of defective Takata airbags affected the 2013 Beetle.
Common Problems:
Reviews, Ratings, Recalls & Complaints:
#5 Worst Year: 2005 Volkswagen Beetle (3.36 Rating)
Consumer reviews indicate that this vehicle's drawbacks outweigh its advantages. Even after the valve body recall, this vehicle still lacks power, gets poor gas mileage for a compact car, and has a jerky transmission. It also has inadequate rear-seat headroom.
Vehicle owners most frequently report issues with the transmission, windows/windshields, and air conditioner/heater in 2005 models. This car has one of the bad transmissions. At 76,000 miles, you'll need to replace the transmission, which will cost roughly $3,600.
Common Problems:
Transmission disengages
Failed transmission
Transmission stalling
Reviews, Ratings, Recalls & Complaints:
#4 Worst Year: 2003 Volkswagen Beetle (3.26 Rating)
When compared to the 2001 Volkswagen Beetle, the 2003 model year was a marked improvement. It was, however, a downgrade from the 2005 version. This is because this model has vast complaints and is also responsible for resurrecting some issues fixed by its predecessor.
This model has many transmission issues, such as a sluggish shifter and difficulty changing gears. This model had additional exterior problems, such as a petrol cap that would get caught and a truck latch that wouldn't open or close, setting off the alarm system.
Common Problems:
Transmission slips
Limp mode
Windows separating from the canvas top
Airbags light on
Reviews, Ratings, Recalls & Complaints:
#3 Worst Year: 2004 Volkswagen Beetle (2.85 Rating)
The Volkswagen Beetle model year 2004 was widely panned as one of the worst in the brand's history. This model was woefully inadequate regarding accessible features and the number of issues plaguing those features.
There were issues, including a slipping transmission, downshifting even at high speeds, and transmission failure. Windows and windscreens were also problematic. After some driving time, the windscreen seals might loosen, and the window regulators would get caught.
Common Problems:
Transmission failure
Transmission slipping
Computer check indicator failure
Reviews, Ratings, Recalls & Complaints:
#2 Worst Year: 2001 Volkswagen Beetle (2.70 Rating)
The 2001 Volkswagen Beetle, with its record-breaking 11 recalls, was the second-worst model ever. Like its predecessor, it had engine issues like overheating and shutting down. You'll suddenly lose power while driving this car, which is extremely dangerous.
However, the most significant issue with this model was its excessive vibration and noise. The engine belts, the suspension, and the windswept windscreen are just a few potential sources.
If it works, a radio should be turned on at maximum volume since you will need the means to escape the chaos around you.
Common Problems:
Engine light on
Loss of power
Overheats
Reviews, Ratings, Recalls & Complaints:
#1 Worst Year: 2000 Volkswagen Beetle (2.64 Rating)
The Volkswagen Beetle model released in 2000 was the most problematic of all those produced over the past two decades as it was the subject of the most complaints to the NHTSA and a significant number of recalls.
There were various reasons for complaints, but those involving the car's engine were the most common, where engine failure and high oil consumption were cited as significant complaints. The vehicle's safety was also doubted because of complaints about the seatbelts and airbags.
2000 VW Beetle was the unfortunate symbol of Beetle disappointment. We can easily say this model was so flawed that it ultimately led to its own discontinuation.
Common Problems:
Engine stop working
Faulty window actuator
Engine stalls/Shut down
Reviews, Ratings, Recalls & Complaints:
Related: Are Volkswagen Cars Reliable? (Ratings, Safety, Top Models)
What Are The Best Years Of Volkswagen Beetle?
The best models are described in further detail below
#8 Best Year: 2015 Volkswagen Beetle (4.02 Rating)
The last on the list of best VW Beetle years is the 2015 model from the second generation. The 2015 Volkswagen Beetle offers a one-of-a-kind driving experience thanks to its stylish exterior, well-thought-out cabin, potent turbocharged engines, and efficient diesel.
With perfectly 5 out of 5 overall safety ratings from the National Highway Traffic Safety Administration, this model is unbeatable in terms of security. You can easily get this model if you're on a tight budget and want a secure driving experience.
Reviews, Ratings, Recalls & Complaints:
#7 Best Year: 2014 Volkswagen Beetle (4.04 Rating)
The 2014 Volkswagen Beetle is just the right mix of modern and vintage, with a more rugged appearance and a convertible option. The 2014 Beetle's front seats have plenty of space for both passengers' heads and legs, but the back seat and trunk are a little cramped. Overall, It's a good investment!
The 2014 Beetle has excellent fuel economy. In fact, the best thing about this car is its engine. In 2014, the pricing range for a Beetle ranged from $7,995 (for a high-mileage model) to $29,995 (for a low-mileage model). This model is perfectly the best model due to its 5/5 star ratings from both NHTSA and IIHS.
Reviews, Ratings, Recalls & Complaints:
#6 Best Year: 2010 Volkswagen Beetle (4.34 Rating)
The Volkswagen Beetle 2010 is another famous model, which is popular due to its stunning good exterior. In addition to the regular hatchback body style, buyers can select from the coupe and convertible body styles, giving them four trim levels choice.
These automobiles aren't designed to carry a lot of weight or a large number of passengers, but they are great for those who value a responsive and entertaining driving experience. In this case, the 2010 beetle won't disappoint you.
Reviews, Ratings, Recalls & Complaints:
#5 Best Year: 2007 Volkswagen Beetle (4.43 Rating)
The 2007 hatchback, especially in its convertible form, has a fascinating visual appeal, making it an attractive choice for picky drivers. It also provides remarkable ride comfort, precise steering, and a good resale value.
On repairpal.com, the 2007 Volkswagen Beetle got a remarkable 3.2 out of 5-star ratings. It is also notable that this model ranks in the 12th position out of 32 car brands, which is impressive for a VW Beetle model.
Reviews, Ratings, Recalls & Complaints:
#4 Best Year: 2016 Volkswagen Beetle (4.43 Rating)
The 2016 Beetle is an excellent option with plenty of utility if you're on a more limited budget. Its engine options offer a terrific power and fuel efficiency balance, and the interior design is sleek and modern.
Additionally, a high-quality touchscreen infotainment system is included in the package. Thirteen new trim levels are available for the current model year. The NHTSA found Positive safety results for this model, with 5/5 overall and perfect scores in nearly all categories.
Reviews, Ratings, Recalls & Complaints:
#3 Best Year: 2017 Volkswagen Beetle (4.56 Rating)
The 2017 Beetle is, without a doubt, the most updated of the top five beetle models. By the 2017 model year, nearly all of the problems had been sorted out of the third-generation Beetle. There were seven trim levels for the 2017 model year, including a limited-edition Pink Beetle and a convertible Dune model.
It is the perfect combination of modern conveniences and retro charm. The NHTSA awarded it its highest possible safety rating of 5 stars, making it a reliable model. With only 3 recalls and 6 complaints in the past 6 years, this model attests to its reliability.
Reviews, Ratings, Recalls & Complaints:
#2 Best Year: 2018 Volkswagen Beetle (4.58 Rating)
The 2018 Beetle is among the most refined and dependable of the entire car range. It is an excellent addition to the Beetle range, featuring the same classic look as previous models and a smart interior to round it off. It also boasts superb handling and a long, bumper-to-bumper guarantee.
The 2018 Volkswagen Beetle is available in four distinct trim levels, including a limited edition Coast model, and features a standard 2.0-liter four-cylinder engine and widespread praise from owners. In addition to the car's already impressive acceleration and responsive handling, this was a significant upgrade.
Reviews, Ratings, Recalls & Complaints:
#1 Best Year: 2019 Volkswagen Beetle (4.60 Rating)
The 2019 Volkswagen Beetle, the last of the retro-styled 2-door hatchbacks, was surprisingly the best model that Volkswagen had ever produced when it was discontinued. Four trim levels are available for this car: S, SE, SE Final Edition, and SEL Final Edition.
Its sleek cabin, strong yet fuel-efficient engine, and impressive utility have made it a fan-favorite car. Technology like blind-spot monitoring and a touchscreen navigation system is also included, making it the best beetle car in the entire lineup.
Combine the timeless look with cutting-edge features and impressive performance, and this could be the Volkswagen Beetle's best year ever.
Reviews, Ratings, Recalls & Complaints:
What Are The Common Problems Of VW Beetle?
The Volkswagen Beetle has a reliability rating of 4.5 out of 5 stars on repairpal.com. Compared to its rivals, this is an imposing figure. Of course, there are still some issues to think about that show up in most models of the VW Beetle.
Some of the most common VW Beetle problems include:
Faulty Engine: The engine could break down anytime, requiring costly repairs.
Faulty Power Locks: Power locks don't operate properly.
Transmission failure: This car has numerous transmission issues, like slipping transmission and difficulty in changing gears.
Faulty Power Windows: This problem could prevent windows from opening and closing properly.
FAQs
1. Why Was VW Beetle Discontinued?
This car was not up to the quality, security, or convenience of modern automobiles. As a result of this and other factors, Volkswagen decided to stop producing the Beetle and concentrate its focus on electric vehicles.
2. Is VW Beetle Good In Snow?
The Volkswagen Beetle is a fuel-efficient vehicle. It was tested in harsh winter conditions and did pretty well in this regard. This vehicle provides excellent traction in the snow. This is a result of the car's front-wheel drive.
As a result, the car's weight is distributed to make it more stable on icy roads, yet its low and lightweight construction can be hazardous if the roads have not been plowed.
3. VW Beetle Vs. Mini Cooper: Which Is Better?
Although both of these retro-styled compact automobiles shared a common place many years ago, their respective markets have since diverged significantly. The Beetle is still an inexpensive option for a stylish two-door, but you may find more long-term satisfaction with a model from the Mini Cooper range.
The Mini gets our recommendation. Overall, it's a better and more modern car, while the Beetle's better price tag certainly makes it competitive.
Conclusion
Unfortunately, Volkswagen has switched its focus away from the fan-favorite lineup, as the Beetle was a popular car that many watched as children and adults.
Although the firm occasionally issued poor models like the 2000 Beetle, it primarily released excellent vehicles like the 2019 or the most recent models the company made before it was discontinued.
Regardless of how you feel about certain model years of the Volkswagen Beetle, there's no denying that the entire lineage, from the best to the worst, was beloved by many people for its retro good looks and distinctive shape.