We now live in a modern era. There is no longer any stigma attached to female drivers. It is now seen more as a skill that anyone can learn with practice, no matter what gender they are. Furthermore, research shows that women are less likely to engage in risky driving behaviors such as hard braking or speeding.
Women are safe drivers, so they should be given the best cars to drive. Women love getting their first cars, so finding a good match is crucial. In contrast to males, first cars for female drivers do not have to be speed-oriented.
A good vehicle for a woman would have all the amenities she needs and be aesthetically pleasing. If you're a woman looking to defy stereotypes about female drivers, a quick guide to the best cars for women will help you make a decision.
Things Women Should Keep in Mind Before Buying First Car:
Do detailed research before settling on a choice.
Make a decision based on your lifestyle.
You must pick the vehicle that best suits your requirements.
Set a priority list for the features you want in your car.
Spend your money wisely on an automobile. The cost of upkeep should be included in this as well.
Keep your credit score high to qualify for lower insurance premiums and better lending terms.
Top 15 First Cars For Women
In this list, we are providing you with the best 15 cars that are suitable, beautiful, and easy to drive. These are the 15 best first cars for women:
1. Mini Cooper:
The Mini, often known as the Mini Cooper, is among the ideal vehicle for women as their first car. The car's aesthetic and performance are both top-notch. In addition to their attractive appearance, Mini Coopers are reliable and fuel-efficient (above 30 mpg combined).
The Mini Cooper has a number of safety features, including a head-up display, adaptive cruise control, active braking, dynamic stability control, a rollover protection bar, and a crash sensor system.
Moreover, the Insurance Institute for Highway Safety (IIHS) gave the vehicle five-star safety ratings. Despite its small size, the car features four seats, allowing it to accommodate n number of friends.
2. Hyundai Tucson:
Hyundai Tuscan is a roomy SUV with good fuel efficiency, which is a catch for females who travel long distances frequently. The base model Hyundai Tucson runs on a 2.5-liter four-cylinder engine, but the hybrid and plug-in hybrid versions run on 1.6-liter four-cylinder engines paired with electric motors.
With its 13.8 kWh battery pack, the plug-in hybrid model can travel up to 33 miles on electricity alone. When the battery is connected to a level 2 charging station, it takes about two hours to charge fully. There's plenty of room for passengers and goods. The safety features are ideal, making them perfect for new female drivers.
3. Honda Civic:
The Honda Civic is yet another high-quality and safe option suitable for women. It is one of the best-selling compact cars in the USA, and for a good reason. The vehicle is reliable, comfy, safe, and highly efficient.
The Honda Civic also has a lot of room and is easy to drive. It has two engine choices: a 1.5-liter model and a 2.0-liter variant. The vehicle is fuel-efficient, so you will save money while you commute to school or work.
Aside from being easy to drive and good on gas, the Honda Civic is also safe. It has a number of safety features, including lane departure warning, adaptive cruise control with low-speed follow, forward collision warning, road departure mitigation, and a lane-keeping assist system. All these features make it a perfect first car for women drivers.
4. Nissan Versa:
This subcompact vehicle is a smart and economical pick if you're a novice female driver looking for her first car. Nissan Versa offers great features for regular commuting and is offered in three variations. The Versa SR is the top trim level, and it has features such as 17-inch wheels, leather upholstery, LED headlights, passive entry, and remote engine start.
Due to its precise steering feel and consistent brake-pedal feedback, women find driving quite comfortable. Compared to other cars with similar specs, the headroom doesn't seem to be enough.
However, it features options like an automatic climate control system, hands-free entry, a digital screen, and a remote start. Additional safety features that appeal to female drivers include lane-departure warning, adaptive cruise control, rear cross-traffic alert, blind-spot monitoring, and automatic high beams.
5. Volkswagen Polo Hatchback:
VW is an iconic brand in the auto market and one of the best-selling compact vehicles ever. The Volkswagen Polo fits the requirements of most young women with its stylish and sophisticated design. The vehicle is attractive, well-made, and simple to drive. Modern VW Polo models have more space and a sportier feel.
Along with the 1.0-liter engine, it also offers a number of other engine choices. Unlike most small cars, the Volkswagen Polo Hatchback is equipped with high-end amenities like adaptive cruise control, a digital active info display instrument, and fog lights.
Whether you drive it on the country's freeway or back roads, this car will perform extremely well.
6. Honda CRV:
The Honda CR-V is fully equipped to meet the needs of women who are new to driving. Although the heated front seats, motorized driver's chairs, and leather-trimmed interiors spruce up the interiors, the model's efficient fuel usage stands out. The CRV justifies its high price tag with its roomy cabin and even more roomy cargo hold.
Women interested in driver assistance features should expect automatic emergency braking, adaptive cruise control, lane-keeping assistance, and front collision warning. These characteristics also make it appropriate for senior female drivers.
7. Fiat 500:
This is one of the most beautiful cars you will see a woman driving down the road. The vehicle may have a simplistic design and pleasing aesthetics, but it performs well and is easy to operate. However, the Fiat 500 with the 69-horsepower engine is the better choice over the Fiat 500 with the 2-cylinder 100-horsepower engine since the latter is not safe for new drivers.
The Fiat 500 looks cute but only has three doors, so it's not great for a family. Even so, it can fit four people and has many high-end features. It comes equipped with power windows, passenger and driver airbags, fog lights, anti-lock brakes, and a multi-function steering wheel. You can rest easy knowing you will be safe with all these supreme safety features.
8. Mazda CX3:
The Mazda CX3 is the best option if you're searching for a slightly larger crossover with great fuel efficiency and acceleration. It includes a variety of driver safety measures perfect for women. The excellent fuel efficiency and the small size will surely favor new female drivers.
It has a simple entertainment system and attractive interiors. The Mazda CX3 falls short when it comes to space, both for passengers and for cargo. The highlights of this vehicle are the exciting performance, improved driver support, and safety features like nighttime pedestrian detection.
Even though this list contains cars that are best for beginner women, you should also take a look at the cutest 10 cars for women.
9. Peugeot 208 Hatchback: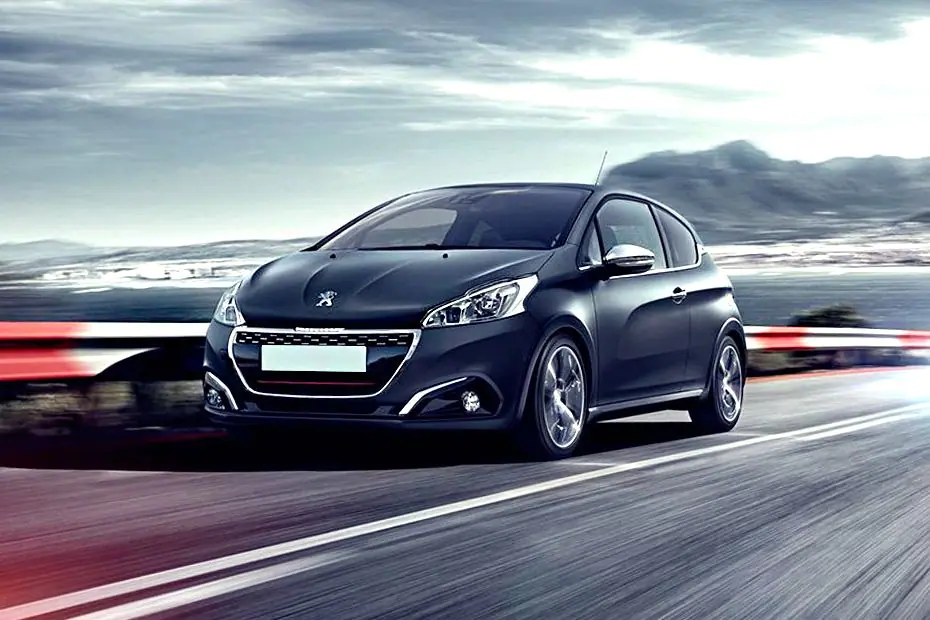 The Peugeot 208 Hatchback is the safest option for women looking for their first car. With Peugeot's "Simply Add Fuel Telematics" package, women will have the perfect vehicle for learning to drive safely. You can also monitor your driving practices if the Telematics box is installed in the car.
In addition, the car has a small yet efficient 1.2-liter gasoline engine. Overall, it's a stylish and reasonably priced car that won't break the bank. The car is equipped with a number of safety features, including anti-lock brakes, driver and passenger airbags, and child safety locks.
10. Tesla Model 3:
The Tesla Model 3 is a smart choice for women who want to drive an electric vehicle as their first car. While Tesla was a pioneer in the electric vehicle market, its futuristic exterior's curvy yet graceful design mostly appeals to women.
It can travel over 250 miles without needing a charge, making it far better than gas-powered vehicles. The cabin is comfortable and relaxed at all speeds. Also, the Model 3's sturdy design allows it to get the best rankings in the government's NHTSA crash tests and IIHS safety assessments.
11. Ford Fiesta Hatchback:
The Ford Fiesta is another perfect option for women searching for their first car. Its chic, compact design is a perfect match for the aesthetics of most modern young females. The car's customizable features set it apart from other compact vehicles. It incorporates MyKey technology, enabling parents to set restrictions on speed, maximum volume, and a driver seatbelt reminder.
The Ford Fiesta is an amazing car that doesn't skimp on space or safety features. These include a Pre-collision system, driver/passenger/side airbags, double deadlocks, an anti-lock braking system, and trailer sway control. This vehicle is more expensive than other average cars on this list, but it is worth every penny.
12. Kia Soul:
The Kia Soul is a great car to own and a blast to drive. Its quirky design adds to its appeal as one of the coolest compact cars for women. Even though it has a boxy shape, the narrow slit of headlights from one side of the car to the other gives the Soul a unique look that makes it stand out from other small SUVs.
Price-wise, it's hard to beat, and in terms of features and interior space, it easily outclasses the competitors. The Soul is taller than sedans and hatchbacks, so driving it is easy, and the excellent visibility makes time behind the wheel less tiring.
13. Porsche Cayenne:
The Porsche Cayenne SUV is a popular choice among female drivers. Its safety, comfort, and elevated driving posture justify it. Although it's a breeze to use, the multiple trim levels come at a hefty price. It boasts two rows of heated, vented, and adjustable seats. Also, this plug-in hybrid version is a green choice.
With its rounded shape and signature Porsche contours, this car exudes an air of confident grace. The Cayenne rides and handles well like other Porsches, and its interior and sturdy construction is excellent. The Cayenne will be worth every penny if you can afford a Porsche. But, maintenance expenses will be higher than those of other SUVs.
14. Honda HR-V:
Although it is the smallest Honda SUV, women who love driving will be proud to call it their own, given how stylish it is. The Honda HR-V is a sophisticated, elegant crossover vehicle with good load capacity and a roomy cabin with seats for up to five passengers. The modern interior ensures comfort for extended journeys.
It also boasts good outside visibility and is typically regarded as a fun-to-drive vehicle that can be purchased for a fair price. All around, superior visibility makes for a relaxed and stress-free driving experience. This model may be ideal if you have an adventurous spirit but also value privacy.
15. Nissan Kicks:
The Kicks is Nissan's smallest and most reasonably priced SUV. It came out in 2018 and has just been updated. It's a great first car for young women because it's stylish and affordable. For women who like a car with a smaller appearance, its higher ride height in a subcompact body is ideal.
The interior is decorated tastefully, and the cabin provides a calm and comfortable ride regardless of speed. Aside from the design, choosing a Nissan Kicks is simple because it is very fuel-efficient and offers a lot of driver-assist features for novice female drivers.
Conclusion
When it comes to cars, males, and females have different preferences. Women mostly like cars that are small, attractive, and well-designed. But if you are looking for a first car, you may not have enough experience to drive well. So you should give safety, control, and comfort a lot of thought when choosing a vehicle for you.
The cars we've highlighted are some of the best ones on the market for women. Additionally, they are safe, comfy, and reliable controls. Whether you choose the Mini, Kia, or Ford Fiesta, you can safely assume it will be the safest first vehicle for you. We hope this guide will help all young ladies to find the perfect first car for themselves.