Since its debut in 1905, Bugatti has been a leading manufacturer of high-end sports cars. The French company makes luxury vehicles that may cost tens of millions of dollars. So how many Bugattis are there in the world?
Since the Volkswagen Group bought Bugatti in 1998, the company has sold over 1000 cars across the world. Models like the Veyron and Chiron have sold by the hundreds, while others, like the Centodieci, were in limited production.
Bugatti also produced several one-off models. Getting your hands on a Bugatti is a huge accomplishment because the process may take years from purchase to delivery. With only a few hundred units of each model produced annually, owning one of these ultra-luxurious hypercars from this iconic brand is a true achievement.
There Are Few Bugattis Around the World!
Bugatti was founded in the early 20th century, surprising many. Early on, Bugattis earned a reputation as aesthetically pleasing and speedy racecars.
By the time Ettore Bugatti passed away in 1947, the company had produced approximately 8,000 cars. Several attempts have been made to bring back the Bugatti name since the founder's passing. The Volkswagen Group purchased Bugatti Automobiles S.A.S in 1998, resulting in the iconic cars we know and love today.
Since then, Bugatti has released a handful of limited yet legendary models, including the Veyron, Chiron, Divo, Centodieci, La Voiture Noire, and Bolide. Some of these models have been sold in the hundreds, others in the tens, and some were just one-offs.
Bugatti stays at the top of the premium sports vehicle market by strictly enforcing a zero-tolerance policy for imitations. This is a major factor in the high prices of their cars.
It's hard to estimate how many pre-Volkswagen Bugattis still exist today accurately. But let's take a look at the number of Bugattis that have been built since 1998. The total number of each Bugatti model manufactured is as follows:
| Bugatti Model | Cars Produced |
| --- | --- |
| Bugatti Veyron | 450 |
| Bugatti Chiron | 500 |
| Bugatti Divo | 40 |
| Buggati Mistral | 99 |
| Bugatti Bolide | 40 |
| Bugatti Centodieci | 10 |
| Bugatti La Voiture Noire | 1 |
| Bugatti EB 218 | 1 |
| Bugatti 18/3 Chiron | 1 |
| Bugatti 16C Galibier "Royale" | 1 |
| Bugatti Vision Gran Turismo | 1 |
How Many Bugatti Veyrons Have Been Built?
Total Cars Produced: 450
The first Bugatti Veyron came out in 2005. Several versions of the Veyron have been produced and sold since the first model was introduced. The final Veyron model, the Veyron Grand Sport Vitesse, was sold in 2015, marking the end of Veyron manufacture.
Over 10 years, Bugatti manufactured 450 Veyrons in various types and variants, some of which were limited editions. Each make and model was distinguished by special qualities that helped it sell well on roads across the globe. Despite coming to an end at the end of 2015, it is fair to say that these cars have left a legacy that will endure for years to come.
The following table shows the total number of each Veyron model produced:
| Veyron Model | Cars Produced |
| --- | --- |
| Veyron 16.4 | 252 |
| Veyron Grand Sport | 58 |
| Veyron Super Sport | 48 |
| Veyron Grand Sport Vitesse | 92 |
| Total: | 450 |
How many Bugatti Chirons exist in the world?
Total Cars Produced: 500
The Bugatti Chiron has replaced the Veyron as Bugatti's flagship model. It debuted in 2016, a full year after the last Veyron had been sold. This luxury sports car was planned to have a limited production run of 500 models, including all of its versions and special editions like the Super Sport 300+.
Despite having a base price of $3,000,000, these cars are quite popular among collectors. For as long as anybody can remember, Bugatti has been renowned among its rivals in the automobile business for pushing the limits of engineering brilliance and performance capabilities.
Whether it's breaking speed records with their vehicles or providing state-of-the-art comfort features, they always deliver. This is especially true of their flagship model, the Chiron, which picks up where its forerunner left off in terms of technological advancement and provides a unique and memorable driving experience in all aspects.
The following table shows the total number of each Veyron model produced:
| Chiron Model | Cars Produced |
| --- | --- |
| Chiron | 100 |
| Chiron Sport | 60 |
| Chiron Sport 110 Ans Bugatti | 20 |
| Chiron Super Sport 300+ | 30 |
| Chiron Noire | 20 |
| Chiron Pur Sport | 60 |
| Chiron Sport "Les Legendes du Ciel" | 20 |
| Chiron Super Sport | 70-80 |
| Chiron Pur Sport Grand Prix | 1 |
| Chiron Profilee | 1 |
| Total: | 400 |
It is important to note that when Chiron was introduced in 2016, it was announced that only 500 would ever be made. But they still have not reached the official milestone of 500 cars and have produced only 400 models till now. The 400th model, which took around two months to assemble in the atelier at Bugatti's headquarters in Molsheim, is finally ready to be delivered to its owner.
How many Bugatti Divos exist in the world?
Total Cars Produced: 40
Bugatti Divo is an exquisitely crafted car with a distinct aura and driving qualities that differentiate it from its predecessor, the Chiron. With only a limited number produced for the brand's most devoted customers, it's likely that you haven't and won't ever see this car on the road near you.
As with previous models, Buggati has named the Divo after a renowned race car driver. The Buggati Divo is a tribute to Albert Divo's superb command of the race's exceptionally challenging roads. Bugatti Divo is produced in a strictly limited number of 40 units. In addition, while the Divo is primarily intended for use on the track, all units are homologated for road use.
Bugatti had already sold all 40 of its units before releasing them to the public. Furthermore, Bugatti delivered the final and 40th Divo to a European customer last year. The limited supply justifies the automobiles' $8 million price tag, and that price is sure to skyrocket as time goes on.
How many Bugatti Mistrals exist in the world?
Total Cars Produced: 99
The Bugatti Mistral, also known as the Bugatti W16 Mistral, is a mid-engine, two-seat sports vehicle produced by Bugatti Automobiles S.A.S. in Molsheim, France. It was announced on August 19, 2022. The Mistral is the last of its sort to be powered by the legendary W16 engine; from now on, all Bugattis will be hybrids.
Bugatti's design and technical teams have combined creative vision with a firm grasp of physics to produce a remarkable vehicle. The external styling is exclusive to the Mistral and is not based on the most recent Bugatti vehicles. The front headlamps have a distinctive design, including four diagonal lighting strips, and the vehicle as a whole is incredibly aerodynamic, sporty, and luxurious.
With a peak speed of 420 km/h, this limited edition roadster will fulfill Bugatti's stated mission of "becoming the fastest roadster in the world once again." There will only be 99 Bugatti Mistrals made, and each one will cost 5 million euros. All 99 units have been sold, and deliveries are scheduled to begin in 2024.
How many Bugatti Bolides exist in the world?
Total Cars Produced: 40
The Bugatti Bolide, a hypercar designed only for racing, has made a splash in the high-end automobile market. Even though they won't be released until 2024, forty of these models have already been sold. It's no wonder that these cars, which cost about $5 million each, feature some of the most avant-garde styling from the manufacturer.
The Bolide is the fastest car Bugatti has ever made, with a peak speed of 311 miles per hour. This groundbreaking car will give its owners unrivaled performance on paved and muddy roads. The Bugatti Bolide is one of the most sought-after vehicles in the luxury market because of its eye-catching appearance and state-of-the-art technology.
How many Bugatti Centodieci exist in the world?
Total Cars Produced: 10
In 2020, when the Bugatti Centodieci was first shown to the public, it instantly became a byword for luxury and exclusivity. Due to the model's low production run of only ten cars, it is highly sought after by enthusiasts of fine automobiles. The world-famous soccer player Cristiano Ronaldo reportedly has one of these vehicles, with a high price tag of $8,000,000.
Bugatti has made sure that each Centodieci is different from the rest, both in appearance and in the technologies it employs. Car fans can't wait to get their hands on what could become one of the most sought-after collector's items in the history of cars.
How many Bugatti La Voiture Noire exist in the world?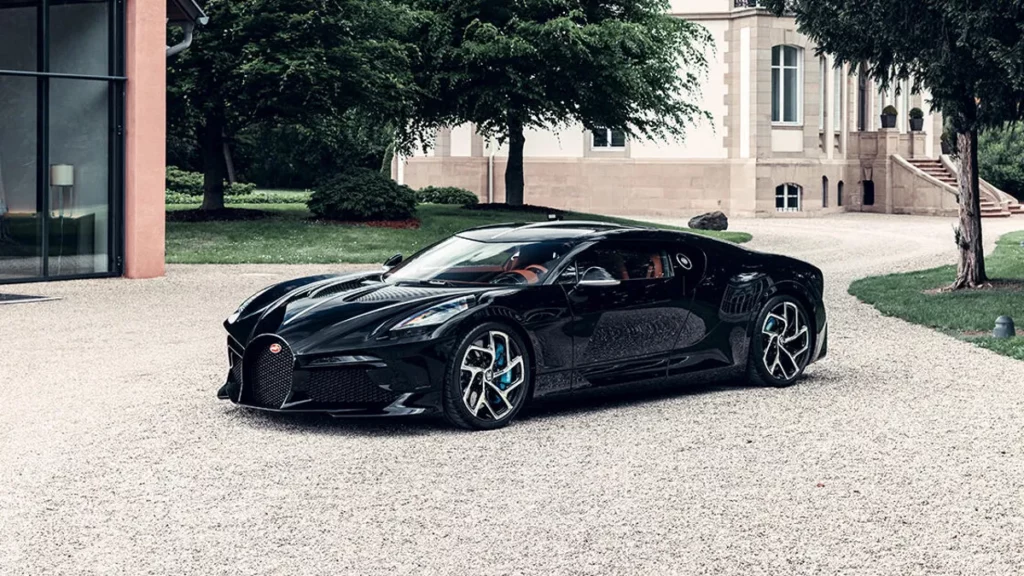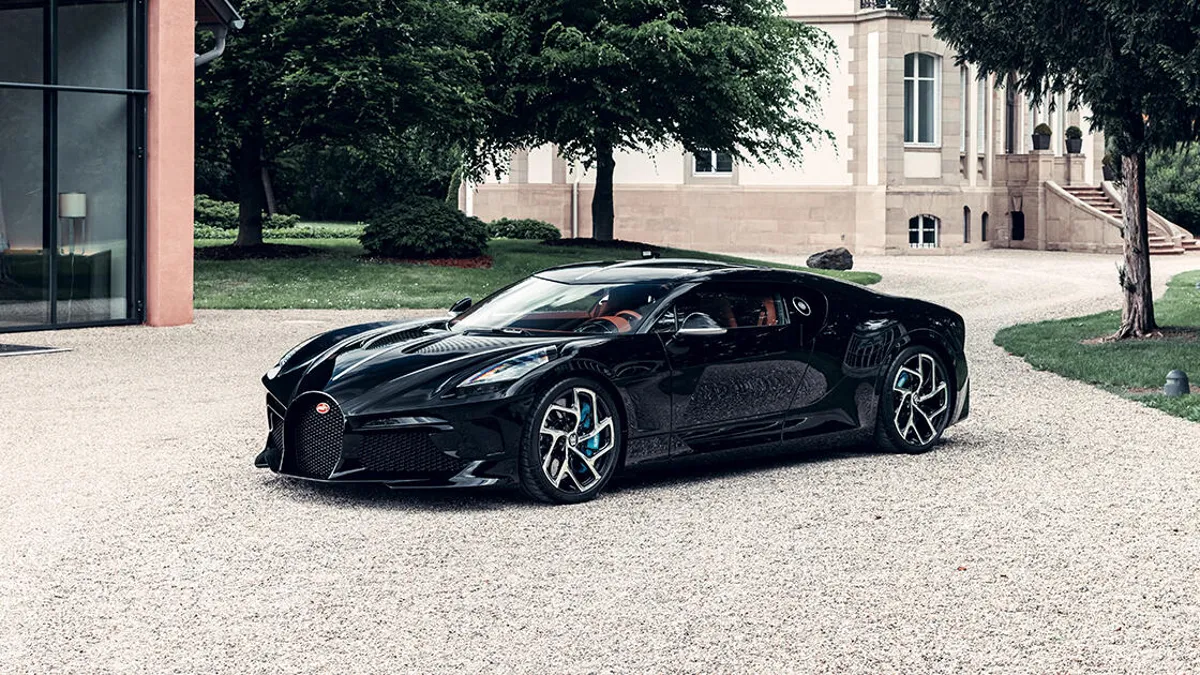 Total Cars Produced: 1
Bugatti is well-known for its limited-edition sports vehicles. However, the Bugatti La Voiture Noire redefines the concept of exclusivity. There is just one 2019 Bugatti La Voiture Noire, which costs more than eighteen million dollars.
The buyer's name remains a mystery, although soccer star Cristiano Ronaldo and former Volkswagen Group chairman Ferdinand Piech have been mentioned as possible buyers. This incredible Bugatti continues to be the most expensive car ever sold at a public auction.
The car's sleek black exterior and outstanding engineering justify its high asking price, so it's not unexpected that someone with significant money would want to purchase this rare car.
Can Anyone Purchase A Bugatti?
As one of the most exclusive manufacturers in the world, Bugatti takes a unique tack in deciding who gets to buy their vehicles. Bugatti often sells to hand-picked customers rather than the general public. Buying one of these rare cars is more like a commercial transaction, which helps keep the value high.
Other car makers like Ferrari make it harder for customers to buy their cars, even if they can afford them. They don't sell their cars to people who are not a part of the Ferrari family. Plus, if you want to customize your car, it will be difficult for you to get one. Comparatively, Bugatti's "family" approach to its customers does not seem as strict as Ferrari's.
Bugatti verifies potential buyers' identities and affluence before selling them a car. The high-end sports company does its best to connect with its clientele. Visitors visiting the Bugatti facility may take a spin in one of the luxury sports cars. Nonetheless, you will be expected to buy the vehicle if any damage occurs during the test drive.
Frequently Asked Questions:
Here are some frequently asked questions about Buggati cars:
1. How much does it cost to buy a brand-new Bugatti?
Prices for brand-new Bugattis range from $1.7 million for the base model Veyron to upwards of $18.7 million for the top-of-the-line La Voiture Noire.
2. How much does a used Bugatti cost?
A used Bugatti Veyron 16.4 costs a minimum of just over $1.1 million. A brand-new Bugatti costs over $1 million, while a classic model costs nearly $900,000. The price of a used Bugatti Chiron may exceed $3 million, while a used Bugatti Divo can begin at about $8 million.
3. Just how much does the cheapest Bugatti cost?
The Bugatti Veyron is the most affordable current model among the brand's supercars. In 2023, locating a used Veyron for less than $1.5 million will be difficult, with certain versions going for much more.
4. Why is a Bugatti so expensive to buy?
The high cost of a Bugatti is justified by the high quality and uniqueness of its technological, mechanical, and luxury components. These supercars are among the most incredible vehicles ever made, and their price tags reflect that.
5. How fast does the 2023 Bugatti travel?
The maximum speed of a 2023 Bugatti Chiron Super Sport 300+ is 263 mph (420 km/h). The automobile can reach speeds of up to 300 mph (483 km/h) without using a commercial limiter. It can reach 62 mph (100 km/h) in 2.4 seconds, 124 mph (200 km/h) in 6.5 seconds, and 186 mph (300 km/h) in 13.6 seconds.
Conclusion
Bugatti is a high-end luxury car brand known for producing high-performance sports cars. Given the exclusivity of these vehicles, it is likely that the number of Bugattis in the world is relatively low compared to other car brands.
In this article, we have provided the details of all the Buggati models with their total numbers that exist in the world. We hope it will help you to get the necessary details and decide the best pick for you if you can afford a high-end luxury Buggati car.