The Mercedes-Benz G-Wagon is the company's most esteemed SUV. The first G-Wagon was developed through a collaboration between Daimler, Steyr, and Puch. It debuted in 1979 and has been in production since then. The G-Wagon was initially designed for the military, but its unmatched dependability and leading-edge all-terrain capabilities made it a hit with civilians.
The G-Wagon is Mercedes's large, boxy, vintage, off-road vehicle and, depending on trim, the company's most expensive SUV. But why are G wagons so expensive in comparison to other SUVs? The answer lies in their combination of capabilities, rarity, durability, and, most importantly, their undeniable cool factor.
While other SUVs like the Jeep Wrangler or Land Rover Defender may surpass the G-Wagon in terms of towing capacity, interior space, or off-road performance, they lack the rich heritage and unmistakable presence that the G-Wagon possesses.
Do G-Wagons worth the price?
Every high-end vehicle undergoes significant depreciation over time. In 2002, a 20-year-old Porsche Cayenne might have cost $60,000, but today, the same SUV can be purchased for about $8,000. But the G-Wagon is in a different universe.
NADA estimates that a 2012 model in average condition is still worth $58,400. However, some claim that's a good deal for this level of quality. Its initial asking price was $108,000. That amounts to nearly $50,000 in depreciation over the past ten years, or around $416 each month.
What makes G-Wagons so special?
We'd like to know why celebrities like Jay-Z and Kim Kardashian are fond of the G-Wagon. No other SUV has the presence of the G-Wagon. The G-Wagon is highly capable, boasting full-time four-wheel drive, a powerful V8 engine, and is equipped with cutting-edge technology and luxurious materials. Moreover, its highly robust frame grants it impressive off-road capabilities and durability.
How much does a brand-new G-Wagon cost?
Since its debut in 1979, the G-Wagon has changed little under the sleek shell. Mercedes significantly improved the G-Class in 2019 with a larger wheelbase and a variety of choices that match its Beverley Hills customer base. However, under the skin, it's still an SUV designed for rough terrain.
As it is no longer known as the Gelandewagen, the base price of the 2022 G-Class is $134,300. However, the G-Class can become as costly as you can imagine. The G550's base model has a twin-turbo V8, and if you add a few extras, you can easily reach $150,000. Moreover, once you upgrade to the Mercedes-AMG G63, expect to pay around $175,000. The G63 has 577 horsepower and can reach 60 mph in just under 4 seconds.
10 Reasons Why G Wagons Are This Much Expensive?
1. A Reputable Background History:
Like many of the best off-road cars in the world, the G-Wagon was first built to be a military vehicle. The Shah of Iran placed one of the big orders for the car, requesting 20,000 units, but he was overthrown before the deal could be finished. However, Mercedes wasn't too bothered, as the Swiss, Norwegian, and Argentinean forces purchased most units.
Germany's local police forces were among the G-Wagon's first clients, and it soon became evident that there was considerable demand for a civilian version. The primary reason the G-Class was in such high demand was its potential to easily traverse all types of terrain, a result of the five-year testing program the car's engineers had subjected it to.
The G-Wagon has been tested during development on snowy paths in the Arctic Circle, salt lakes in the Sahara, and coalfields in Germany. Each new location provided engineers with a chance to fine-tune the vehicle, and the end result was a vehicle that could traverse practically any terrain.
2. The best all-terrain performance:
Throughout its more than 40 years of production, the G-Wagon has evolved significantly from its military origins. In 2018, a second-generation G-Class was introduced, featuring a fresh design while retaining its recognizable appearance. Underneath the surface, the vehicle underwent a complete overhaul. Yet, its ability to conquer various terrains remained unchanged.
The G-Class is presently offered in a number of market-specific configurations, but for customers who want the most off-road capability, the Professional Line Package is the best option. This package unlocks a range of trail-ready enhancements, such as stone guard grilles, mud flaps, a roof rack, and rugged off-road tires.
Mercedes-Benz's Manufaktur Customization Program further allows buyers to personalize their G-Wagon with various accessories. Therefore, It's safe to argue that the G-Wagon is one of the most capable SUVs on the market.
3. Exceptional durability:
Ex-pilot Gunther Holtorf demonstrated the G-Wagon's off-road prowess and durability when he drove his 1988 G-Class 559,000 miles through 215 countries. Holtorf traveled for 24 years, from 1990 to 2014, and drove through often off-limits countries, such as North Korea, Myanmar, and 15,000 miles of China. Otto carried 1,100 lbs more than its authorized gross vehicle weight load, including spare components, food, water, and emergency supplies.
Reinforced springs and shock absorbers were the only changed car parts; the rest were left unchanged. According to an interview with Holtorf, the body and frame were in perfect condition, and the axles, engine, and transmission were all still in their original configuration. After 24 years of traveling the world, Otto is now in the Mercedes-Benz Museum in Stuttgart, Germany.
4. Powerful AMG trims: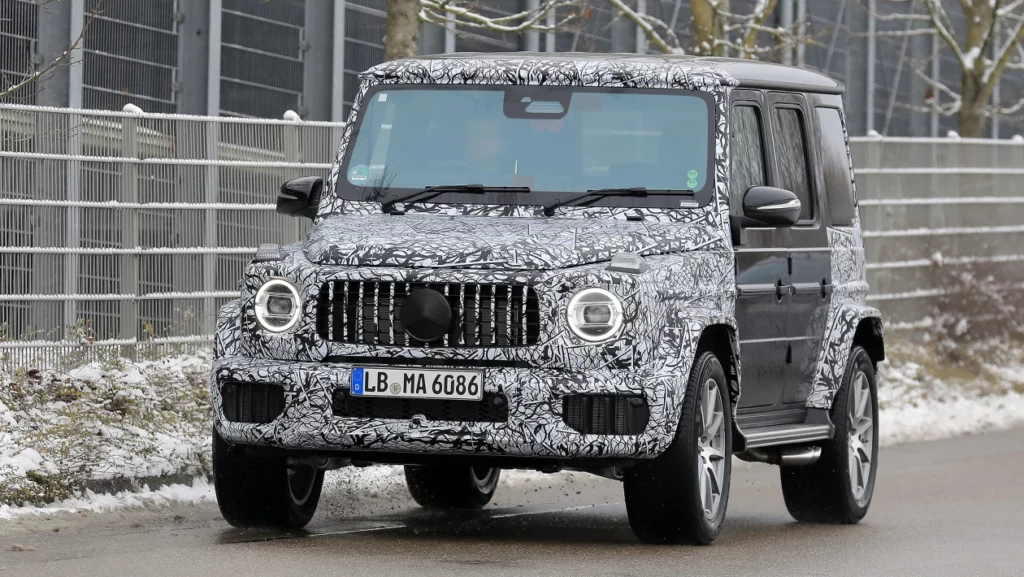 In contrast to Otto's long-distance feats, Mercedes-Benz's AMG G-Classes demonstrate that the SUV can be transformed into a shockingly quick-performance car when equipped with a powerful engine. The G63 AMG boasts impressive acceleration, going from 0 to 60 mph in just 4.4 seconds at a top speed of 149 mph when equipped with the optional Drivers' Package.
To ensure a smooth ride at high speeds, the AMG G-Class is equipped with standard adaptive adjustable damping, and it offers four driving modes: Comfort, Slippery, Sport, and Sport+.
In Sport and Sport+ modes, there's a dual-clutch function that rapidly downshifts the SUV to the most suitable gear when the accelerator is pressed firmly, delivering an immediate surge of torque. This feature proves beneficial for overtaking vehicles on narrow roads.
5. Highly Safe:
While the G-Wagon's capabilities for off-road adventures and high-speed tests are impressive, the truth is that most of these vehicles will spend most of their time navigating through city traffic or slow-moving freeways. Considering this, Mercedes-Benz offers a range of valuable safety features to provide urban owners with enhanced peace of mind.
Optional features include Adaptive Cruise Control, blind-spot monitors, active parking assist, and a comprehensive surround-view camera system. Standard safety features include automatic emergency braking and strategically positioned airbags at the front, side, roof, and knees to safeguard occupants from potential collisions.
Moreover, the G-Wagon's robust construction, featuring a ladder frame made of sheet steel up to 3.4mm (0.13 inches) thick in certain areas, adds an extra layer of protection.
6. Opulent interiors:
G-Class owners can enjoy a luxurious interior similar to Mercedes-Benz's flagship S-Class sedan while navigating through congested Los Angeles traffic or rugged trails. The cabin features high-quality leather, wood, and polished metal trims, and customers can choose even more luxurious materials at an additional cost.
The G550 and G63 AMG models come with a standard interior that includes two dominant 12.3-inch screens, a digital gauge cluster, and an infotainment system, with the latter being a touchscreen. For those seeking an even more upscale experience, various optional extra packages are available.
The $5,000 Exclusive Interior package unlocks additional interior color combinations like Classic Red/Black, along with Nappa leather and a Dinamica headliner. Moreover, the Exclusive Interior Plus package also includes extras like velour floor mats and a frameless rear-view mirror.
7. Multiple aftermarket options:
If Mercedes-Benz fails to provide a unique enough option, buyers can explore aftermarket companies to create a G-Wagon that is more exclusive, expensive, and often visually divisive. The aftermarket industry for G-Wagons is extensive, with prominent tuners like Brabus and Mansory offering multiple packages to choose from.
These tuners enhance the car's interior, add body kits, and upgrade the engine to deliver significantly more power than the stock version. For instance, the Brabus 800 Black & Gold Edition can generate up to 800 horsepower and 738 lb-ft (1,000 nm) of torque.
The interior is also revamped with luxurious leather. The Black & Gold Edition stands out visually with its Widestar body kit, various carbon fiber components, and 23-inch monoblock forged wheels.
Related: Cheapest Luxury SUVs To Buy In 2023
8. Favored by celebrities:
Even though the G-Class has only been offered formally in the United States since 2002, celebrities like Justin Bieber and Pete Davidson are among its long list of owners, making it a hit among the Hollywood elite. Some other celebrities who own a G Wagon include:
Travis Scott
Paris Hilton
Kylie Jenner
Ayesha Curry
Cristiano Ronaldo
While members of the Royal family, such as Queen Rania of Jordan, aren't "celebrities" in the conventional sense, their ability to create trends throughout the Middle East has ensured that the G-Wagon remains popular throughout the area.
Overall, Mercedes-Benz benefits from maintaining its good relationship with the nation's wealthy and famous since they can afford to spend far more money on their cars than an average premium SUV buyer.
9. Competition is less:
Most luxury SUVs would start to whine as soon as they were taken off the pavement, and most high-end versions of standard off-roaders are best described as "premium" rather than "luxury" inside. Even in today's growing SUV market, the G-Class still provides a unique combination of high-end luxury and trail-ready off-road capabilities.
While a Range Rover is still great off-road, it isn't in the same category as the G-Class, which is Mercedes' closest competitor. The G-Class occupies a unique market niche when the distinction of a tri-star logo is added to the front. Simply put, no other high-end SUV on the market provides owners as many all-terrain bragging rights as a well-equipped G-Class.
10. An electric version is under development:
Mercedes-Benz's second-generation G-Class came out in 2018, but the company is already planning a new electric version to bring it in line with the rest of the brand's plans to go electric. The news was first confirmed in 2019, and despite the pandemic and a world chip shortage, Mercedes has stayed committed to launching the EQG, as it will be called, in 2025.
The cost of creating an entirely new electric version of any automobile should go without saying, but the G-Class might be trickier than most. This is primarily due to its aerodynamics—or, more accurately, its complete absence of aerodynamics. The EQG stays true to the original G-Class's upright shape, but it's still unclear how this will affect the car's range.
The more slippery a car's design is, the more range it can get out of its battery pack. Mercedes is well aware of this, which is why the recently released EQC and EQS both have extremely slick, flowing lines and a low drag coefficient. The G-Class is about as slick as a piece of velcro, so it's unclear what technical tricks Mercedes' engineers will use to make it competitive with its gas-powered sibling.
Frequently Asked Questions
Here are some frequently asked questions about G wagon:
Are G Wagons bulletproof?
As we already know, the Mercedes-Benz G-Wagon began as a military all-terrain vehicle but later evolved into a luxury SUV. Despite being rugged and durable, G wagons are not bulletproof.
Are G Wagons costly to maintain?
The Mercedes G Wagon costs between $1,400 and $1,500 a year to maintain, which adds up to about $16,561 for the first 10 years. This is $1,101 more than a typical luxury SUV in the market.
Why is Brabus G-wagon so expensive?
The Brabus G Wagon is an improved and tuned version of the G Wagon. Brabus is a German company that makes custom parts for Mercedes-Benz, Smart, and Maybach cars. The price of a powerful Brabus G Wagon is approximately $249,900.
Conclusion
The G-class is pretty expensive and not a regular car option. But, it justifies its high cost with years of excellent service, dependability, luxury, and prestige. It is also quite strong and will last you more than 500,000 miles before needing any significant repairs. But keep in mind that maintaining a luxury car is always costly. Any big repairs will cost a considerable sum of money. However, following the manufacturer's guidelines properly can avoid these problems.