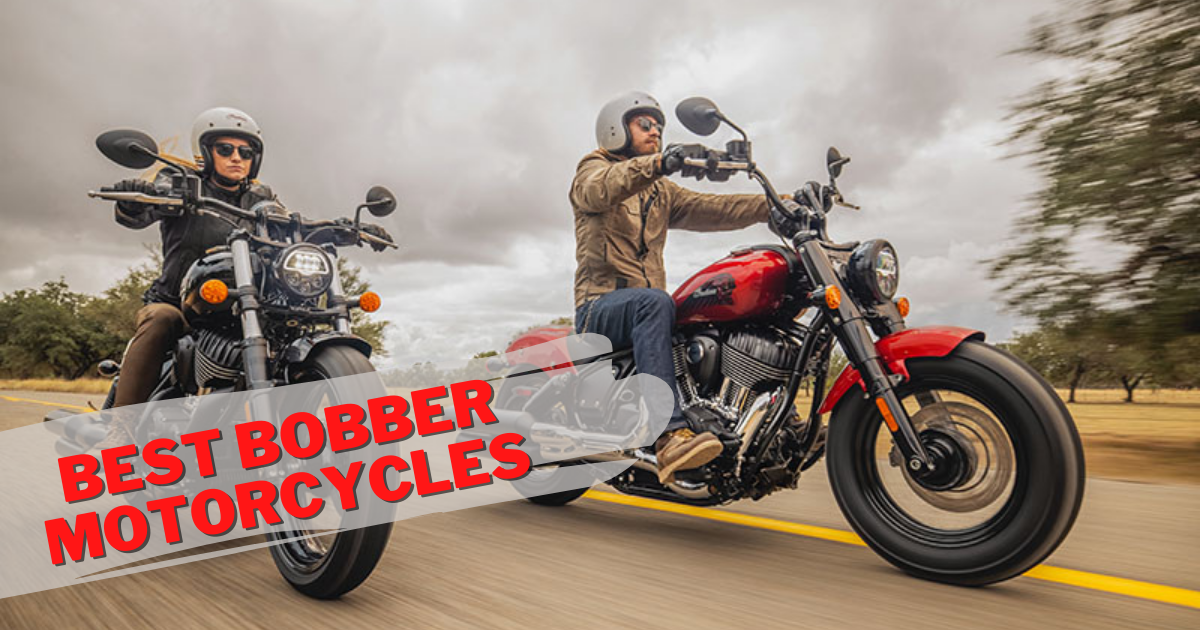 Major motorcycle brands have taken notice of the growing demand for bespoke, one-off bobber motorbikes and related styles like the "bob-fighter," and have begun producing their own bobber models.
The challenge of deciding which factory-produced bobber to purchase has become increasingly difficult in recent years. This felt like a good opportunity to survey the market and compile our list of the top bobber motorcycles now on the market. So look below to find out what a bobber is before looking at the list of best bobbers.
What are Bobber Motorcycles?
The "bob" in "bobber" comes from the practice of "bobbing," or cutting off various pieces that were regarded as unneeded by their owners, in order to remove any excess weight and material from the bike, especially the rear area, in order to fit smaller diameter wheels.
Since the bikes were custom-built, the term bobber has come to refer to any custom motorbike that has been modified in this manner.
Bobbers, like most other fashion trends, have a brief history. It all started in 1920s America when bikers tried to make their bikes look cooler and more original by removing extraneous components while keeping the basics for riding comfort and style.
After WWII, when returning soldiers brought this practice with them, it became increasingly common. Because of their experience working on military vehicles and planes during the war, they were able to modify their bikes with confidence and knowledge. They desired swift, aesthetically pleasing automobiles.
Top 20 Best Bobber Motorcycles
In recent years, bobbers have made their way into the mainstream of motorcycle culture. This is in large part due to the expanding custom bike scene in cities all over the world, as well as the fact that several manufacturers now sell bobber-inspired motorcycles as factory stock.
But since bobbers are typically custom manufactured and often require more elaborate designs and features, they tend to be more expensive than standard motorcycles.
Let's check out some of the top bobber motorcycles on the market right now.
1. Cleveland CycleWerks Heist
It's true that the Cleveland CycleWerks Heist is an outlier, but it's still a bobber. The motorcycle's top speed of 70 mph comes courtesy of its air-cooled 229cc single-piston engine, which was manufactured in China.
The motorcycle is developed and manufactured in the United States, and the manufacturer has given lots of room for personalization by providing a wide variety of bolt-on parts and extras.
As a result of its low seat height, quick handling, decent gas mileage, and reasonable price, the Heist is an excellent pick.
2. Kawasaki Vulcan S
Kawasaki's Vulcan is already iconic among motorcycles, but the addition of the Vulcan S—a product of the Japanese company—brought even more customization options, such as a stripped-down, minimalist bobber design.
The ER6n parallel twin that serves as the basis for this motorcycle's detuned engine produces 61 horsepower. This is a great option for shorter riders because the seat height is only 705mm.
The bike is manageable and not scary to ride. It's not a Harley or Triumph, and it doesn't have a lot of possibilities for personalization, but it's a relatively cheap option that's readily available right now.
3. Honda Rebel 1100
A staple of Honda's lineup since its introduction in the 1980s, the Rebel has never lost its appeal among consumers. After all, the motorcycle was only a readily available and inexpensive cruiser. It has kept up with the times, appearing today in a fresh urban bobber getup.
Initially released in 300cc and 500cc displacements, the new and improved Rebel has now been joined by the Rebel 1100, powered by Honda's tried and true 1084cc workhorse from the Africa Twin model, giving it a fantastic motorbike for both short and long-distance travel.
The Rebel 1100 looks amazing in any color, but especially in full black, which is a nod to the bobber aesthetic that inspired its design.
4. Moto Guzzi V9 Bobber
The Italians at Moto Guzzi paid greater attention to the cruisers that were popular in the United States after one of their V7s was accepted by the California Highway Patrol in the 1970s. Hence, they created the first California.
In an effort to further explore this avenue, they replaced the 750 Nevada with a Bobber version of the V9. Though the bike's new 850cc engine performs admirably and the bike's handling is excellent, the team's success remains elusive.
Design-wise, the V9 Bobber comes close to resembling a bobber but falls short. It's a decent bike with a basic design that gets pretty darn close to the mark but might use some tweaking.
5. Ducati XDiavel Dark
The XDiavel may not be the first thing that comes to mind when thinking of bobbers, but its big-bore twin-cylinder engine, mid-mounted foot controls, and floating seat design give it a spot on this list.
A contemporary take on the traditional bobber and cruiser layout, this bike features a single-sided swing-arm, under-tail-mounted rear lighting, and a wraparound license plate hanger, among other details. When compared to the standard XDiavel, the pricier S-spec model costs an extra $4,700 from Ducati (ie, the Dark-spec).
6. Maeving RM1
The RM1 is a brand new, bobber-style electric motorcycle from UK startup Maeving. It takes design cues from old British motorcycles. The RM1 has a top speed of 45 mph, a replaceable battery pack that can be charged from any outlet, and a range of 40 miles, all with a two-year warranty.
The RM1, a hand-built vehicle in Coventry, can take on an additional battery pack, doubling its range to 80 miles. This lightweight e-bobber features an innovative powertrain co-developed by Maeving and Bosch. Furthermore, Maeving produces the RM1 in a variant with a maximum speed of only 28 mph, in addition to seven different color schemes.
7. Harley-Davidson Sportster Iron 883 / Iron 1200
More than a decade after its introduction, the cheapest and most basic Sportster is still selling well thanks to its affordable pricing, stylish design, and broad appeal. The Iron 1200, with its higher handlebars, arguably better sells the bobber style, and it's only a grand extra; nevertheless, the beauty of the 883 is that it allows even more of a blank canvas to do what you will.
With its iconic air-cooled Evolution engine, chopped fenders, short tank, and tall wheel topped by a single seat, the smaller Sporty continues to represent a solid (and affordable) entrée into the bobber world.
8. Veitis Ev-Twin
One of the simplest and most intriguing bobbers we came across was the Veitis Ev-Twin. Those that crafted it by hand have years of experience making components for Formula 1 vehicles, so you can rest assured that it will be of the highest quality.
The Ev-Twin is an electric motorbike that takes its inspiration from the design of the 1948 BSA Bantam. It features a Reynolds high-tensile 631 tubing frame and swing arm, as well as Ceriani forks.
This motorcycle can achieve 70 mph and has a range of 100 miles on a single charge. Its power output is comparable to that of a 125cc gasoline-powered motorcycle. Although it is an electric motor, the design of the engine is reminiscent of a traditional V-Twin.
9. Indian Scout Bobber Twenty
The Indian Scout Bobber Twenty is a popular entry-level cruiser that blends modern technology and mechanics with a throwback American look, including wire-spoke wheels, a cross-covered split dual exhaust, mini-ape bars with drop-down mirrors, bobbed fenders fore and aft, and single-passenger bobber-style seat.
The original Indian Scout was manufactured from 1920 to 1949. This model is far more cutting edge than the cruiser bikes offered by Indian's rivals because of its six-speed transmission, electronic fuel injection, and liquid-cooling by the 69ci V-Twin at its heart (producing 100hp).
This type, which comes with or without anti-lock brakes, looks like it's from another era, but it actually has a modern USB port buried within.
10. Indian Scout Bobber Sixty
This entry-level Indian Bob job, one of three, costs $9000. There is a lot to like about all three of the Indian Bobber motorcycles.
The Sixty's single seat is a major selling point (anything else is a cruiser in my book), as are the bike's customizable color possibilities (choose any you like, so long as it's black). Due to its low seat height and effortless power delivery, the Indian Scout Bobber Sixty is a favorite among female riders.
It's bad that spoke wheels aren't standard equipment but rather a paid upgrade. There are 77 brake horsepower coming from the 1000cc V-twin engine. But there's just a 5th gear!
11. Triumph Bonneville Bobber
The Triumph Bonneville Bobber is the only motorcycle that truly nails the bobber look. Triumph has done an excellent job and met all expectations, providing a top-notch motorcycle. The Bonneville Bobber has all the hallmarks of a genuine bobber: wire-spoked wheels, an old-school headlight, and a single seat mounted on a metal subframe over the rear fender.
In fact, it retains the classic bobber's triangular swing arm. However, it now conceals a mono-shock for a more modern and comfortable riding experience. The 77 horsepower produced by the 1,200cc parallel twin is more than sufficient, and the bike is a lot of fun to ride.
12. Curtiss One
The Curtiss One is not simply a motorcycle; it is more accurately described as a combination of an artistic creation, a technological marvel, and an engineering marvel. The One is built around a cantilevered bullet-style battery housing and rides atop a TLP monocoque chassis inspired by airplanes that have been carefully machined from aluminum billet.
The One has a fanged front fork inspired by the Kineo, a horizontally placed rear shock linkage, and a plethora of carbon fiber components. The production of the One will be strictly on an order-by-order basis, with a maximum output of 300 units. Buyers will have extensive opportunities for customization, including sizing and ergonomic adjustments.
13. CCM Spitfire Bobber
Although CCM Motorcycles is a British firm, it has successfully recreated the postwar American bobber in its modern form. The company produces no less than six distinct "bobbers," all of which include distinctive features, including fat spoke wheels, whitewall tires, and a single seat.
Adjustable suspension, Brembo brakes, carbon fiber accents, and a custom-painted tank are just a few of the high-end features on board. These bikes are one-of-a-kind and hand-built to order, but they share the same fuel-injected Husky TE630 engine as the rest of the CCM Spitfire line.
The 55-horsepower single-cylinder engine and the bobber-esque solo seat, short fenders, and dual-pipe exhaust manifold are the only obvious nods to the style, but otherwise, the Spitfire Bobber rides more like a boutique custom bike than an expression of raw minimalism.
14. Yamaha XV950R Bolt R-Spec
When it comes to modern Japanese bobbers, the Yamaha XV950R Bolt R-Spec is as close as it gets. The Bolt is the best Japanese motorbike to combine the refined manners of a Japanese bike with the authentic bobber aesthetic; it outperforms the Honda Rebel and the Kawasaki Vulcan S.
Yes, it lacks specifics here and there, but it can be "bobbed" even more, as was done a few decades back, making it all the more intriguing. In many ways, the Yamaha XV950R Bolt is a carbon copy of the Harley-Davidson Sportster. To help individuals who otherwise would not be able to afford one.
15. Harley-Davidson Street Bob
The least costly big twin offered by MoCo (before the introduction of the Softail Standard) also has the word "bob" in its name, making it a natural contender in any bobber comparison.
The stripped-down nature of the Street Bob (a former Dyna turned Softail)—a frame, engine, wheels, and a seat—makes it a great foundation for Milwaukee 107 engine. The Street Bob is noticeably lighter than its relatives, making it seem more nimble than other bikes in the family.
Its distinctive bobber styling cues—a single seat, short fenders, and a high handlebar—make it easy to spot in a crowd. Also, you may save $1,000 by going with the Softail Standard, which is physically and functionally similar to the Softail Slim, except that it has more chrome. Because you know you're going to change it.
16. Triumph Bobber Black
Once the Bobber had been out for a year, Triumph released the Bobber black as a variant. The name gives away the fact that a lot of the details are obscured. The Black's already aggressive Bobber aesthetic was amped up with the addition of a larger front wheel and beefier forks.
Due to concerns voiced by certain customers, a pair of discs was installed upfront as well. Bikers of a certain age who opted to trade in their high-performance super sports bike for something more comfortable may have been disappointed to discover that the brakes were inadequate.
They have always been able to handle anything thrown at them. The base price for a Bobber Black is about $14,000.
17. Harley Davidson Sportster Forty-Eight
The air-cooled V-twin engine of the Harley-Davidson Sportster Forty-Eight isn't offered in some parts of the United States since it doesn't meet current emissions regulations. You best act quickly if you're looking for a brand-new Forty-Eight because they won't be produced for much longer.
The Harley Sportster Forty-Eight, which has been manufactured since 2010, will be widely available on the used market.
18. Triumph Bobber TFC
The latest iteration of Triumph's iconic Bobber motorcycle, the Bonneville Bobber, is the high-end Factory Custom variant (TFC). These factory-custom Bobbers are individually numbered and have upgraded powertrains, higher-end specifications (including standard cruise control), and meticulous craftsmanship.
Due to high demand, the factory bespoke Bobber is no longer manufactured. However, be on the lookout for them since they may start showing up on the secondary market. Many of them were bought on a whim and are now gathering dust in the garage.
19. Honda Rebel 500
The Honda Rebel 500 has been a best-selling starter motorcycle for its affordable price of $6,900. It's stylish, easy to ride, and comfortable, making it a great choice for a first rider. Women riders enjoy it for the same reasons, and the fact that they may legally operate it in Europe with only a Class A2 license only adds to its appeal.
The Honda Rebel 500 is a great introductory motorcycle for someone who likes the look of Bobbers. For your convenience, Honda has tailored this vehicle to fit your needs.
Even though a smaller 300cc Rebel is available, the larger choice works just fine for a learner. The bike has a 471cc liquid-cooled parallel twin engine, weighs 190kg (419lb), and has a low seat height of 690mm (27inches)
20. CCM Bobber Stealth
Images of the Spitfire Scrambler first appeared in 2016, and they completely blew me away. Many subsequent iterations have been strictly limited to 500 copies.
Everyone is made to order in the original CCM plant in the northwestern region of England. This Bobber is among the best available. For the price of $14,000, you may get the above-mentioned base model of the Bobber Stealth.
Final Words
If you enjoy pre-war classic motorcycle designs, you can certainly see why Bobber motorcycles have become so popular. The fact that bobbers appealed to both seasoned bikers searching for a ride that would be easier on the body and newer, hipper riders looking for a reliable first bike boded well for the style's popularity.